Apex Legends is an excellent first-person shooter battle royale game that is free to play on different platforms, such as PC, Windows 10, PS4, Steam, and Xbox One. It is exciting, immersive, but most of all—it is free.
However, many users are having problems with the game's resolution being blurry at times, but there are multiple ways to fix the issue. But before you can fix it, you'll need to determine the problem first—and here are the reasons why Apex Legends is Blurry:
Reasons Why Apex Legends is Blurry
Outdated graphics drivers
If you haven't updated your PC's graphic drivers in a while, it might cause the blur problem in Apex Legends. Because old drivers have a hard time rendering graphics for newer games like Apex Legends, it may trigger its blurry graphic issues. When playing modern games on a slightly older computer, make sure you update your GPU drivers to the latest version.
Hosts File Need Configuration
Some cases will require you to configure the Windows host file to ensure that your GPU provider can communicate with its servers, enabling your computer to update and fix bugs and security issues automatically.
Incorrect Driver Installation
Another common reason for this issue is the incorrect installation of drivers. Using the DDU software, you can reinstall each driver and ensure that all traces of the previously failed installation are removed—properly installing the drivers for full functionality.
Incorrect graphic configuration
Sometimes the problem can be as easy as tweaking the in-game graphic configuration. Make sure you check the settings and configure the settings correctly. It is a straightforward fix, and some of the solutions below will directly address this problem.
System Requirements
Sometimes, the reason why the graphics in your game is blurry or glitching is because the computer you are using does not meet the minimum system requirements to play the game. For starters, here are the minimum PC requirements for playing Apex Legends:
Operating System: 64-bit Windows 7 to Windows 10
CPU: Intel Core i3-6300 3.8 GHz/AMD FX-4350 4.2 GHz Quad-Core Processor or higher
RAM: At least 6GB
GPU: NVIDIA GeForce GT 640/ Radeon HD 7730
GPU RAM: At least 1GB
Hard Drive: A minimum of 22GB of free space
How to fix Apex Legends when the graphics are blurry
There are 6 solutions you can try when Apex Legends is Blurry:
Whether you are playing Apex Legends on PS4, PC, Xbox One, or other platforms—most of these steps will work for you in fixing this issue.
Solution #1: Set the Adaptive Resolution FPS Target to Zero (0)
To handle HD textures, there is one setting that can fix this Apex Legends issue—the Adaptive Resolution FPS Target must be set to 0.
Step 1: Launch Apex Legends
The first thing you should do is launch the game, and in the main menu, go to settings.
Step 2: Go to the Video tab in the Settings menu
While you are in the settings menu, go to the video tab in the top menu, next to Gameplay, Mouse/ Keyboard/ Controller/ Video/ Audio settings tabs.
In the video menu, go to advanced settings.
Step 3: Set Adaptive Resolution FPS Target to 0
In the advanced menu at the bottom of the Video Settings tab, you will find the Adaptive Resolution FPS Target configuration. If you cannot locate it is just under V-Sync settings and right above the Anti-Aliasing and Adaptive Super Sampling menu options.
Once you located the Adaptive Resolution FPS Target configuration and go ahead and change the value to zero (0).
Step 4: Start Playing to Check if it Fixes the Issue
After changing the Adaptive Resolution FPS Target to 0, go ahead and enter a game or create a new game to see if it worked. This setting fixes the Apex Legends blurry screen problem for most users, and it should work for you as well.
If it does not work, you can try to relaunch and reboot your system to make sure the settings changed.
Solution #2: Disable the Anti-Aliasing Option in Graphic Settings
If you tried the first solution and it did not work, you might need to disable your anti-aliasing graphic option.
Step 1: Go to Settings
Just like the first solution, go to your in-game settings. And below the Adaptive Resolution FPS Target setting, you will see the Anti-Aliasing option.
Step 2: Disable the Anti-Aliasing option
In the Anti-aliasing tab, choose the "none" option to disable this setting.
Step 3: Restart your game
Relaunch the game to see if this solution fixed the blurry issue.
Solution #3: Configure Control Panel Settings on NVIDIA GPU
If the first two solutions did not work, you might need to dig deeper and reconfigure Nvidia GPU control panel settings. This solution can help your game load all graphics properly.
Step 1: Go to your desktop and close all windows and quit programs
On your desktop, right-click on your mouse to bring down the menu and choose the NVIDIA control panel.
Step 2: Click 3D Settings on the left pane, and click on Manage 3D settings
Once you are in the control panel, go to the left pane and look for Manage 3D settings. Click Manage 3D settings to open a new menu.
Step 3: In the 3D settings menu, go to program settings
In this step, look for the Apex Legends R5apex.exe file. If this file is not displayed, make sure you click "Add" and locate the files in your program files and Apex Legends folder.
Step 4: Turn Antialiasing-FXAA settings to "On."
Now that you located the .EXE file, you can now scroll down until you find the Antialiasing-FXAA file and change the settings to "On."
Step 5: Apply Settings
After configuration, make sure you apply changes and check if the game is still experiencing these errors.
Solution #4: Fix Streaming Quality
Some gamers who stream their games with the best Twitch streaming software often choose higher resolutions for viewers' entertainment. Still, most of them have excellent hardware for running the game smoothly, even at higher resolutions.
However, some computers cannot handle high-quality streaming while gaming—so make sure you adjust your streaming quality to the correct setting your computer can handle.
Solution #5: Update Graphics Drivers
The paid option is the easiest way to update your drivers automatically. If you don't want to install drivers one by one, you can try this paid option:
Step 1: Download Driver Easy on your computer
With Driver Easy, you can quickly download the drivers you need and install them on your computer properly. Just go to your web browser to download the software.
Step 2: Launch Software and Scan Now
Open the software after installation and select "scan now" to start scanning.
Step 3: Update after scanning
After the scanning is complete, it will show you all the drivers that need updating. Just click on "update now" to install and update all the drivers.
Here is how to install and update drivers without paying for the Driver Easy Pro Version:
Step 1: Run a program by pressing "Windows + R."
Once "Run" is open, type "devmgmt.msc" and enter to launch the device manager.
Step 2: go to Display Adapters
Find display adapters and use your mouse to right-click on it to get to the drop-down menu.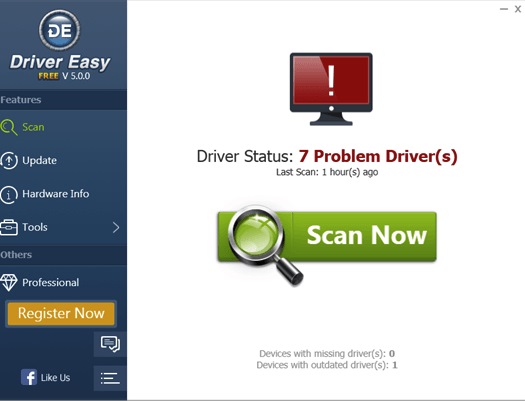 Step 3: Click on Update Driver
Click on "Update driver" in the drop-down menu and browse for the update file on your computer. Then, copy the location where you installed Driver easy to update the driver automatically.
Step 4: Do this step for all of your GPU drivers to make sure everything is updated
After updating all the GPU drivers, open Apex Legends to try it out. If the issue persists, try the next solution.
Solution #6: Reinstall Display Driver
If worse comes to worst—you might need to reconfigure your host file and reinstall your display driver. This solution is the last step you should take if all the other solutions did not work.
Step 1: Launch Windows explorer
Press "Windows + E" to launch your Windows Explorer, then click on view and check the file name extensions.
Step 2: Navigate to C:/Windows/System32/drivers/etc
In this folder, right-click on Hosts, then in the drop-down menu, choose and click on "Open with." Select open with Notepad, and copy "127.0.0.1 international-gfe.download.nvidia.com" and "127.0.0.1 ota-downloads.nvidia.com"
Step 3: Paste the text on the bottom of your Notepad
After pasting the text on Notepad, save the file.
Step 5: Download the DDU Software
DDU is a display driver uninstaller that allows you to uninstall improperly installed display drivers and reinstall them properly.
Step 4: Launch DDU and follow the instructions for cleaning and reinstalling drivers
This process is straightforward, and the software itself will show you how to uninstall and reinstall drivers. Just make sure you click on "device type" and select "GPU."
Then, select the manufacture of your GPU, and go ahead and choose the "clean and restart" option to start the process.
Step 5: Download driver and reinstall
You can download your graphic drivers from the website of your provider. Once you downloaded the drivers, reinstall them.
Step 6: Try Apex Legends
Once completing all the steps, check and see if this solution fixed the Apex Legends blurry issue.