Out of the various utilities and apps that we download on our smartphones, Calendar apps are one of the most important and useful ones. Whether we want to plan our holidays or manage our upcoming events, these apps always work wonders for us. And so it is important for you to have the best Calendar App on your Android device. Here, in this article, we are sharing the 10 Best Calendar Apps for Android that you will easily find and install for free from the Google Play Store.
It is time that you say bye-bye to the paper calendars and download any of these great alternatives. You can easily use calendar apps to organize and schedule your tasks. With the latest technology reaching the highest point, we would suggest you have a look at these feature-packed apps.
Best Calendar Apps for Android
Calendar apps are not just apps that help you to schedule your events on a daily and monthly basis, but it also improves the productivity. The reminder feature of these apps reminds you of your important meetings and pending work. It even has the search utility that is missing from the wall calendars. Check out these best Android Calendar apps to enjoy a user-friendly and nice interface.
Google Calendar
Google Calendar apps take the number 1 spot on our list of Best Calendar apps for Android !!
Out of plenty of calendar apps available on Google Play Store, this one deserves all the plaudits. Its sync option allows you to sync your schedules and events from your Google account. With Google Calendar you can sync to other calendar options available around. You can color-code your events and schedules for easy recognition. The app further has an appealing daily, weekly and monthly view mode. Moreover, it also gives you the option to redirect the location with Google app of your events.
Download Google Calendar for free from here.
SoICalendar
Another accomplished calendar app on Android is SoICalendar. The app is simple and doesn't get complicated in terms of work. It offers a good variety of customizable and well-designed widgets for the home screen. This is quite needed as all you want from a Calendar app is to understand its options in a quick glance.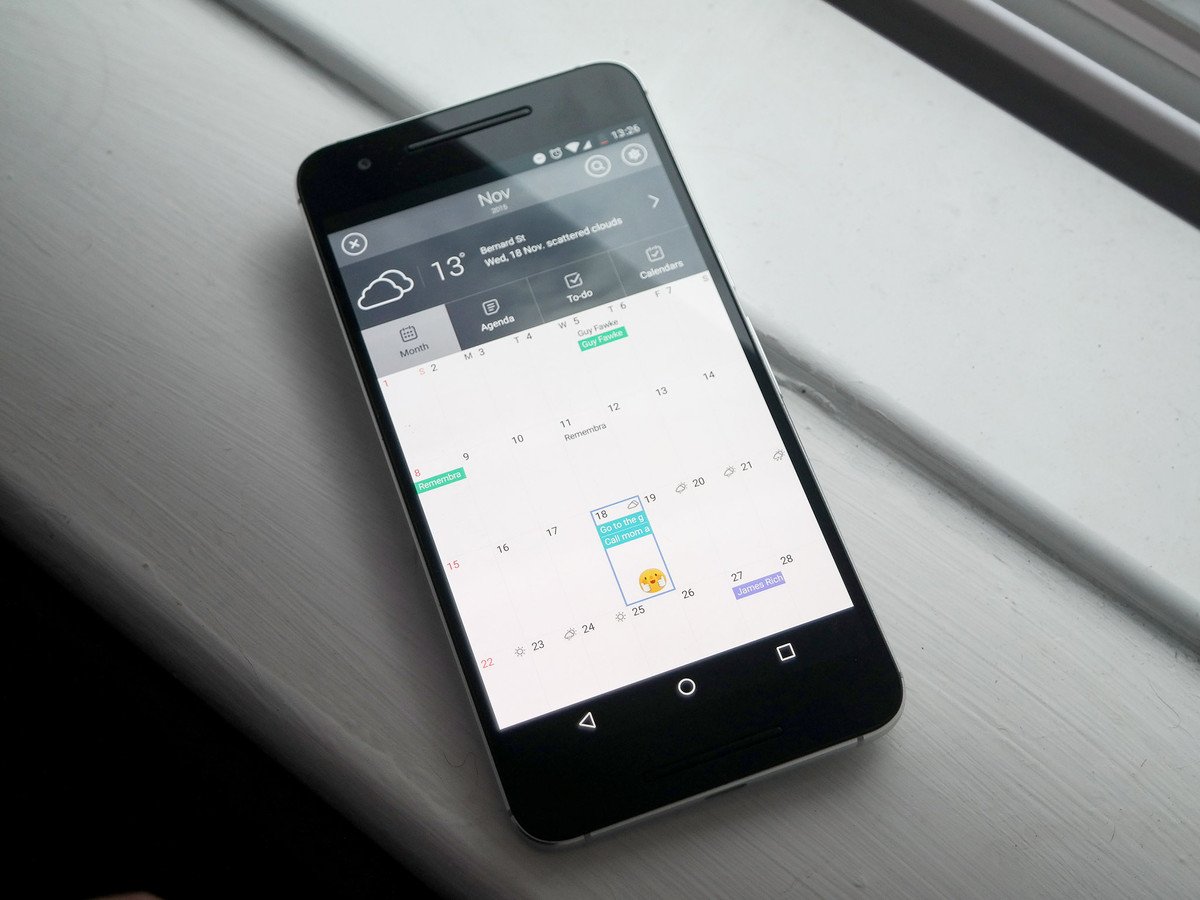 The app syncs with Yahoo Calendar, Exchange, iCloud and Google Calendar and various other popular apps. You get 4 sections in the SoICalendar app- Month, To-do, Agenda and Calendars which are self-explanatory and best in its work. Lastly, it is compatible with Google Maps so that you can add the location of your to-dos and meetings.
Apart from getting weather support, get an intuitive feel with SoICalendar.
Microsoft Outlook
If you are an email freak and all your work requires email integration and stuff then Microsoft Outlook is the right calendar app for you. It is a complete package that brings your calendar, emails, and much more services to one place.
Along with this, you get an integration with Sunrise Calendar, another stylish and well-made calendar app by Microsoft. With a rating of 3.9, Outlook has till now downloaded by about 50,000,000 users. Its multiple icons designated to various notifications and events are taken from the sunrise app only.
You can download Outlook by Microsoft from this link, for free.
Business Calendar
If you are looking for a standardized calendar for your smartphone, then you can download Business Calendar. It takes its traditional outlook from the physical calendar while it combines the viewing options from the high tech calendar apps of today. Its viewing options are divided into daily, monthly mode, followed by further bifurcation into agenda and tasks.
It also allows you to change themes integrated with color-coded views. The app even notifies you of your upcoming events and you can sync it with Google Calendar as well. The app comes in two variants, that is, the free one and the paid one but both of them are equally potent to schedule your tasks.
To download the free version of Business Calendar, click here.
Today Calendar
The next calendar is worth giving a try as it is one of the most beautifully designed calendar apps that you will find on this list. You will find only Today Calendar that really embraces Material Design even today. With bold colors and simple controls, you will want to switch to today Calendar. The bold and vibrant colors of the app owe to the material design.
Its navigation system is also simple; its features are not so heavy and so can be opted by every other person. Though light in its user interface, the Today Calendar is packed with features just like the former apps.
You can get the Today Calendar app on your Android device from here.
aCalendar
The next app on our list of best Calendar apps for Android is aCalendar that gives you the option of customizing your calendar and give the traditional calendar viewing a whole new look. Just like every other app, it gives you the options like event reminders, calendar viewing and that too without the interference of ads.
This heavy feature app also offers you features like different color for every event, moon phases, various widgets, and views. If you want a lot more control and gesture features, then you can go for the pro-version by shelling out $4.99.
Get the aCalendar app on your Android device now.
Jorte Calendar
If you are okay with flamboyancy, then Jorte Calendar is definitely your app. And I guess sometimes to have a little color is not bad and this is one of the reasons which has made Jorte enter this list. Using the app you can customize your calendar by choosing the background color and icons from its own store.
Its propriety sync service lets you sync your calendar with other apps and between devices. It is a little different from all the other mainstream calendar apps, though it can perform almost all the standard calendar stuff. You can try and look forward to this app if you are looking for something jubilant for your Android phone.
Jorte Calendar playstore link.
DigiCal
If you look for Calendar apps on Google Play Store, then you will find a lot of them. But DigiCal is the straightforward app that you can for an app with a user interface that is nicely integrated. The app comes with six unique viewing options and option to customize according to color code. To know about your location you can use the built-in search option.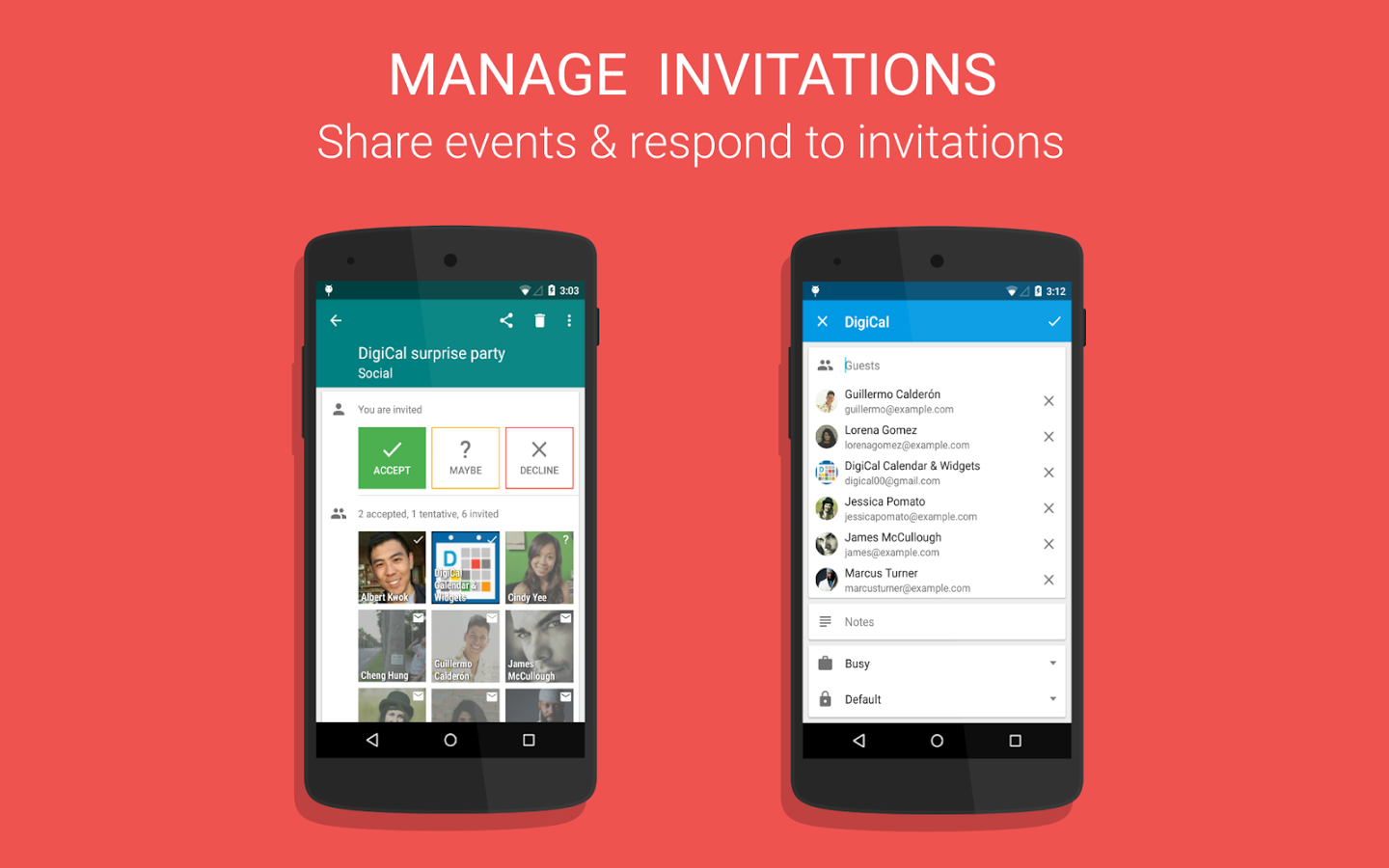 The DigiCal calendar app is equipped with smart action bar and can translate your event and notifications in about 21 different languages. You can even use the app with gesture feature.
Get the DigiCal app from Google Play store, from here.
CalenGoo
CalenGoo is a robust piece of an app that you can try which offers friendly user interface. Along with the easy integration, it also offers sync option with Android's stock calendar that is the Google Calendar.
A large number of customizable options are available that makes this app one of the best Calendar apps for Android in 2018. You can configure the app in different viewing modes and can even change the color of your events according to your preference. CalenGoo also shows the weather forecast for your events. As mentioned above, it involves easy working and thus by just dragging and dropping you can make changes in your schedules and tasks.
CalenGoo is available for free on Google Play Store. You can check it from here.
Calendar Widget
Apart from the Calendar apps, you can also go with small Calendar widget option that is nice and compact. It comes with cursory calendar features with the option of re-sizing the view of your monthly calendar.
The Calendar Widget comes with about 80 different themes, which is well constructed and can give your phone a whole new look. The app doesn't have an overly feature offered by the other calendar apps, but even the limited features also include everything that one wants.
Calendar Widget is available on Google Play Store and you can install it for free from here.
So this was it.
Also Read: Best Browser for Android
List of 10 Best Calendar Apps for Android
Here's a complete list of All Android Calendar Apps that we mentioned above.
Google Calendar
SolCalendar
Microsoft Outlook
Business Calendar
Today Calendar
aCalendar
Jorte Calendar
DigiCal
CalenGoo
Calendar Widget
The popularity of Calendar apps is blooming and so you can try any of the above-mentioned Calendar apps for Android. We hope that they would help you sort your busy days and schedule it correctly.