Caller ID apps are specially designed applications for the smartphone that is used for the purpose of searching the identity of an unknown number. They are also used for knowing about the phone number of a person whose status on the phone screen is either unknown or if the caller has a private number. You can use these apps for blocking the phone numbers for not receiving calls and SMS in the future.
Now the question is, which is the Best Caller ID App for Android and iPhone??
Best Caller ID Apps
Many of us know about Truecaller, but, apart from it, there are many other Caller ID lookup apps for both Android and iPhone.
So here's the list of Free and Best Caller ID apps to find unknown and spam numbers.
Truecaller
Hiya
Caller ID, Call Recorder & Phone Number Lookup
Whoscall
True Contact
Extreme Call Blocker
Call Bliss
Number guru
Top 8 Online Caller Id Lookup Apps
Now, let's have a more detailed look at these caller id lookup apps that we mentioned above.
Truecaller: Caller ID, SMS spam blocking & Dialer
Truecaller is the best caller ID app I could suggest. It filters out the unwanted, and lets you connect with people who matter. Truecaller is the only app you need to make your communication safe and efficient. It has full dual-SIM support. Additional to this all it will not upload your phonebook to make it public or searchable like other apps. You have the option to unlist your number from Truecaller.
KEY FEATURES:
Truecaller is a Powerful Dialer.
The world's best Caller ID will identify any unknown caller.
Block spam and telemarketing calls.
See names of unknown numbers in the call history.
Flash messaging – Share location, emoji & status in a flash to your friends.
Know when your friends are free to talk.
RATINGS: 4.5
Hiya – Caller ID & Block
Hiya– Caller ID was formerly known as Whitepages Caller ID. This app determines the calls you want to receive and blocks the numbers and texts you want to ignore. It has a very simple interface and is very easy to use. Plus you don't need to face annoying adds. And all these services are costing you for nothing i.e. absolutely free of cost.
KEY FEATURES
Caller ID: Take calls from people you want to talk to and from friends not in your phone book.
Blacklist robocalls, spam, telemarketers by sending them straight to voicemail.
Security: If an incoming call is a spam the application put on a pre-warning on your device
Unknown Callers: Identify unknown callers in real-time.
To find out if a number legitimate caller or not reverse phone search is performed
RATING: 4.4
Caller ID, Call Recorder & Phone Number Lookup
Caller ID, Call Recorder & Phone Number Lookup App is a useful free caller ID & call recorder app for android. This app is trusted by millions to know who the true caller is behind unknown calls.
KEY FEATURES:
 Record incoming phone calls and outgoing phone calls with call recording feature.
Free caller ID that can identify unknown callers,
block spam call, Even block spam sms messages.
T9 dialer & social contacts app – CallApp has an easy to use T9 dialer that
helps you call your favorite contacts. Manage your calls & contact list
using our Caller ID & Call Recording app!
Blacklist Numbers – Easily blacklist any number with just a tap
Full Contact ID- See the true caller's name, DOB social media, email, address etc
RATING: 4.4
Whoscall – Caller ID & Block
Whoscall is one of the best caller ID Apps. It recognizes unknown calls and blocks annoying spams, robocall & telemarketing. This app has more than 50 million downloads. Moreover, it has nearly 1 billion numbers data from global community for users.
KEY FEATURES:
No more guessing! Be in control! Whoscall identifies unknown incoming calls and helps you to ignore annoying spam calls.
Identify unknown calls. Pick up Important calls only
Block the spam calls.Avoid annoying calls (robot call, telemarketing, scam…etc) by one touch
Offline database- Identify number without internet access
Whoscall card ensures none of your potential customers will mistake you as a spam.
RATING: 4.4
True Contact – Real Caller ID
True Contact is smart caller id application which is absolutely free. It provides reverse phone service and Spam block. It is extremely fast and reliable.
KEY FEATURES:
 Caller ID – the true smart caller id with name with address and picture
  Just a single click and you get rid of fraudulent and spam callers
 Contacts Manager – Save resolved contacts to your phone book
 Social profile- true contacts data provide assured details by cross-checking with social networks
 Caller location – worldwide caller true & smart Geo-location service
 Notifications for detected caller id or blocked calls.
RATING: 4.1
Extreme Call Blocker
Extreme Call Blocker fulfills 9 prime options in just one application. You can know more about it on the playstore page.
KEY FEATURES:
Robocall and telemarket calls are automatically blocked
Automatic sync with FCC report.
In call blocking mode, you can send to voicemail instead.
Blocked messages are saved in the log which can be viewed later
Content filtering: message can be filtered based on content
RATINGS: 4.2
Call Bliss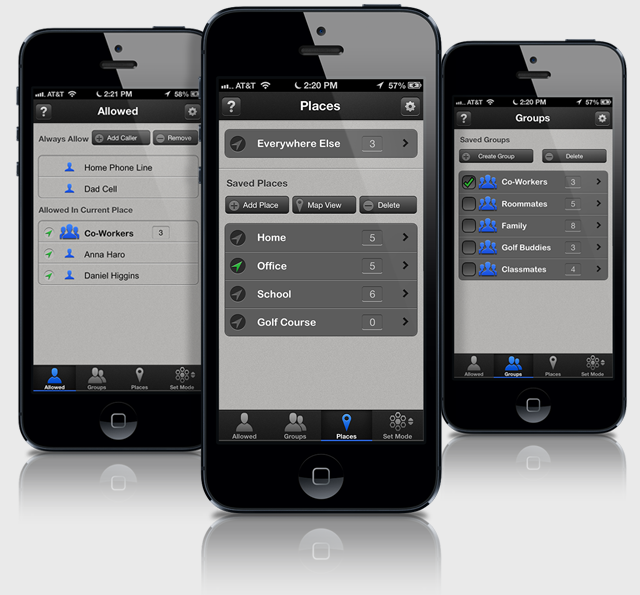 Yet another great caller id app for iPhone is Call Bliss. It silences unwanted callers while ensuring you never miss important calls, making Do Not Disturb easier to use and more powerful. Allow or silence callers and groups of callers with a single tap, or automatically by location, Home, Work, or anywhere else.
RATINGS: 4+
Number Guru – Caller Id Online Lookup App
The last name on our list of best Caller id apps is Number Guru. It is a smartphone application for users intending for reverse cell and caller search for an approach. Do try this app once.
KEY FEATURES
avoid telemarketers & phone scams
Ignores unwanted call
See who's calling, their location
complaints about the number
absolutely free
coming soon for Android users too
So this was our compiled list of best caller id apps. We also wrote on how you can Record WhatsApp Calls on your mobile phone. You must consider learning it.
Hope this article help you out. In case we missed any app which you find more useful do let us know by leaving a comment down below.