Hey folks! Are you looking for the best Discord Bots? The Discord application for personal computers are specifically designed for use while gaming as it includes features such as low-latency, free voice chat servers for users and a dedicated server infrastructure. It is a cross-platform voice and text chat app designed specifically for gamers. Discord runs on Windows, macOS, Android, iOS, Linux, and in a web browser.
Features of Discord Bots
100% free communication with friends, teammates and fellow gamers.
Provides IP and DDoS protection.
Offers browser support.
Works on both desktop and Phone.
A dedicated Mobile application.
Friends list feature.
In-game overlay for better focus on the game.
Minimal CPU usage.
Create custom hot keys.
Direct messaging option.
Enable smart push notification.
Customize permission for members on your server.
Individual volume control option.
Gif's supported for better chat experience.
Easiest and fastest setup.
Easy to use User interface.
Discord, as you may have understood is a very flexible and offers a lot of customization. But there is something more you must know about Discord.
Check This: How to Stop Discord from Opening on Startup
Best Discord Bots 2020
Discord servers also support bots, that can enhance the functionality of your server and help you manage it better.
Check out the list of Best Discord bots to improve your server experience.
Discoid
Dyno
Septapus
Hexacircle
Aethex
TypicalBot

Discord Dungeons.

 Rh1-No
OverwatchBot
 Serum
Now let us have a look at all these bots in detail.
Check this: How To Block Someone On Discord
Discoid
Discoid offers a plethora of features that you can use to increase the amount of flexibility your server offers for moderation, along with adding layers of new features to your Discord server. Using Discoid, you can mute users, get notifications, and receive information about users, and your server. It also has commands for jokes, and memes. This app also let you enjoy media from apps like Youtube and Soundcloud.
Create your own custom commands
Avoid and block cuss words with Keyword alerts
Send gifs or random pictures with various picture source
Efficient support system
Create customized captions on different memes
Currency conversion feature
Change Discord's default role colors to Hex colors with discoid
Setup your customized notification channel
Visit: Discoid website
Check This: Best Twitch Streaming Software (Top 10)
Dyno
Dyno is very flexible discord bot and has been online for a long time. It has a wide variety of commands compared to many other bots. This bot provides tons of customization options for your Discord server. It comes with a simple web dashboard and brings some cool features such as moderation. Hence, it is well known all in one best Discord Bots.
Timed mutes and player bans
Moderation Logs
Advanced and Fully configurable Auto-Moderation
Inbuilt Anti-Spam feature
Fully configurable web dashboard
Create special announcements and special alerts
Listen to music with youtube
Custom commands
Auto Roles
Let members assign roles/ranks with joinable ranks
Post an AFK status
Google Search
Reminders
Free of cost
Septapus
Septapus is fun to use discord bot and at the same time it is very useful. The bot makes comics and charts, which will definitely liven up your server.
Cool Discord bot for adding a fun element to your Discord Server
Create custom avatars and make it appear big or huge on the screen
Create custom comics and charts
Post emojis on your chat.
Play trivia
Set reminders
Get youtube stats and notifications
View a fellow youtuber's details
Know the most played games by you or some other user.
List of top youtube gaming streamers.
Hexacircle – Top Discord Bot to Enhance Server Experience
Hexacircle provides almost all basic and advanced functionality. It comes with the integration of Giphy and Twitch. Apart from these some basic music functionality like play music from YouTube using URL is available. Which allows you to control songs and adjust volume and more.
Utility and fun both are combined in this Discord Bot
Giphy and Twitch Integration for expressive chats
Auto Moderation
Softban feature included
AFK status enabled
Playback music option
Customized volume settings
Create custom messages
View users list and individual user's stats
Youtube search
Fun commands like shoot, kill, revive or stab
Strong online community of users
Aethex
Aethex is one of the top class Discord bots which is very useful for users. You can get the wide range of commands and features with this Discord. If you are one of them who like to keep things straightforward and stick with a single bot for your server, then Aethex is always the best option for you, and it can perform everything you need for your server.
Advanced permissions system
Timed Moderation and Mod Logs
List user channel or server information
Set custom commands
Create announcements
Play songs from Soundcloud and youtube
Set up a custom music channel
Customize user's' queue limits
Customizable queue system
Fun commands like Google search, image search, coin flip, dice roll, etc
Game Integration with Steam and ROBLOX
Increase user engagement by creating a custom social system.
Create own levels and reputation system
TypicalBot – Fun Discord Bot
TypicalBot is another one of the best Discord bots servers which come with many customization and moderation.  It provides various of moderation tools like nickname logs, bans/unbans logs, queue and much more.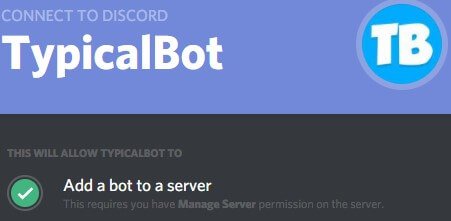 All rounder Discord Bot for Auto Moderation and fun
Easy to use bot
Speak/Say command
View settings and configuration
Role giving/taking
Message pruning
Kick/Ban or Softban users
Permission level viewer
Strawpoll Generator
Fun commands like image search, dice roll, 8Ball, Random jokes, and quotes, etc
Global Stats and Specific Stats
Server and user info
Moderation Logs
Discord Dungeons
Discord Dungeons is completely different from all other bots. It has such an amazing features.
Utility and fun combined in this Discord Bot
Giphy and Twitch Integration for expressive chats
Auto Moderation
Softban feature included
AFK status enabled
Playback music option
Customized volume settings
Create custom messages
Youtube search
Fun commands like shoot, kill, revive or stab
Strong online community of users
 Rh1-No
If you want to make your server management easier in an effective manner, go for RH1-NO. This cool discord bot is one of the finest in the market till date.
Auto-moderation
Custom rules for multiple servers
Rate limiting
Anti-spam feature
Word filtering
Custom Chat commands
Lots of Customization options
Server log
Maintains a Mod log
Build on python
Free of cost
OverwatchBot
If you're an Overwatch player, you'll absolutely love this bot. You can add this bot to your server, and it will allow you to view your Overwatch statistics without having to leave the server. You can also check your competitive stats using the OverwatchBot.
Collects Overwatch player's data for a given battle.net ta
Shows your Overall Statistics
Displays your Competitive stats
Shows top 5 heroes of the game
Displays your statistics per hero
Generate images of your stats for easy understandin
Compares given battle.net accounts
Links Battle.Net and Discord
Best discord for Overwatch Players
 Serum
The serum is one of the best Discord bots which gives the user to access various commands through voice. Generally, with other bots, a player needs to minimize the game if he/she wants to enter some command in the chat box but in the case of Serum Discord bot, it will automatically listen to the user's command when a user mentions Hey serum! This is always helpful as per the user's point of view.
Also Read: Best Multiplayer Browser Games
Finally, here we end our list of best Discord Bots of 2018. There are a lot of other great bots available for Discord servers, so no matter what feature you want on your server, you'll probably find a great bot for it. As always, if you know of any other great bots that you think deserve to be on this list, do let us know about them, in the comments section below.