GIFs !! Well, we all love them. They are small, simple and easy to share. But do you know how to make GIFs?? Don't worry, in this post, we have listed the Best GIF maker apps for Android and iOS. 
In this social addict world, people prefer emojis and GIF over words to express their feelings. It will be no wrong to say that GIFs are ruling the internet as you find GIFs on keyboards, websites, blogs, comment threads, and memes. Not only these even the social networking sites are full of them. In a less time GIF have quickly become popular among people to express themselves, laugh over and have fun. One of the reasons is that GIFs require less time to view as compared to long videos and are also definitely more expressive than pictures. Some of the GIFs are really funny and fantastic hence, in short, you can say that world is now full of GIFs. Knowing how popular GIF are it is no surprise that you can use GIF maker apps to create your own GIF.
The Craze to Create Gif Images
GIF stands for Graphics Interchange Format where the images or videos are reduced without the loss of quality. Further, one makes use of GIFs because it is easier to depict a situation using counterparts like GIFs and emojis. GIFs have the ability to express your emotions and feelings in comical, sarcastic and funnier way. GIFs are eye-catching, attractive and in the shortest possible way says a lot. They are handy and can be added to web pages easily especially when the page contains a huge amount of content.
You have countless GIF creator apps, software, and web-based tools available using which it is possible to create GIF. It can be created using images and YouTube videos. These apps do not just allow you to create GIFs but you can share them with your friends on social networks and other sites in addition to many other features. So if you want to create some really creative and awesome GIFs then read on fellows for here I have curated the best GIF creator apps for you.
Best GIF Maker Apps
Well, here I am listing some of the most used and famous GIF creating apps and online tools that are easy to use. We have listed Gif maker apps for both iOS and Android in this article.
Giphy Cam- Free GIF maker app
Giphy Cam, one of the newer gif creator apps has got a spot in our list. It is from Giphy and is considered the undisputed champion used to create GIFs. As its name indicates it comes with a camera that records a short segment of video or image. You can then alter it later using heaps of filters, special effects, stickers, text, and more.
You also get with this app a five-shot burst mode that is present alongside the video mode. This makes it the best GIF camera app hybrid. The GIFs it creates is better than the others. In addition to this, you get this app for free with no in-app purchases.
GIF Maker and Editor
GIF Maker and Editor is another popular GIF creator app. For creating GIFs you need to cut and crop the selected videos in your gallery. It lets you create GIFS using 200 photos.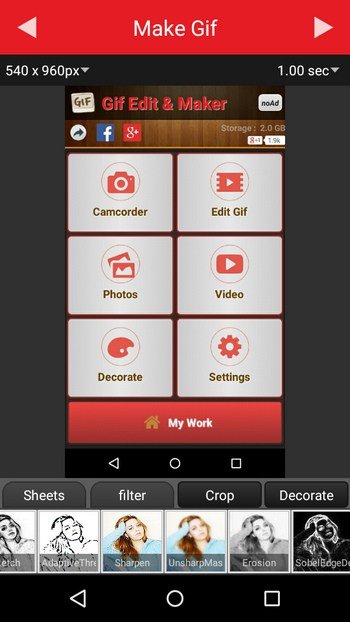 You can also add stickers, text to your pics and videos or edit existing GIFs. The GIFs created using this app is compatible with all the websites. But you must have your own material to make GIF. It is handy and has a user-friendly interface. Hence it works pretty well and lets you create creative GIFs.
Gif Me! Camera
This camera app called as Gif Me Camera is specifically a GIF making. You can capture video up to 14 seconds and then later convert them into GIF. You can edit it using color filters, stickers, text, etc.
It also supports stop-motion, time-lapse, and various other forms of shots. If you have videos lying around then use its feature of video-to-GIF conversion. With free version comes ads and watermarks that can be removed using pro version.
GIF Studio – Gif maker for Android
GIF Studio is one of the oldest GIF maker apps that offer tons of features. Though it is pretty old and not much advanced it has some awesome features like stickers, effects, text etc.
It also lets you crop GIFs for reducing the size of the file. You can use this app to remove individual images from a GIF as per your need. Its pro version costs $0.99 but one can try its free version to know it well.
Footej Camera – Android Gif Maker
Footej Camera is a good camera app that lets you build GIFs. It includes manual camera controls, an integrated gallery app, burst shot mode, a photo histogram etc.
This app is capable of creating high-quality GIFs using photos or videos that you shot. You can share your created videos with anyone and anywhere.
Pixel Animator
Pixel Animator is basically a pixel art app but you can create GIFs using the artwork. It has user-friendly and a decent interface. With its free version, you can make GIFs with up to 15 frames.
But in the paid version there are no such restrictions. Its most unique feature is its ability to port the prior image in a GIF to the next image. So you need not start from the scratch as with just slight alterations you can create GIF. It's super useful tool for building your own unique GIFs.
GIF Creator Apps for iOS
If you are an Apple iPhone user, you can use the following GIF Maker Apps for iOS. Using these you can easily create GIFs instantly.
Giflab – iOS Gif Maker App
Another easy to use app for making GIFs is Giflab. This is an app for iOS users. You can create GIFs of videos stored on the device or the ones you record via the app. The video length supported is 15 seconds that can be further tweaked via Giflab's editing options. You get handy timeline slider to trim parts of the video and set its quality (e.g. small, medium, large, and HD) and animation speed (ranging from 0.5 x to 2x).
You can enter captions and choose from a collection of fonts. GIFs created can be saved in your gallery directly or can be shared with numerous sources.
Motion Stills- GIF App for iOS
A recent release by Google, Motion Stills `is a GIF creator app for iOS. This app lets you create Live GIF and lets you easily convert the live photos of iPhone's to GIFs. You can use this app to stabilize your clicked shots and create movies out of your Live Photos. Secondly, you can shoot slow mode videos as well.
Choose the GIF quality and the speed and the best part is that app is free from ads or in-app purchases.
Best Gif Makers for WIndows
Do you want to make GIFs on your PC?
Here are some of the best GIF makers for Windows. You can download these gif creators and start using them to create GIFs.
GIF Animator – Gif Maker for WIndows
GIF Animator is basically a desktop application that lets you create GIF with its fancy configuration features. Essentially, GIF Animator is not for casual GIF creation, rather it is used for creating GIFs for email(s) and website banners. GIF Animator allows constructing animated GIFs from scratch with the help of both images and videos.
You can use its advanced options like delay, loop count, transparency, compression quality etc. You also get a built-in image editor and GIF supports nearly all formats of images and videos. The GIFs can be saved as AVI files. In a nutshell, if you are into professional business then GIF Animator is worth its price.
Platform Availability: Windows 10, 8, 7, Vista, and XP
Price: Paid license costs $49.95, free trial available
Giffing Tool for PC
Giffing Tool is a solid GIF creator tool with decent features. It is a portable desktop application that is suitable for creating short duration GIFs. To record videos you just need to specify the area and hit the Start button.
You can do everything from granular frame editing (e.g. reverse, trim) via the timeline view, to adding special effects like grey-scale.
Platform Availability: Windows 10, 8, 7, Vista, and XP
Price: Free
Also Read: Best Free Games without Wifi
Conclusion
So try this list of some best GIF maker apps. We have included all the best apps for Android, Apple iOS, and Windows. So what are you waiting for?
Install them and start making some GIFs and start sharing them on Facebook, WhatsApp or any other social media. Afterall GIFs are all fun.