Struggling to find the best power bank for your Tablet? Stop searching, you are in the right place now.
Here, I'm going to list down some of the best Power Banks available in the market for your Tablet or Mobile Phones.
Portable devices all have one main thing in common and that would that they have to be recharged. The thing with charging is that we want the fastest recharging speed for our devices. The first device that comes to mind is smartphones as basically everyone now owns a smartphone. That said, one of the second most used portable devices as tablets. When it comes to charging them we're going to want the fastest charging speed possible tablets to use larger batteries and that results in them taking longer times to recharge to their full power.
You might also be interested in:- 10 Best Antivirus for Android Devices in 2019
Of course, most of us tend to use USB wall chargers but the better option is to use portable chargers. So that we can charge devices our tablets and smartphones to full power while we're away. That is why I'm going to write over the most useful power banks that you be should using with a tablet. As the one that you do get for these larger devices need to have higher power capacities and they also have powerful charging speeds with their ports.
Best Power Banks You Can Buy
Here in this section, I will list down the best Power Banks available in the market that you can buy. I have considered all the specifications of the Power Bank including the Cost, its power Capacity, charging speed, etc. before listing them here. Along with these Power Banks, I will also write their descriptions that you should be knowing before buying them. These Power Banks are not in any particular order. So let's now start knowing about the 'Best Power Banks' for our Tablets available in the market.
Anker PowerCore 20100
This is Anker's best high capacity Power Bank the PowerCore 20100. It, of course, has a 20,100mAh power capacity, that's enough power to charge most tablets to full power about two times. The other great part of this portable charger is its two USB ports. It has a charging rate of 2.4A at each port. Most tablets such as iPads and also Samsung Galaxy tablets have a max 10W or 12W. Another great part of this portable charger is that it has got a max charge output of 4.8A. That means you can make use of both of its ports at their max power at once.
The form factor of this charger is also another great part of it and that's because it measures just half a foot long and is just 0.9 inches thick. Which kind of makes it slim for a 20,000mAh power capacity power bank. It has a 5V/2.0A input which can be better with a 12W input recharging speed. But as long as you're recharging this portable charger while you're sleeping, you'll be good.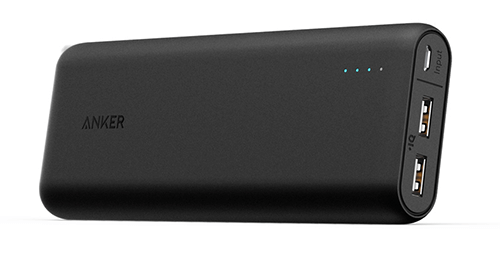 Aukey 20,000mAh Power Bank
Yes, this is another 20,000mAh power bank but this charger is from, Aukey. A company that basically stands toe to toe with Anker. There are quite a few differences with this portable charger. First, though, we'll just go over the similarities. This power bank uses dual USB ports too and each of these ports also has a charging rate of 2.4A each; with the max power output of this power bank also being 4.8A. Aukey also has a Quick Charge variation of this portable charger with one of its ports using Qualcomm Quick Charge 2.0 to charge QC devices at their max charging speeds.
How is Quick Charge helpful for tablets? There are some tablets out on the market such as the Sony Xperia Z4 and the Xperia Z3 tablets that are compatible with QC (Quick Charge).
This charger also has its two input ports. Even though you can't use them in conjunction with each other, it's still very useful to have two different methods of recharging. One of the input ports is a Micro-USB that most power banks have. The second input port is the Lightning input. Not too many portable chargers use this port. As a result of using these two input ports, those that use Android smartphones or even Apple devices such as iPads or iPhones can recharge this power bank using the charging cable that they use to charge their devices.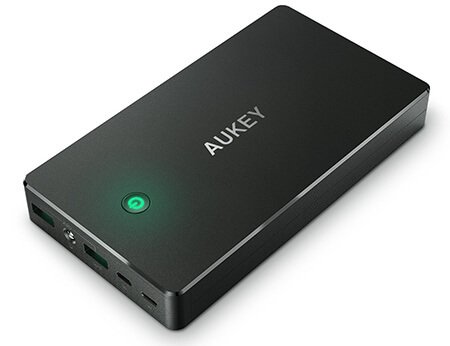 Similar Articles you might Like:- 10 Best Text Editors for Mac OS in 2019
EasyAcc 26,000mAh Power Bank
When it comes to very high capacity power banks, it's quite normal to have two ports or three USB charging ports. It's quite rare for portable chargers to have 4 USB ports. But this EasyAcc power bank does have 4 ports. First, though, let's go over its power capacity which is 26,000mAh. As that's a lot of power that can last you about a week worth of power.
Then there are the 4 USB charging ports that each have a charging speed of 12W and the max power of the power bank is 4.8A. In this case, if you want relatively fast charging when you're charging multiple devices at once, then it's best to charge 3 devices at once only. That's because if you're charging 4 devices at once with this charger then that can result in a slower speed for each of the devices that you're charging.
That said, the fact that you can charge 4 devices at once with this portable charger is still really great. You can very well have two tablets and two smartphones charging at once.
Another part that makes this power bank great is its recharging power. It is because of the two input ports with this portable Power Bank. Both of them are micro-USB and each of them has a recharging speed of 5V/2.0A. The best part is you can use them both at the same time to recharge this power bank at a 4A recharge speed.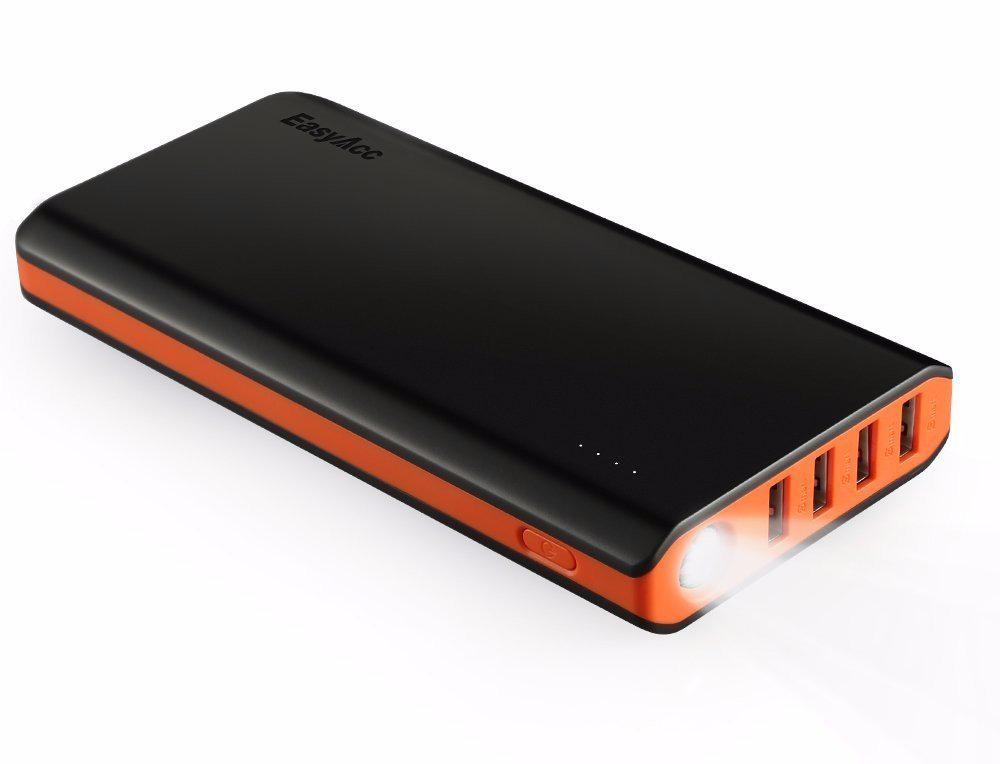 RAVPower 26,800mAh Power Bank
Basically, on the same level as the above EasyAcc power bank. This is RAVPower's 26,800mAh portable charger that has three USB ports. That said, the use of 3 charging ports isn't really a downgrade from the EasyAcc charger that we had before this. As each of the ports on this power bank also have a charging speed of 12W. The max charging rate of the power bank is also 5.5A. So even when you're charging 3 devices at once each of the devices is able to charge quite quickly.
This RAVPower portable charger uses just a single Micro-USB input port, but thankfully it has a 5V/2.4A recharging speed. As long as you're using a 2.4A USB wall charger to recharge this portable charger then you're able to recharge it to its max power within 13-14 hours. For a 26,800mah power bank that has a single input port, that is actually quite a fast recharging speed.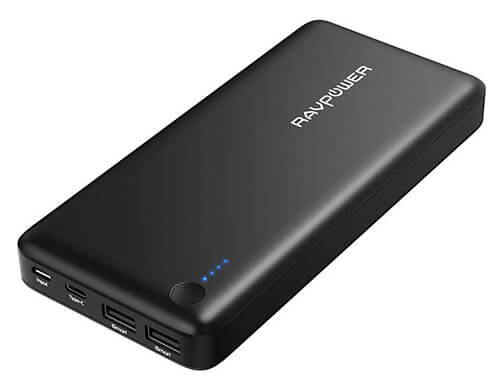 Jackery SuperCharge 26800 with PD
The SuperCharge power bank is a highly minimalistic but powerful portable charger. To start with, the power bank has got a very high power capacity of 26,800mAh. This much power to use is one of the best to have for charging tablets. You're able to use it to charge your tablet to its max power about three times or more.
The charging power form the SuperCharge is one of the best when it comes to a portable charger that uses PD charging. That's because the USB-C PD port has a 45W rate. So you can fast charge most tablets at their max speed. Not only that, but you're also able to charge many laptops that use a USB-C to charge at a faster-charging speed, too.
The one other way to charge from this Jackery SuperCharge is the USB-A port. Previous models of the Supercharge did have a QC USB port, but unfortunately, they changed the USB-A port from a Quick Charge port to just a regular 12W port. So you can still charge smaller devices such as smartphones but they won't fast charge.
Something not power related, but still a positive is that this charger has a digital power capacity display. Also, the power bank comes with a 45Watt PD wall charger, too. As a result, you can recharge the portable charger at its max charging rate straight out of the box. You can also use the charger to fast charge other USB-C devices.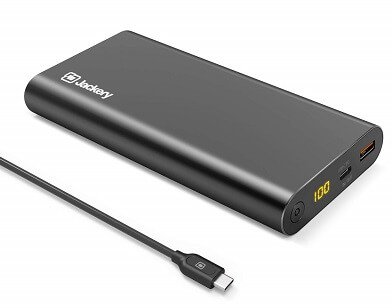 You might also like this:- Top 10 Best Multiplayer Browser Games in 2019
So that's it. These are the Power Banks that I trust and believe are the best for your Tablets or Mobile Devices. I have considered everything about these Power Banks including the costs, capacity, and reviews before listing them here. If you want to add any Power Bank of your choice to include in this list. Then just use the below Comments Section and mention them. I believe that's what you were looking for and now you don't have to look anywhere else anymore to know about 'The best Power Banks' for your Tablets.