A prank call is something which we all have experienced some time. It is a great way to poke fun of your friends. Prank calls are becoming common among teenagers. Following the trend, many companies have taken a high notch by introducing prank call websites. To relieve the tension out of your mind and busy schedule prank calls are great fun with friends.
The rapid advancement of VOIP technology has led to an interesting integration taking place between the Internet and phone lines. These prank call websites offer various kinds of pranks that you can use to trick your friend.
List of Top Prank Calling Sites
Before we start mentioning all the sites in detail, here is a simple list of 10+1 Prank calling websites that we have listed in detail down below.
You can start using any of these prank call sites to send a prank call to your friend, girlfriend, father, mother, teacher or anyone else.
These prank call websites offer some free prank calls that you can try out so that you don't have to pay any money for sending free prank calls to your friend.
Here's the list of Top 10+1 Prank Call Websites
Prank Dial
Prank Owl
Prank Call Nation
Wacky Prank Call
Bored
Comedy Calls
Easy Pranks
HoaxCall
Foxy Call
Phone loser
We hope that you enjoy these sites, the links to all these above listed funny prank call sites are mentioned down under each website subheading.
Also Read: Best Gif Maker Apps
10+1 Best Prank Call Websites
Well, it's good to be funny at times to relax but at the same time, one must beware of prank calls. The prank calls can land you in trouble so be sure about the nature of your friend before you make a prank call. Well, if you want to plan a prank call against your friend then here are some best Prank call websites that you can give a try.
Prank Dial – Free Prank Calling Site
Prank Dial is a simple prank call website that features some of the awesome prank calling for amateurs as well as pros. You get a pre-recorded voices. All you need to do is select a prank call scenario, and send it to your friend. You can also make fun of their reaction. Prank call gives its user three free calls in a day. All the pranks on the website are absolutely free. You can simply add the friend's phone number.
One has to record a call for sending a prank call.  Just browse for pranks from its huge database of fun clippings to share with your friends. It also offers additional calling features like video-calling, ad-free calling, prank history that is available by buying or earning tokens.
Prank Owl
Prank Owl is another fun place that allows you to send pre-recorded voices. You can make prank calls to any part of the world. The operator prank feature of this site lifts up the fun in prank calling as it forces two friends to call each other unknowingly.
It also features caller ID spoofing that allows direct calling to a friend with a fake caller ID to prank them. The best features of this website come after when you buy premium tokens. Prankowl additional features are calling from more countries, handcrafted green name, and ad-free calling. So laugh and have fun moments with your prank reactions.
Prank Call Nation
Prank call nation is one of the largest prank station that offers a huge collection of funny calling pranks and audio clippings. But this website is designed only for U.S. and Canadian residents. It also informs you about the particular prank call that gives better perception about the whole prank. This lets you choose which prank should be sent to whom.
The site is very easy to use for to make a prank call, you simply need to enter the number to call. Then select a voice and enter the prank message to enjoy.
Wacky Prank Call
Wacky prank call is one of the best prank call website that is easy to handle. It is featured with helpline and tips that guide you on how to make prank calls. Its best feature is its direct call option i.e., the operator of the site will actually talk to your friend with whom you play a prank with.
It also hosts Conference calls, interesting pranks and double trouble. It is great site to make prank calls for free. You can even record your prank calls for later use and you get more than one free calls per day.
Blow Up The Phone
Blow up the phone has a lot of hilarious pranks for users to choose from. They have everything from "Why are you calling my wife" to "Fake Thai food take out" so no matter what kind of humor your friend enjoys, you can find something on this site!
You can also select how many messages and how fast to send them which adds an extra special touch 😁😈. This is a great way for people who enjoy giving their friends a good laugh"
Bored – Free Prank Calls Unlimited
As the name suggests if you are Bored then use this one of the simplest and the best prank call website. The website focuses on bored people and comes with categories such as games, humor, and videos. The home page of the site hosts the "Caller ID Spoofing Tool" under the dumb category. Using this tool you can make a call by submitting the information of the person you want to call. It utilizes the text-to-voice technology to transform your text to a voice. It also offers you three free calls in a day.
Comedy Calls
Comedycalls is an easy to use prank website. Every feature of this site is lined in step by step manner for the users. All you have to do is pick up a prank, dial your friend's number and click send now. You can choose from its huge database of humorous call and enter the receiver's phone number to make a free comedy call. Its other features include spoof your caller-ID or timing a call for a later time. It gives you access to an ad-free interface. So pay no money and do no delay making a prank call to your friends using Comedy calls.
Easy Pranks – Phone Prank Website
EasyPrank is one of the best prank call sites that offers wide range of easy and funny calls that are available for free. You just have to dial the number and select the funny prank. Then all you have to do is wait for their reaction and laugh. This site does not offers any caller ID spoofing feature. The site involves no complexity. This site gives the user freedom to make your calls whatever and whomever you like. Using this site you can choose the pre-recorded pranks and then listen it later.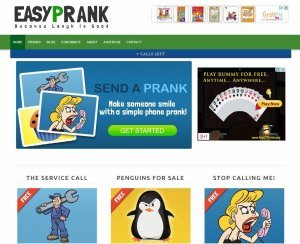 Hoaxcall
With Hoaxcall you can hear your calling partner directly from your browser. You have to select from a list of prank call scenarios this website has such as "Allah wants you", "the garbage spy" and "you are on air" and many more. Then play the clip which is very simple to follow. You can also record the call for later hearing. The site offers unlimited fun and plethora of prank calls.
Foxy Call
If you are looking for some serious fun then Foxy Call is a great prank call website. This site not only allows y to make calls but you can even send a message to your friend to see their reaction. It features a voice modifier so that you can talk as a completely different person through the entire conversation with your friend. You also get pre-recorded voices to send to your friends and laugh at their reaction. It also allows you to record the prank call and download it to share it with friends later.
Phone Loser
Phone Losers of America is a last website in the list of prank call websites. It contains a huge list of fun, humorous and pun filled prank calls. From hilarious to serious, from funny to nonsense, from stupid to insulting all prank calls are available here. Here you get prank call as an MP3 file that can be sent to your friends and family members anonymously.
Well, these were some of the best prank call websites that are nice to have fun with your friends. You can try any of them as all will give you high dose of entertainment and will lighten your and your friend's mood.