PPSSPP is a PSP emulator for Android. It can help you to run PSP games on your android phone or tablet. PPSSPP is the first PSP emulator for Android, and also runs faster than any other on Windows, Linux, and MacOSX. Isn't is fun to play PSP games on Android since PSP has so many games. So here we are going to discuss how you can setup PPSSPP on your Android device and best PPSSPP settings for Android on which the games will run properly without any lag and all.
In order to run most games at an acceptable speed, you require a newer Android device with compatible specifications an android version. Older devices may be too slow to run games properly. If a custom firmware is installed on your PSP, you can easily copy-paste your own PSP discs and to your Android device. But even at the lower specification, the game can run properly by simply adjusting the PPSSPP settings which includes various Graphics settings, Audio Settings, Tools, System Settings etc.
So let us start with How you can set up PPSSPP on your Android Device
How to set up PPSSPP on Android
Follow the steps given below to easily set up PPSSPP on your Android Phone or Tablet to play PSP games on your Android Device:-
PPSSPP can be downloaded from the Google Play Store for free.
Search for "PPSSPP" in the Store. You'll see many options in the search results.
Select the "PPSSPP" option and then click on Install.
PPSSPP will be downloaded in your Android device.
There is no need for any BIOS or any external files for it to work. You can now simply download the game and play.
There is also "PPSSPP Gold" app but it is functionally identical to the version that we downloaded. There is no additional feature in the Paid version. Download the free version first to see if it properly works on your device or not and then you can buy Gold version later to support the developer.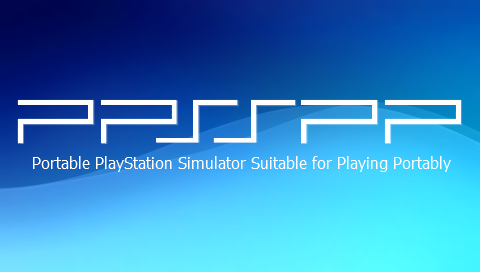 Best Settings for PPSSPP
Many people complain about slow gaming, graphics glitches and low FPS on PPSPP Emulator. This can be because of many reasons.  The performance of PPSSPP entirely depends upon the power of the device. But the main cause of this problem is due to the improper settings for PPSSPP on your Android Device. So as to have the maximum output from PPSSPP, you need to have Best Setting for PPSSP on your android phone. By just turning the few options on or off or to a particular setting in PPSSPP, you will be able to get maximum performance to play games smoothly and lag-less.
So let us get started with the settings which are best suited for your Android Device to play PSP games:
1) Graphics Settings:-
These settings need the most important configurations. One incorrect setting and the app will not properly. Settings here can make your games run smoothly but can also prevent it from starting at all. It all depends on the Rom and the device being used. So follow the steps carefully as mentioned below:
(i) Rendering Mode:- Previously the buffering rendering depends upon how powerful the device you are using. But after the new update, all you have to do is set the Backend from OpenGL to Vulkan. Vulkan works very fast, and smooth compare other reset of the shaders. It also supports both high end and low-end devices.
So just change the Backend to Vulcan in the Rendering Mode of Graphics settings of your PPSSPP.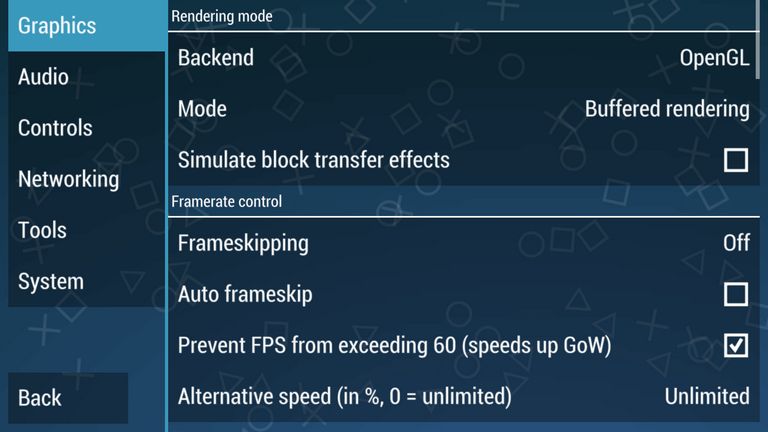 (ii) Framework Control:- In the Framework Control, all you have to do is First make sure that Frameskipping is Off. Next Untick Auto-Frameskip too. Tick "Prevent FPS from skipping 60" and set the Alternative Speed to Unlimited.
This will speed up High Graphics game on your Mobile.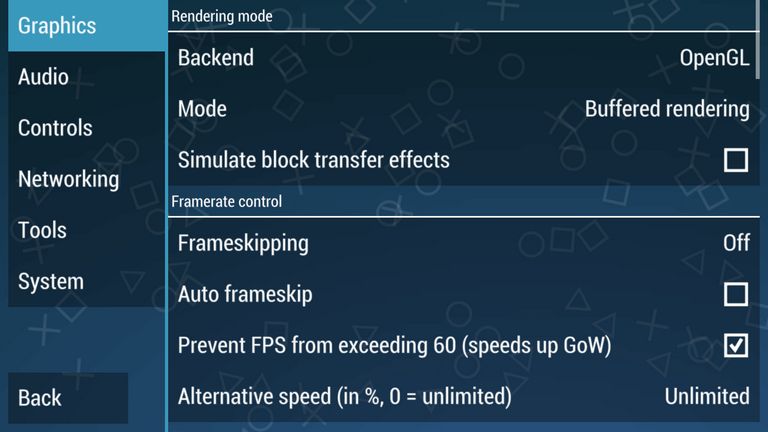 (iii) Features:- Postprocessing shader should be off. Immersive mode should be checked for full screen gameplay.
Instead of keeping it Off, you can even try to select some shader such as Vignette or Bloom. If they don't work properly best is to keep them off.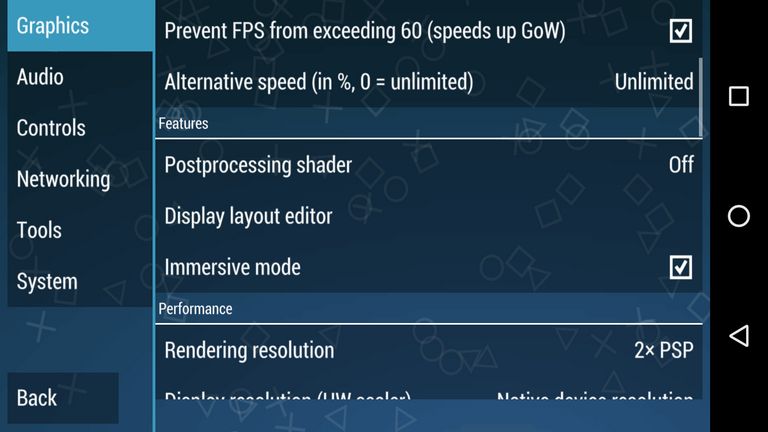 (iv) Performance:- This is one of the most important settings tab of PPSSPP. It will boost the Performace of your PPSSPP if selected appropriate settings. Changes to these settings affect performance directly.
If your Device is Powerful, high rendering resolution will work. Its recommended to first try with 2x Rendering resolution as It brings impressive graphics and supports stable gameplay too. For Low Specs Phones 1x Rendering should be used. Mipmapping, Hardware transform, Software skinning, Vertex cache and Lazy texture caching should be checked. You don't have to check all the options to get a smooth gaming experience if you have a fast device.
Retain changed textures should be unchecked while keeping Disable slower effects and Hardware Tessellation checked.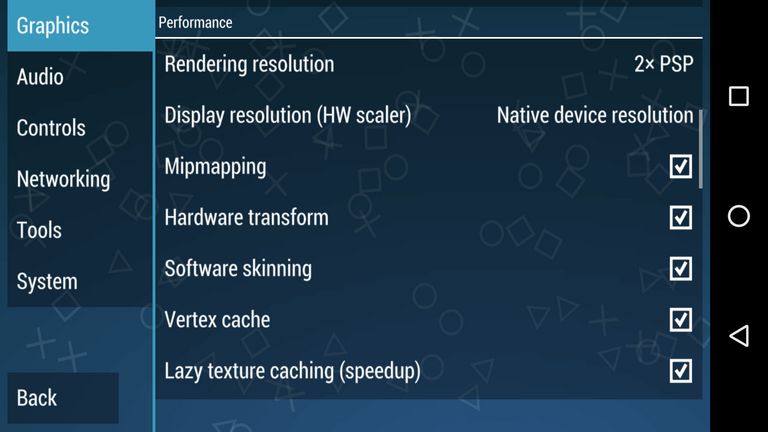 (v) Texture Scaling And Filtering:- Let this setting be Default. Leave it as it is.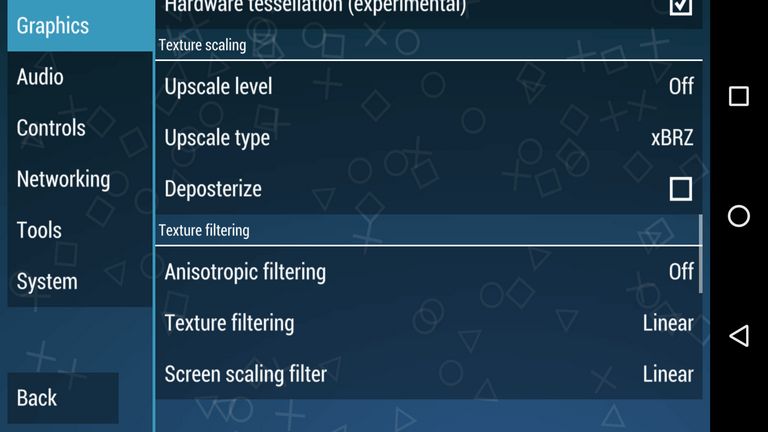 (vii) Hack Settings:- Only check Timer Hack, you should also check Disable alpha test for better graphics on PowerVR processor devices.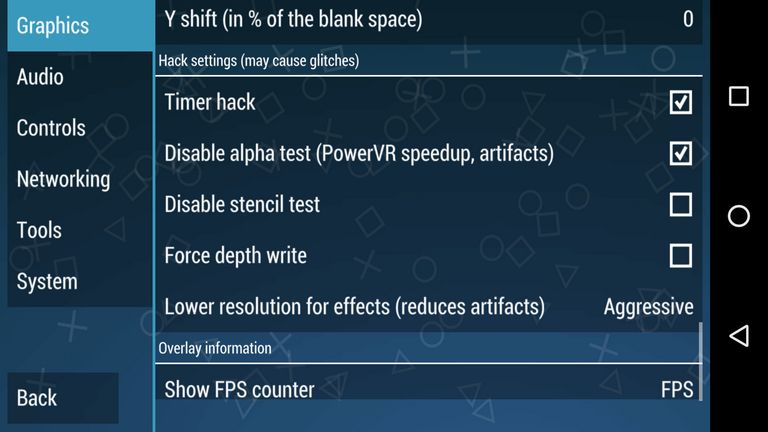 (viii) Overlay Information:- 
For the frame rate of games Select FPS in Show FPS counter. Once you have it enabled, while playing the games, it overlays an information such FPS on the current time basis.
Let other settings as it is: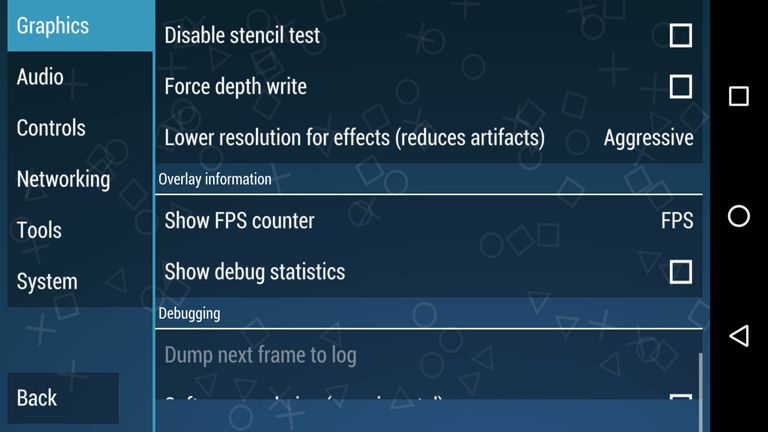 2) Audio Settings:-
For some Games, PPSSPP fails to render the audio appropriately. While it works great in some games, in others it lags and becomes a bit noisy.
So it is recommended to Disable the audio while playing games in which the Audio is not rendering properly. You would discover that games more smoothly with audio turned off.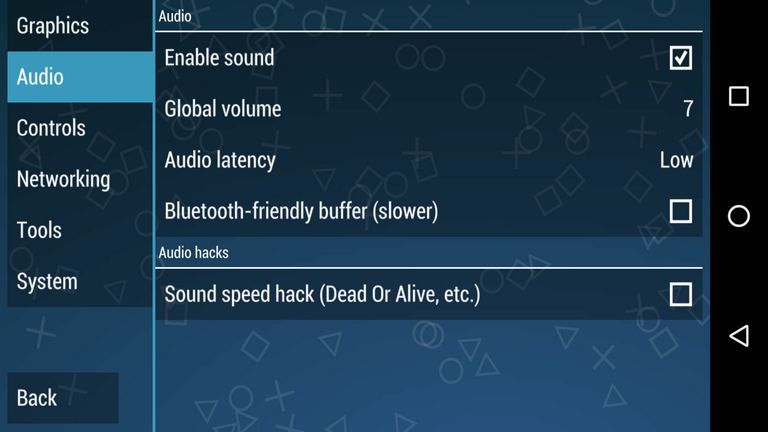 3) Control Settings:-
It totally depends on user preferences. You can set it as you want to be more comfortable playing the game. It doesn't affect the game running.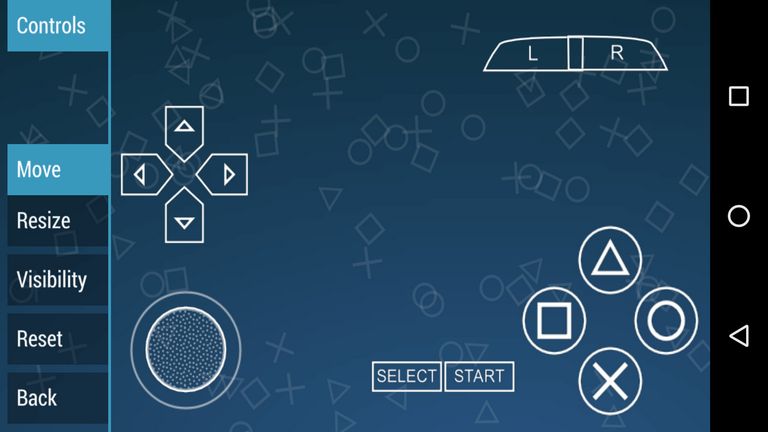 4) Tools:-
These options are actually helpful for developers for development purpose. There is only one thing that we gonna change.
Just Tap on Tools, under it, look for Developer Tools. Tap on it. Next, under CPU Core select Dynarec (JIT). By selecting this feature, it makes sure to bring out the maximum outcomes, best PPSSPP performance.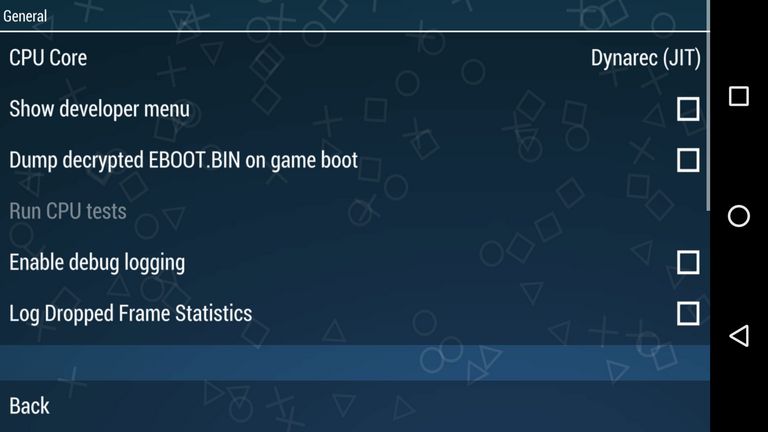 5) System:-
There are several major options to configure PPSSPP emulator appropriately and optimize for better performance. Make sure Fast memory is checked alongside I/O on thread. Set I/O timing method, to Simulate UMD delays or Fast. And lastly, Uncheck Real Clock Sync.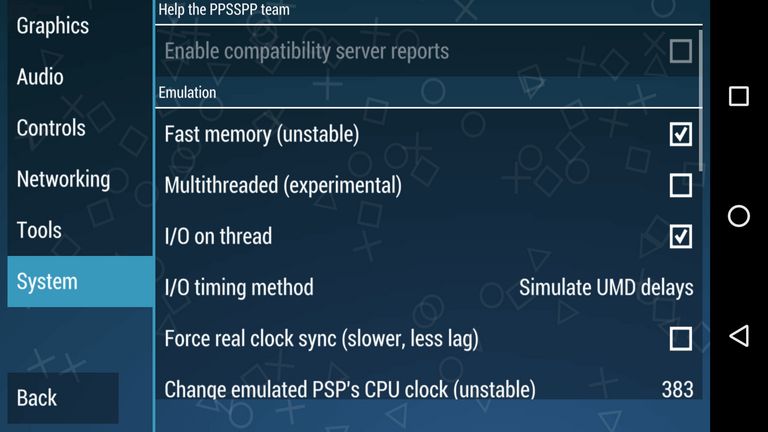 So by keeping these settings, every game will work flawlessly and without much lags in your Android Device with PPSPP. If you still encounter any problem, it can be due to low specs of your device. Choose all the settings carefully as it works directly proportional with the working of games in your Device.
If you liked this article or feel and of the setting missed. You can tell us in Comments Section Below:-