Are you looking for Metal Detector or Stud Finder Apps for Android smartphones? Well, this article must help you as here you will get a detailed list of all stud finder apps along with the links to download the apps for free.
But before that let me tell more about it.
Gone are those days when you used to mess up everything surrounding you to find something that you have lost particularly when the thing is made up of metal. So the next time when you lose some metallic object or want to detect studs stuck in the wall, the solution is just in your pocket. Yes! It's your smartphone. Just one single right application installed on your mobile will do it all by itself. Hence, it's mandatory for you all to know about best Stud Finder Apps.
That 5 inches device can really amaze you out with its services, it can offer you. You may wonder how? But the sensors fitted right at the top of your mobile screen make it happen. Magnetic sensors are present in every smartphone which help to detect the stud around through the help of specific stud finder applications.
Also Read: Top Hidden Camera Detector Apps
Top 10 Stud Finder Apps
There are plenty of Stud Finder Apps available on both the PlayStore and the iTunes store but we have listed only the top 10 Best Stud Finder Apps in the market.
Magnetic Stud Finder
Metal Detector by Smart Tools
Metal Detector by Kurt Radwanski
Metal Sniffer
All tools
Metal Detector by Netigen
Metal Detector by Gamma Play
Metal Detector by RZTech
Stud Detector by Chatterbox
Metal Detector by Dexati Tools
Do try them all once.
Best Stud Finder Apps for Android and iOS
So now, lets have a detailed look at all the stud detector apps that you can use.
Most of these stud finders are free to download so you can easily try multiple apps.
Magnetic Stud Finder
Here goes the number one app named Magnetic Stud Finder It is a stud detector with a customized bubble level view. It can be used to find both metal and wooden studs. It is also a ferromagnetic object finder.
The app is an adequately tested service that can find studs even in the deepest of the walls. But still, the app has few back draws like it's unable to work in cases when the magnetic field is weak or more than quarter thickness plaster layer is present.
Metal Detector by Smart Tools
Metal Detector by Smart Tools is one of the best of it's type. When you start to navigate the app, it activate the magnetometer of your phone and measures the magnetic field. It has a magnetic field level that increases when you approach a metal. The reliability of this app depends upon the magnetic sensor in your smartphone.
Metal Detector by Kurt Radwanski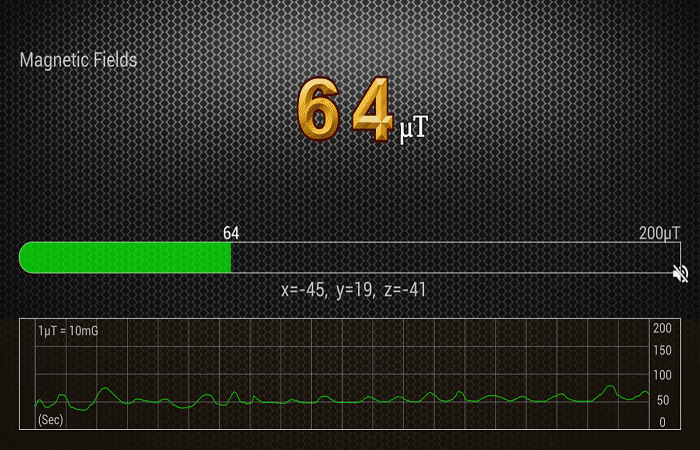 Metal Detector by Kurt Radwanski is yet another amazing stud finder apps. All you need to do is install the app, open it, read instructions and follow the guide. The app only works well with the ferromagnetic material.
This simple app scans for stud and shows the result as "detected" or "failed".
Metal Sniffer
Metal Sniffer is a stud finder app that detects all the nearby metals (ferromagnetic only) based on magnetic fields. The range of detection varies according to the magnetometer embedded in your smartphone.
In Metal Sniffer you can set your own threshold value when your mobile should notify you of detecting an object. This stud finder app can even detect electrical wires inside the dry walls.
All Tools
All tools is a multipurpose app that serves around 40 purposes in total. It works on WiFi and connects up to 4 devices. Service utility of this special stud finder app is walkie-talkie, metal detector, CCTV, compass, mirror, speedometer, stopwatch, temperature, pressure, humidity, altitude, spycam, heart rate, counter, color detector and much more.
This app is one of those essential apps that have a reasonable purpose to stay in app list of your phone.
Metal Detector by Netigen
The app named Metal Detector by Netigen detects studs, metals nearby and electrical wires inside the drywall. As rest of the apps this stud finder app also may fail for those mobile which don't have embedded magnetometer in themselves.
The app measures the magnetic field and beeps and vibrates when it finds a metal. Metals like gold, silver or aluminium which are termed as non-ferromagnetic metals fails to detect in this app.
Metal Detector by Gamma Play
Another promising candidate in our list is Metal Detector by Gamma Play. The sensors sense the magnetic field and measure the magnetic value. When the magnetic value increases, there is a clear chance of finding a metal somewhere nearby. This app is a premium version, and hence you need to purchase this app from the store.
Metal Detector by RZTech
The next name on the list is Metal Detector by RZTech which is a stud and metal detector that works on the principle of magnetism. The phone's magnetometer senses the magnetic field level and the app displays that reading on the screen.
When the level reaches a threshold value, the alarm beeps and the phone vibrates. You can change the threshold value in the settings. The higher the magnetic field value, the nearer the metal is. It has multi-language facility from which you can choose the language you desire.
Stud Detector by Chatterbox
Stud Detector by Chatterbox is a stud finder and detector app which uses the magnetic sensors of mobile. The app alerts you if your mobile has no sensor or your magnetic sensor is faulty.
In such cases, the app doesn't work as expected. With a magnetometer embedded in the device, the app works with maximum accuracy. It has an adjustable sensitivity and visual indication. The vibration and audio feedbacks are projected when a stud is detected.
Metal Detector by Dexati Tools
The last name on the top 10 stud finder apps exclusive list is Metal Detector by Dexati Tools. It is a real metal detector app. You can detect precious metals using this app. As you may already know electrical equipment like computer, microwave etc generate their own electromagnetic waves which may disturb the precision of our app.
Hence it is advised to turn off every electronic appliance nearby while searching for a stud. The magnetic sensor reading is displayed on the screen.
So, readers, this comes to an end of our top 10 stud finder apps list. Hope you enjoyed reading this article. Maybe you have found your best suitable stud finder app. If not, do tell us in the comment section below. We will keep updating our list time to time for you.