Device stuck at booting is a very common yet extensively frustrating problem for Android users. It may happen a number of times and due to a number of reasons. Despite their great performance,  Xiaomi devices too, are vulnerable to this problem. Redmi 1S is a device that faces this issue in most of the cases. Therefore in this article, I will cover up all the relevant information and explain to you How to Solve the Redmi 1S Stuck at MI Logo problem.
Redmi 1S: The Stepping Stone for Xiaomi
Released in 2014 by Xiaomi, Redmi 1S was the part of Redmi series phones and the successor of Redmi 1. This device proved to be the Stepping Stone for the company due to its low price (priced at US$94 or ₹5,999) and great specifications. The mobile became widely popular and stoned the name of the company in the Mobile Industry as the company to be looked up on in near future.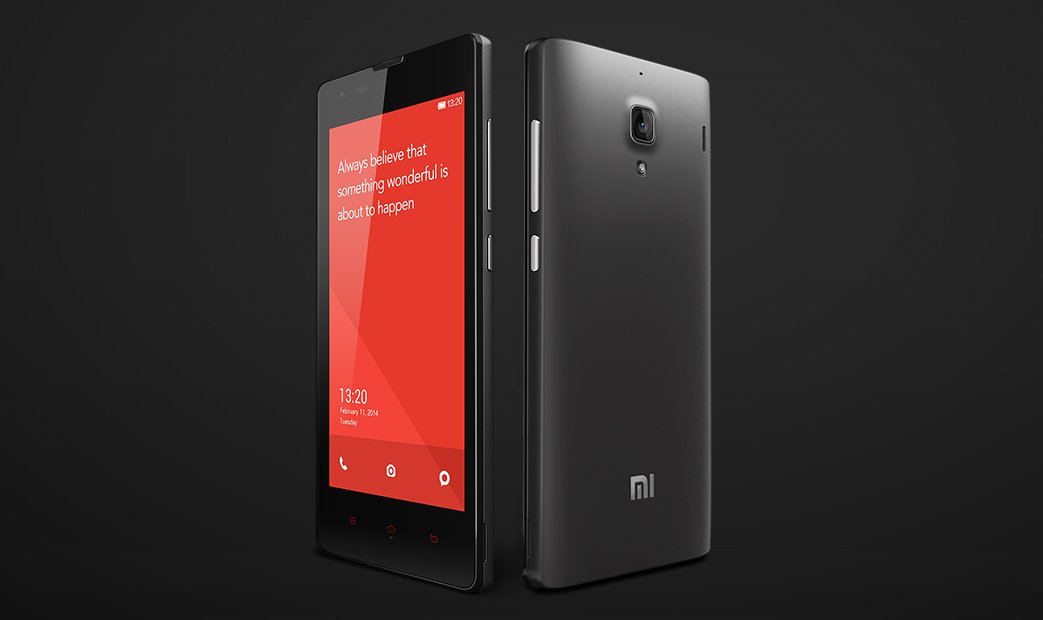 Redmi 1S was packed with a quad-core 1.6 GHz Cortex-A7 processor, 4.7-inch screen, ran on Android Jellybean (4.3) and had MIUI V5 user interface which could be upgraded to MIUI V9 based on Android Kitkat (4.4). It worked on 1 GB Ram and 8 GB Storage, and Adreno 305 GPU. Redmi devices are highly customization friendly. However, sometimes some customizing errors may lead to a problematic ending. Redmi 1S stuck at MI logo is one such problem. This problem may also occur when you upgrade your Redmi 1S to another version of MIUI. The phone is not able to fix the problem itself. You must fix it manually.
How to Fix Redmi 1S Stuck at MI Logo
There are 2 methods to solve the Redmi 1S stuck at MI logo problem. You don't need any mastery of technology to solve this problem. Just follow the easy steps that I am explaining below the method.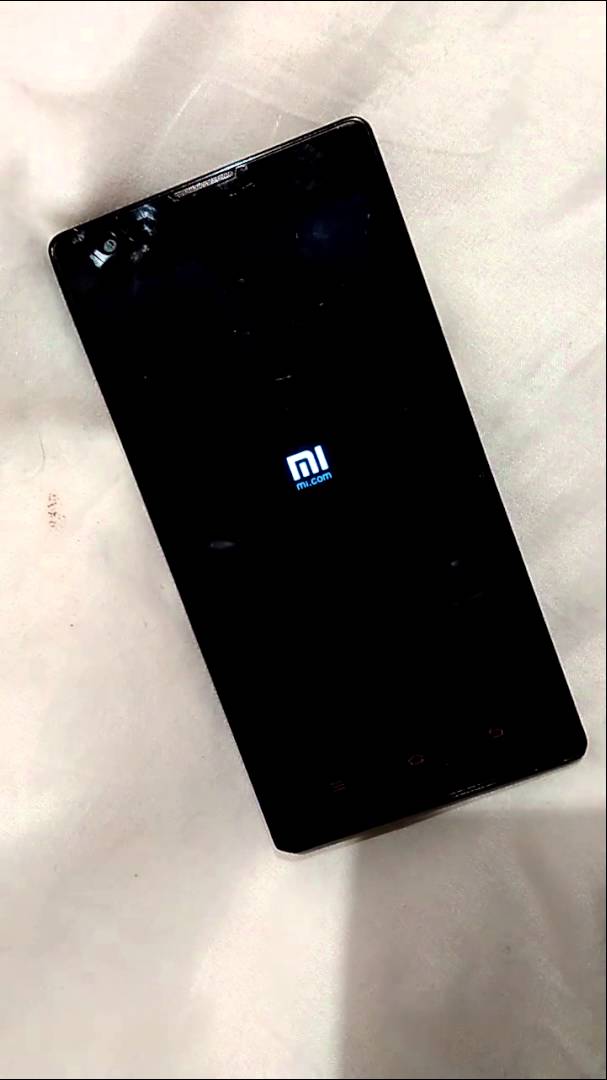 Either of the methods can fix the error. Don't use both of them. Try the first one and if it doesn't work the best for you, then move to the next method. You will need a computer to resolve this issue. Pay close attention and nourish your patience while reading through this post. Let's move forward to the methods now.
1. Use MIFlashTool
This method will require MIFlashTool and Full FastBoot MIUI for Redmi 1S. Follow these steps in order to solve the "Redmi 1S stuck at MI logo" problem:
Step-1: Download MIFlashTool from here and then Download Full Fastboot MIUI rom for Redmi 1S from here.
Step-2: Now extract the rom file in  C:/ Drive of your PC.
Step-3: Then install the Mi Flash Tool on your desktop.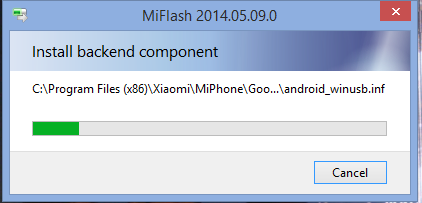 Step-4: Afterwards, run the MiFlashTool software.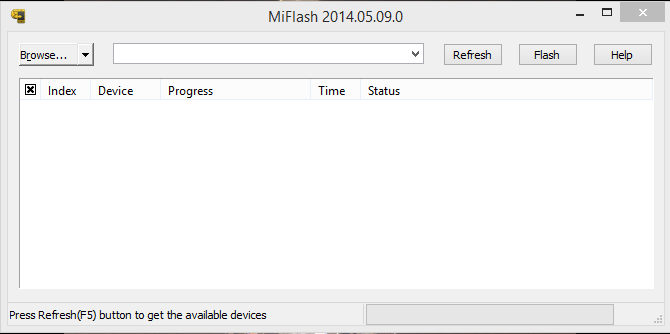 Step-5:  In the tool, click the Browse button and select the image folder of the Rom file you extracted on the C-drive.
Step-6: Now turn off the phone and then enable the Fastboot mode by pressing volume down key & power key simultaneously, and then releasing power key.
Step-7: Then in the FlashTool, click on the Refresh button and you will get your device displayed.

Step-8: After your device is successfully connected, click on the "Flash" button and the flashing process will begin on your phone then.
Step-9: Wait patiently until the progress bar on MiFlash is green, which indicates the ROM is successfully flashed, and the phone will automatically boot then.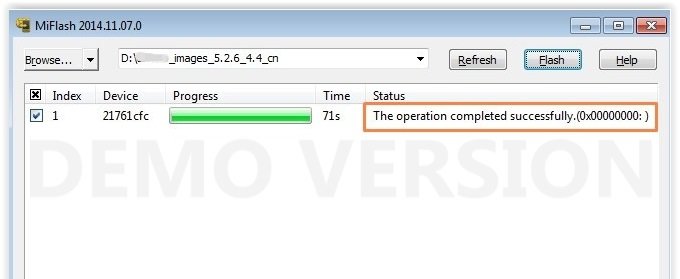 Done. You have completed the procedure successfully further solving the "Redmi 1S stuck on MI logo" problem too. However if you faced any issue or wasn't able to Flash the device using this method, you can try the next method listed below.
2. Using ADB Tools
This method will require Adb tools, CM Recovery and Xiaomi USB Drivers installed on your computer. Follow these steps in order to solve the"Redmi 1S stuck on MI logo" problem:
Step-1: Install the Xiaomi USB drivers in your PC. The drivers comes with the phone itself.
Step-2: Download Adb tools from here and then download CM Recovery from here.
Step-3: Afterwards, extract the Adb tools anywhere in your PC.
Step-4: Now copy recovery.img into adb tools folder and your folder will look something like this:

Step-5: Then boot your phone into Fastboot mode by pressing volume down key and power key simultaneously, and then releasing power key.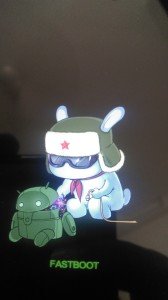 Step-6: Afterwards, connect your Redmi 1S to your computer via Data Cable.
Step-7: This and the next step requires your close attention. Go into adb tools folder. Hold Shift key and right click there simlutaneously and then click Open command window here.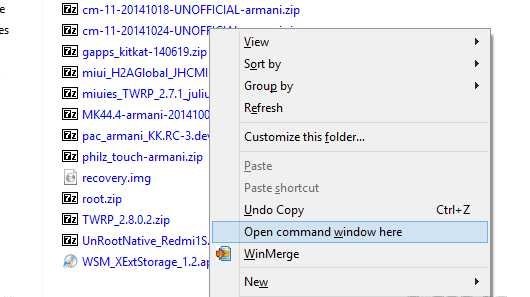 Step-8:  Now type "fastboot flash recovery recovery.img" and hit Enter (Ignore If "Mismatched partition size" after Flashing Recovery is shown).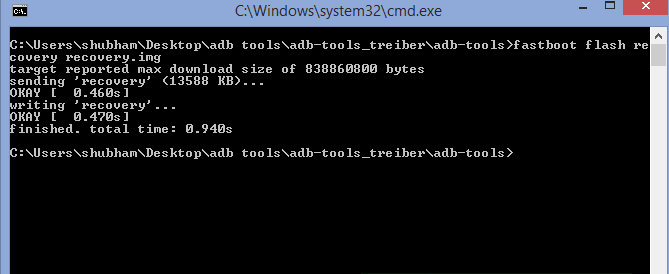 Step-9: Then restart your phone with recovery buttons (volume up and power).
Step-10: Afterwards on your phone, click Yes if it says to fix root and the phone will restart then.
Done. You have successfully applied the method which further have resolved your issue. You can now continue using your phone without getting frustrated by seeing your Redmi 1S stuck at MI logo.
Some Bonus Tips
As prevention is always better than cure, I would suggest you to always treat your device with care. Follow these tips in order to avoid such problems. These tips will help your Redmi 1S to work better and avoid certain threats.
Don't apply unnecessary customizing on your device.
Avoid using untrusted custom Roms.
Don't meddle with System files and logs.
Avoid using applications that mess with the System files. Always pay close attention to the 'Terms & Conditons' of such apps.
Never move forward while doing something to the Software of your phone if you are unaware of the possible outcomes.
Conclusion
These were the two best methods to solve the "Redmi 1S stuck at MI logo problem." If you tried any of these correctly, you are now free from the issue. Method-1 has proved to work out the best for most of the users. While who were not able to fix the problem by Flashing their device using FastBoot, used Adb tools to rectify the issue. Hope I was able to help you and you found what you were looking for. For any queries regarding the topic, comment down in the comments section below.