Either the software problems or the hardware problems, most of the problems are occurred due to drivers. The drivers play a major role in the operating system of the Windows. Thus, this article is going to be based on the best Driver Updater software for all the version of Windows. Many times, Windows users face errors with coordination between the software and hardware. Generally, this happens when the drivers aren't updated and face problems with processing the system functions.
Before I tell you how to install the best drivers for Windows, you need to know about the importance of drivers. Drivers play a major role in Windows as it forms a connection between the hardware and software. Most often, you find it difficult to respond to your commands. This happens when the drivers in your system get outdated.
Check This: Driver Booster Review
In this case, you should update drivers on your system with the help of software developed to update drivers. This software works automatically and provides you the most efficient drivers for your system. You don't need to worry about finding the right software. I have listed the Best Drivers Updater Softwares in this article to make it easy for you.
Check this: 10 Best Driver Updater for Free
Top 8 Best Driver Updater Software
So here's our detailed list of best driver updater software. You can download most of these Driver Updaters for Free but these tools offer most of the important features only after you buy them. 
You may come across many free driver updater software on the internet, but most of them will have the same issue. The free versions will allow you to only search your PC for driver issues. To update outdated drivers you will eventually have to buy a driver updater software.
The first software in our list of best driver updater software is the Smart Driver Updater. The feature which pushes it to the top is that it scans your system and tell you about the old drivers existing in your system. It notifies the outdated drivers which can be updated with just a click through Smart Driver Updater.
Not only this, Smart Driver Updater also enables driver backup and restoration and scheduled scans for your system. Also, this software is eligible for all the versions of Windows.
2. Advanced Driver Updater
Well, the next software on our list seems quite effective through its name only. Advanced Driver Updater is developed by Systweak Software to update drivers on your system easily. After installing this software, all you need to do is scan your system. It'll automatically list the outdated drivers and ask for your permission to quickly update them.
What makes it at the top of the list is that you can easily make a backup of the drivers and restore them anytime you want. Also, Advanced Driver Updater is available in many languages like Spanish, Italian, French, etc. This software is compatible with Windows XP/Vista/7/8/8.1/10.
Download Advanced Driver Updater
3. Driver easy
Just like the other driver update software, Driver Easy digs your system and find the outdated and missing drivers. Once found, you can easily update the drivers in your system. The Pro version of Driver easy allows you do all the hard work in just one click.
Also, this software offers you to backup your drivers and restore them easily. Driver easy offers you to try it for free on all the versions of Windows. By trying it for free, you can check the working process and efficiency of the software and then update it to the pro version.
4. Driver Reviver
Driver Reviver does all the hard work by finding the outdated drivers on your system. This software is developed by ReviverSoft and updated your driver with a click. What makes it different from other drivers updaters is Driver reviver kicks out the risk of downloading a faulty or infected driver.
Thus, it safeguards you from installing any wrong and infected stuff on your system. In addition, Driver Reviver comes with features which help you in many ways like driver backup and restoration.
5. WinZip Driver Updater
Just like the other series of tools provided by WinZip Software Development, WinZip Driver Updater is another successful tool for users. This software is developed by WinZip and it enables your system to work smoothly by updating the system's drivers. Also, WinZip Driver Updater scans your system real quick and lists out the outdated drivers.
This software easily finds the infected drivers which cause sluggishness on your system by not responding. While scanning, you can choose between the drivers to see which driver needs to be updated first. WinZip confidently claims that after its usage, your system will process faster and stable.
Download WinZip Driver Updater
6. Driver Checker
Another driver updater in our list of the best software to update driver is the Driver Checker. This software quickly ensures that efficient drivers handle your system. Driver Checker, though, checks your system for outdated and infected drivers on your system. Also, you can backup and restore, uninstall and export drivers using Driver Checker.
Nonetheless, this software also provides you detailed scanning report with infected and outdated drivers clearly mentioned in it. Apart from this, the software also enables you to search for drivers using the webpage available in the software itself.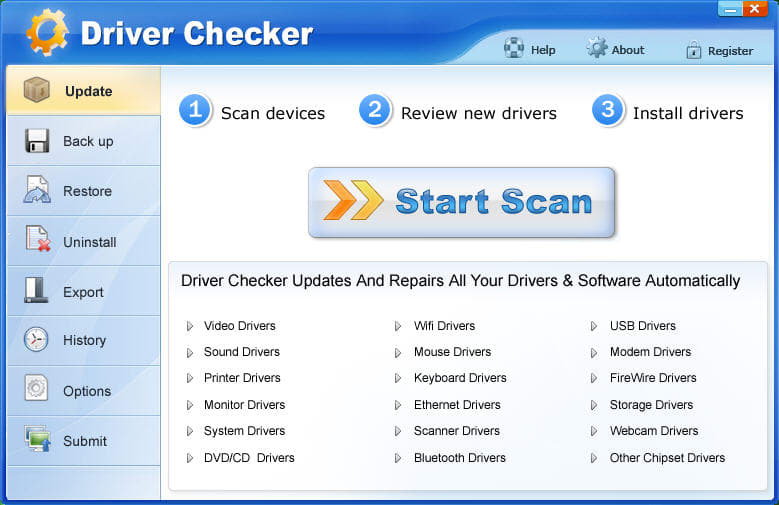 7. Driver Genius
Driver Genius works the best to update drivers on your system. We can easily understand that this software is a genius in its work through its name itself. Driver Genius is a professional tool for driver management. This software features both the hardware diagnostics and the driver management all in one.
Apart from updating the drivers, Driver Genius easily backs up and restores all your drivers in a few mouse clicks. You can also monitor and schedule scan the processes done by the Driver Genius. It monitors the temperature of hardware and protects your HDD, GPU, and CPU. It is compatible with all the versions of Windows absolutely free.
8. DriverHive
Another driver updater in our list is the DriverHive software available for all the versions of Windows. This software is developed by Bootstrap Software Development to update drivers in Windows. DriverHive works just like other driver update tools. However, it offers an intuitive UI.
This nifty software allows you to scan and update driver errors and also manage them easily. DriverHive improves stability and system performance and provides you unlimited downloads from DriverGive's exclusive driver library.
Well, this was the list of the best software to update driver not working properly. All of these tools are compatible with Windows XP/Vista/7/8/10. If your system has become comparatively slow and it needs some upgrades, then choose the software you find most effective in the list.
These help you to improve your system's performance and boosts it in a little time. Perhaps, comment below if you found this article of the best driver updater software helpful.