Hey friends! We are back on your demand. Today's article is all about games like My Candy Love. Before looking into the names for games like My Candy Love, let us know what this game is all about that we are eager to discover more such games?
My Candy Love is one of best of all online dating game for females that is so popular especially in parts of Asia. Excited, indeed I am too! Online dating games are absolutely fun loving and interesting. Hence we have compiled a list of top 10 games like My Candy Love for you all.
Best Games like My Candy Love
Without wasting another second of yours let's go through the list of Best Games like My Candy Love.
Lady Popular
RE: Alistair
Roommates
Be My Princess
 Princess Debut
Pirates in Love
Katawa Shoujo
Top Girl
Reset
Spirited Heart
Top 10 Games like My Candy Love
Lady Popular

Lady Popular is a fashion based game like My Candy Love. This game allows you to write your own story as you change your life from being a fashion rookie to a star. To play this game you have to do an easy signup and register yourself. In the gameplay you craft your story as you dress up, play games, challenge others and decorate your own virtual space. Lady Popular is a must play a game for all those who like fashion and want to be the part of linked minded society.
Check it out- Lady Popular
RE: Alistair
The lead player of this game (that is you) is madly in love with video games and highly short-tempered. RE: Alistair is just like a visual romance novel. Here players can interact with the characters within the game. It has three main male characters, and the players can choose to have romantic relationships with any of these male characters. The game is available for Windows, Mac as well as Linux.
Check it out- RE: Alistair
Roommates
Roommates is a Visual Novel, Otome-Based, Single-player and Dating Simulation developed and published by Winter Wolves. The game includes two protagonists and allows the player to play as either Max or Anne. The story revolves around Anne or Max through their first year of college. In this game, the player shares a Latin House with other NPCs and enjoy different scenes in their life.
Check it out- Roommates
Be My Princess for GREE
In Be My Princess you get an opportunity to become a marvelous fashion designer for splendid princesses. It is a romance theme based game. You are a fashion designer that has a hard time finding work—that is until you pose as a princess and have a bunch of handsome princes' fall for you! Design amazing dresses while dealing with romantic advances in this fun game.
Check it out- Be My Princess
Princess Debut
This game, developed by Natsume, is best suited for the portable Nintendo DS. It is a rhythm-based dating game that involves romantic relationships. You play the character of a princess, who must learn some dance moves in 30 days to romance one of the six handsome princes at the big ball. The game offers various options to create your own look and customize it.
Check it out- Princess Debut
Pirates in Love
What could be more romantic than to sail the seven seas onboard a ship full of handsome pirates? Well, you'll be able to experience the thrill of being the only woman on the ship Sirius, which is home to 6 dashing sea bandits. Pirates in Love features the likes of confident fencer Russell, mild-mannered doctor Christopher, sadistic mate Eduardo and unfriendly chef Nathan.
Check it out!- Pirates in Love
Katawa Shoujo
It is also a visual romance novel game that involves a single man that moves to a new school where he makes friends and also falls in love. It also involves five women with disabilities. This game tests your decision-making abilities, and also allows you to control and build your own storyline and endings.
Check it out!- Katawa Shoujo
Top Girl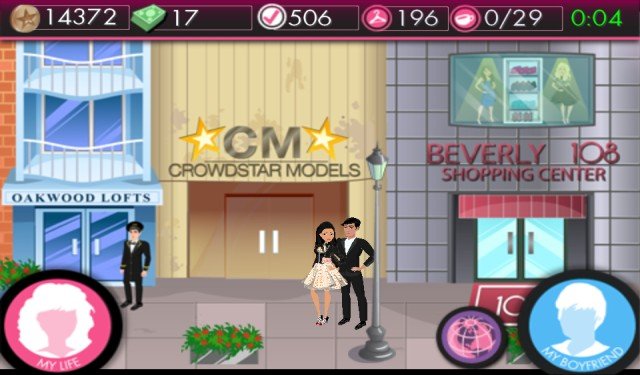 Have you always wanted to take the fashion world by storm and rule the ramp? Well, you can now make all your dreams come true in Top Girl. According to the developer, girls can take up modeling gigs, go clubbing, date handsome guys, and shop around for the latest trends in the market.
While rendezvousing with your special someone, you can even buy him gifts and capture those precious moments spent together on camera. As far as fashion is concerned, there are more than 600 unique purses, shoes, clothes and accessories at your disposal. Flirt with over 250 dashing men and attend more than 20 fabulous clubs and parties while on the go as Top Girl is compatible with both iOS as well as Android-powered gadgets.
Check it out!- Top Girl
Reset Series
Reset is another one of the free games like My Candy Love, it's got two games in the series and just like other otome developers, the creator has dabbled in plenty of other games in this genre so there is definitely design experience behind the game.
What I liked about Reset but a feature that might turn people off is the depth of lore and story behind the video game. It's definitely the sort of visual novel adventure that you need to fully involve yourself in to actually get the best from it. The setting is sort of a weird fantasy mix with a mystery that is really enjoyable.
Check it out!- Reset
Spirited Heart
It is another decision-making game that involves creating a lifestyle of your own and deciding your own career and wedding. This game allows you to choose between a human, demon, or an elf, each offering different characters and experiences. There are plenty of options to explore in this game.
Check it out-  Spirited Heart
Also Read: Best Games Like Stardew Valley
All the above-mentioned games are flirty, full of romance and love, give you an opportunity to date and add up little spice to your lives. Hope you find this list of top 10 games like My Candy Love interesting. Give them a trial and find the best of all. Do let us know through comment section. Don't forget to share the article with your friends and family.