Searching for Instapic Alternatives? Want to know applications other than InstaPic that you can use on your computer to use Instagram, then you are in the right place.
Instapic was an Unofficial client to use the popular social network Instagram on your PC. Instapic was taken down from the Windows Store after major Instagram updates. But don't worry Instapic is not the only application to use Instagram from your PC. In this article, you will see some of the top alternatives for this InstaPic application. So let's check them one by one.
Top Instapic Alternatives you can Use
Using the alternatives given in this section you can perform virtually the same actions on mobile devices like iPhone and Android as the official Instagram client. Some alternatives are specially created to upload your photos, view your friends, apply filters and other visual tweaks, comment on and like pictures. Some of them also include search and image download. You will need an Instagram account to use each one of them.
So let's start with the first alternative application.
Have a look at this:- How to DM On Instagram On The Computer [Step By Step]
Flume Application
Flume is a beautiful application to use Instagram on your Mac. Currently, this application is only available for Mac users. Most of the Instagram features are available on this application. Also to get access to features like Multiple Accounts and Upload Photos/Videos you can purchase the Pro version of this application. Rest all features are available in the free version. To download Flume Application you can navigate to the Flume website.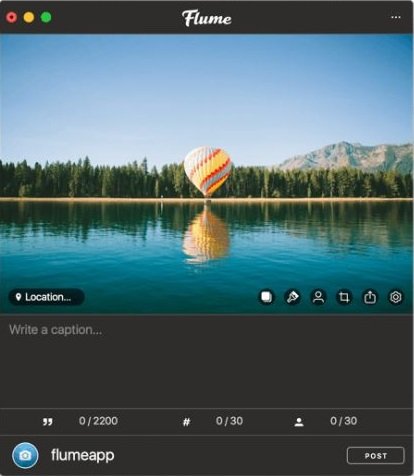 Desktop for Instagram
Desktop for Instagram is not really a standalone application. Rather it is a Chrome Extension which can be used to use Instagram directly from Chrome browser. This very simple application allows you to access the Instagram mobile website on your Computer. With this application you can Upload Photos, Videos, Directly message someone, open and download photos and videos in full HD and everything else that is possible on the Instagram mobile website. You can download and install Desktop for Instagram on your Chrome browser from the Chrome Web Store.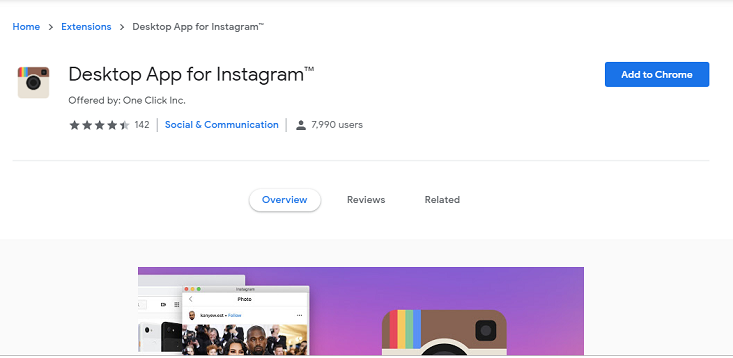 Stim Social
Stim Social is not exactly a fully-fledged Instagram application. It is more of a Page Marketing application for Instagram. It allows you to maximize your Instagram marketing to get real organic engagement and convert your followers to real customers. Stim attracts new followers to your Instagram account. This leads to thousands of new people following and interacting with your profile. It is a paid app which comes with a 5-day trial. You can download the Stim Social application from Stim's Official website.
Latergram
Latergram is an application that you can use to pre-schedule your Instagram posts. Using this application, you can plan a week of Instagram posts upload in only 20 minutes. You can use this feature of Latergram to schedule posts on your Page or profile by keeping all of your Instagram content in one place and accessible on any device. To download Latergram and connect your Instagram application on it navigate to Latergram Website.
Start with your Instagram Experience on Computer
If you wanted to use Instagram on your Windows or Mac computer, but not happy using Instapic. Now you have 5 other alternatives other than Instapic to have a great Instagram experience on your Computer.  Installing all the applications is easy and can be easily done by reading the instructions carefully.
You might also be interested in-How to View, Save or Download Instagram Profile Picture in Full Quality
So that's it for this article. If you are having any trouble while using Instagram on any of these alternatives feel free to tell me in the Comments section below. I will always be ready to help you. If you have used any other alternative other than the mentioned 5, mention them in the comments section below. I will surely include them in this list. So, I believe now you don't have to search on the Internet for the more Instapic Alternatives 
FAQs
In this section, I am going to answer some frequently asked question you might have while installing any of the above mentioned Instapic alternatives. So let's start with the first question.
Is it safe to install these Instapic alternatives?
Installing any third-party application on your computer can be very harmful as sometimes it can breach your privacy and take control of your computer. All the alternatives mentioned in this article are safe to use. But still, I recommend you to double-check the website before downloading any of them.
Are these Instapic alternatives for Windows or Mac?
Of all the alternative software given in this article, some are only compatible with Mac and others with Windows. Most of the applications are compatible with both.
Can you upload Photos/Videos on Instagram using these Applications?
Yes, each and every application in this article is capable of uploading Photos or Videos on Instagram and can even post stories for some of them.
Can you DM someone on Instagram using these Applications?
Yes, but not all of these Instapic alternatives have DM features. Read the application description carefully before installing them.