Every app keeps updating itself to give its user a fantastic experience. Whether it is Facebook or WhatsApp, every app is bringing some new features. This change is sometimes welcomed by people, while other times highly criticized. The autoplay of videos on Facebook was one such feature that was added to your favorite social networking site this year. And the minute it started, I bet all of you would have wondered how to stop Autoplay of Videos on Facebook. The feature was like complete madness, as the videos just started playing whenever you opened Facebook.
But don't worry because we are here with the exact way to stop it. Whether you are using your PC or Android or iOS device, we have covered every way to stop Facebook's autoplay video.
Check This: How To View Your Facebook Profile As Public
Methods to Stop Autoplay Video on Facebook
Were you also caught going through your Facebook feed in class due to the new autoplay video sound feature? Are you looking for ways to turn off autoplay Videos on Facebook?
If yes, then you have indeed landed on the right page. Because here in this article, we are covering ways to stop autoplay of videos on Facebook PC, Android, and iOS. Up till now, you had to click on the video to start playing it, but now as you scroll down your news feed, the sound of these Facebook videos fade in and out. And since this feature of Facebook is annoying, we can stop and turn it off. One of the reasons to turn off this feature is that it eats up your data. Let us look at the steps that you need to follow to stop the autoplay of videos.
How to Turn off Autoplay Video of Facebook on iOS 
Start by opening the Facebook app on your device. Also sign in to Facebook, if you haven't already. After you log in, start following the given steps.
Step 1: Get access to the Settings of your device, by clicking on the menu icon.
Step 2: Now from the resulting menu, click on Settings.
Step 3: A pop-up menu will display on your screen. Select the Account Settings.
Step 4: Now in the next step, select Videos and Photos from the Account Settings window.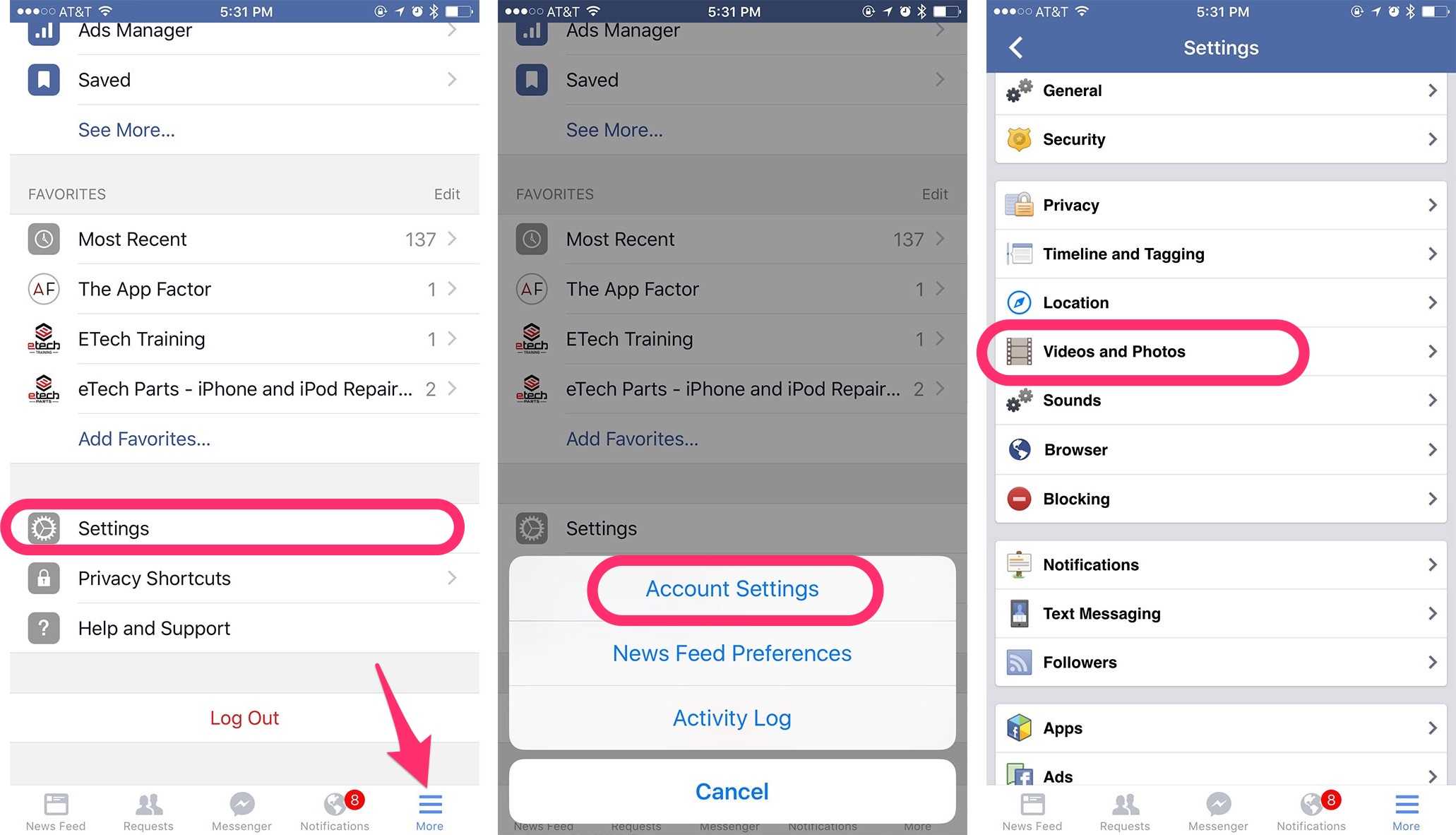 Step 5: You will observe the autoplay option within the Videos and Photos menu. You will get three alternatives from which you can choose. You can choose either one of them depending upon your wish. So you can allow autoplay Videos on Facebook-
On Mobile data and Wi-Fi connections
On Wi-Fi connections only
Never autoplay videos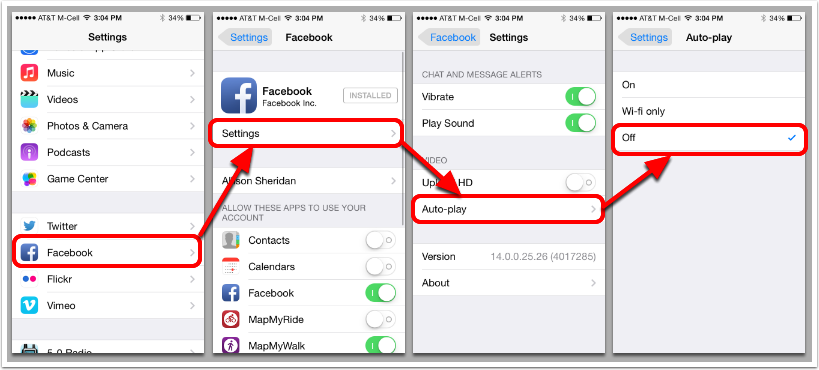 Choose the last option by ticking on it. That's it. Now when you scroll down your Facebook news feed, the videos will not autoplay. Also, you can try this other method to turn off the sound of the videos on Facebook on your iOS device. Yes, that means that when you scroll down, the videos will start to play but with no sound. So that you can enjoy the video and no one will come to know.
Step 1: You will find a three- lined hamburger like button at the bottom right corner of the screen.
Step 2: In the next step, tap on Settings and then select Account Settings.
Step 3: Now click on Sound and then just toggle the "Videos in News Feed starts with Sound" option.
But if you cannot observe such an option then the update might not have rolled on your device yet. You can check it back later.
Check This: Why Is Facebook So Slow?
How to Disable Autoplay of Facebook Videos on Android
Now if you are not aware of settings like this then the autoplay videos feature of Facebook might consume all your data. And so here are the steps that you can follow to stop the videos from playing automatically, while you use this social networking site on your Android device.
Step 1: Firstly, click on the three points in a line aka the hamburger to reach the Settings of the app.
Step 2: Then click on app settings.
Step 3: In the next step, locate the Video auto-Play link and click on it.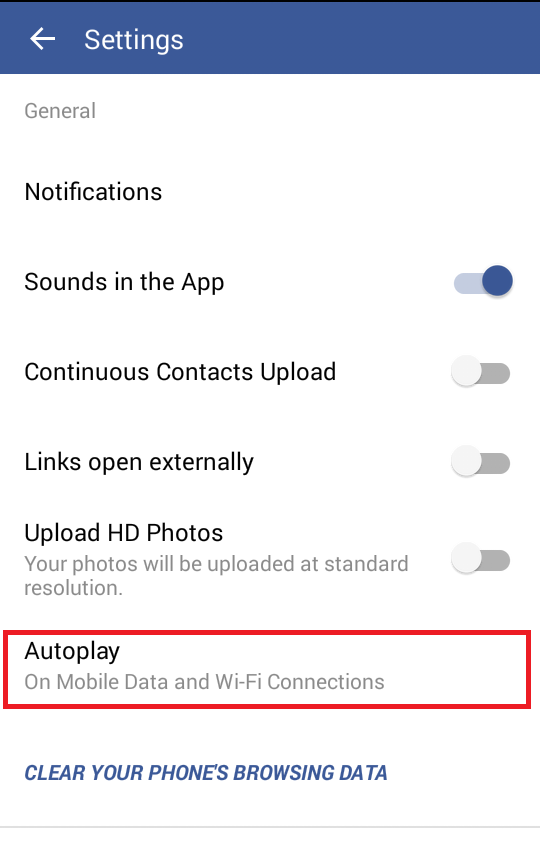 Step 4: You will see a pop up on your screen again displaying three options.
So from here, you can stop autoplay video on Facebook permanently. Or if you just want to preserve your phone's data pack, then you can select the Wi-Fi only option. It will autoplay your videos on Facebook whenever you are in a Wi-Fi zone like home. Or if you do not want to disable the option, you can let the videos autoplay but with no sound. The process to achieve this simple.
Step 1: Open the Facebook app and log in to your account if you haven't logged in already.
Step 2: Then click on the hamburger sign. You will find it at the top right corner.
Step 3: Scroll down the menu and then locate App settings. Click on it.
Step 4: Toggle the "Videos in News Feed Start with Sound" to off.
Stop Autoplay Videos Facebook on PC
Okay, so after you know how to permanently stop videos from auto-playing on Facebook on your smartphones, let's not stop here. You can also stop these videos on your desktop. So here are the steps that you need to follow and you will have a control on the videos.
Step 1: Log in to your Facebook account. Now you will find the menu arrow on the top right corner of the screen. Click on it.
Step 2: Now click on the Settings option. The Settings window will open.
Step 3: Click on Videos option present at the bottom of the navigation panel on the left-hand side.
Step 4: Now in the Video Settings window, you will find the auto-Play Videos option. Toggle the bar next to it to disable it.
The autoplay videos can sometimes lead you into trouble, while sometimes they just annoy you. And so it is best that you either turn off the sound of these videos on Facebook or turn off autoplay video on Facebook. To carry out both the action is quite simple. Just follow the steps mentioned above carefully, and you will complete the job successfully.
We hope that this quick guide would help you control all the madness that Facebook brought with its new feature. To stop autoplay video on Facebook, you can opt for any of the above methods depending on the type of device you are working on.
Check This: Com.Facebook.Orca: Recover Deleted Facebook Messages
General FAQs
What are Autoplay Videos?
Autoplay videos are the advertisements, posts, or other videos found on Facebook and other platforms that start playing regardless of you hitting play or not. They are more often ads.
Can You Turn Autoplay Videos Off on Android and iOS?
You can turn off these pre-playing videos with both Android applications and iOS applications. The steps to make sure they are off will be different, however.
Is it Hard to Turn Off Autoplay Videos?
It is not hard to make sure these videos don't automatically start. There are a few simple steps that will take mere moments for you to finish.
Can I Turn Them Off On My Computer?
Yes! You can also change your settings on the PC or laptop Facebook site as well!