Facilitating and strengthening user management is important for digital marketing. And an effort to achieve this is through the Web Push Notification Sites. Website Push Notification or Web Push Notification sites is one of the best ways to engage the visitors or users of a site. We come across Notification messages any times while browsing through different websites. These Push Notifications are becoming common as the various websites are incorporating this service to keep their visitors updated about their latest posts, content, and offers. So today we are providing you with a list of top 10 best Push Notification Sites, that you can make use of easily.
But before we move on to the various Push Notification services, let us first take a look at what are Push Notifications and why do we need these services?
What is Push Notification Websites?
The Website Push Notifications is a technique used in digital marketing to engage the users or regular visitors to your website. It allows you to update them with your latest content, but with their permission. Yes, Push Web Notifications are completely based on permission so that you do not ruin someone's privacy or annoy them.
Benefits of Push Notification Websites
Notifications are sent to the subscriber about the new articles that you publish.
Informs the subscribers about every news before your competitors do.
It tells your users and subscribers about the various offers.
Take Surveys.
With Push Notification services you can increase your affiliate earnings/sales.
These services promote CPI/CPA Campaigns.
Some Push Notification Services allow custom notification.
Top 10 Best Web Push Notification Sites
Now that we have talked about the push notification sites and their explicit benefits, let us jump on to the best that is available in the field.
Wigzo
Wigzo is a True Marketing Automation Suite, mainly for the professional bloggers. It was founded in 2013, in India, and from then Wigzo has undergone through many ups and downs. But no matter what this service has come up as one of the best in its field which specializes in Email Services along with Browser/Web Notifications. With Wigzo you get both free and paid version. So if you want to try this service for a few days then you can go with the free trial. But you won't get access to all the functions.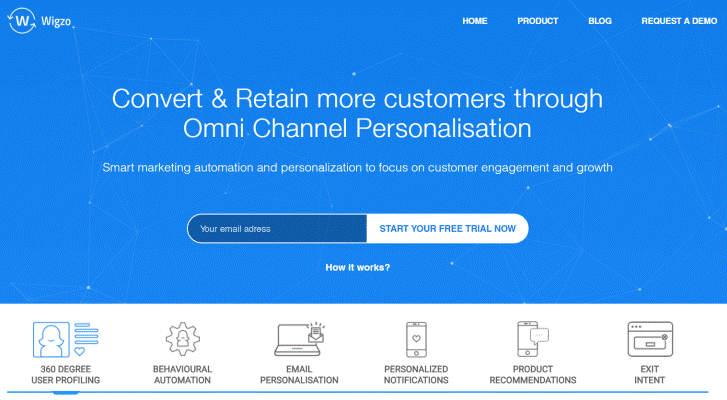 The pricing plan of Wigzo one sure solution to all your web notification needs is-
The Free Plan is available for about 5000 subscribers.
The Paid Plan starts at $19 per month, for unlimited subscribers.
Here are a few key features that Wigzo offers-
Analytics / ROI Tracking
Multi-Channel Management
Campaign Segmentation
Contact Management
Multivariate Testing
Lead Management
Content / Blogging Platform
Direct Mail Management
Website Visitor Tracking
Call Support
Email Drip Campaigns
Adrack Web Push Notifications
Adrack Web Push Notifications, an advanced Push Notification service has improved upon its tools to offer advanced industry to customer messaging system. It has a well-polished User Interface which is easy to navigate. Adrack being a browser-based service, all the features are thus accessible through the web. And so you do not need to download or install any software to send, track or schedule your messages. The setup is also easy. You can start exploring Adrack with a free 14-day trial.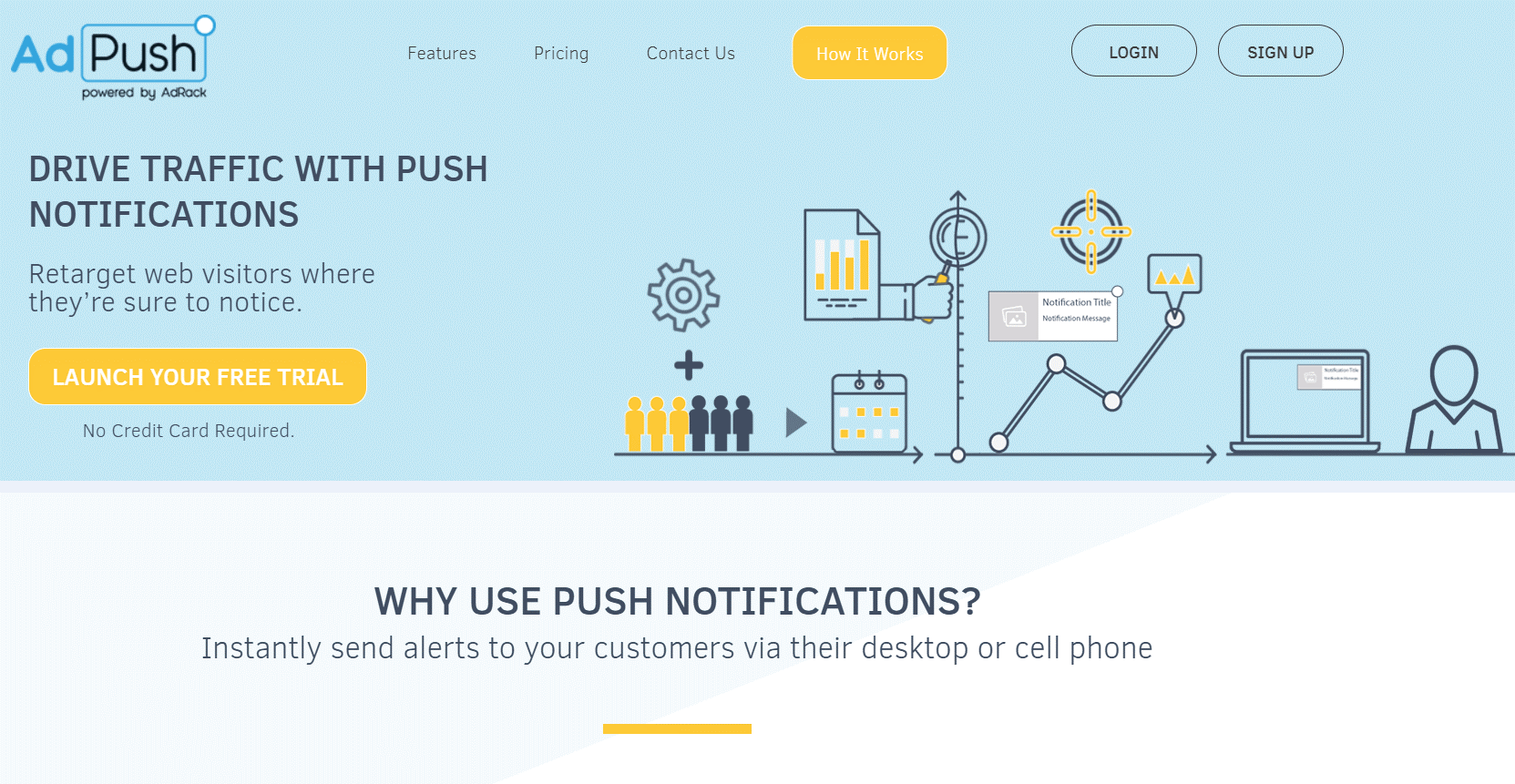 Some of the notable features of AdPush are-
In-depth analytics with real-time tracking
Automatic segmentation
Notification scheduler
Advanced targeting by geolocation, signup URL, or time zone
Dynamic previewer
Customizable opt-in box for your site
You can explore the various services by AdPush with its 14-day free trial and that too without giving out any credit card information. If you like the features and offers provided by AdPush, you can choose from the 3 different plans offered by it. AdPush is definitely one of the best Push Notification sites available as it also has an option of customizing plans according to your business needs and requirements.
FoxPush
The next Push Notification site that is worth trying is FoxPush. It guarantees its users an average CTR of 20%, which is quite huge. This notification service is popular among various platforms and supports both Windows and Mac. One of the best parts of this feature is that it also supports Android Operating System. With about 3.5 million people using the FoxPush notification service, it is one of the prestigious brands on which you can depend for your work.
Some of the highlighting features of FoxPush are-
Quick and Easy Setup
Multiple-device support
Instant delivery
Multi-Browser Support
Device Targeting
Emoji-Support
GEO Targeting
Live Tracking
There are a total of 3 pricing tallies that FoxPush offer. You can select any one of them depending upon your requirement and comfort. It offers free trial plans along with services that can cost you up to $199.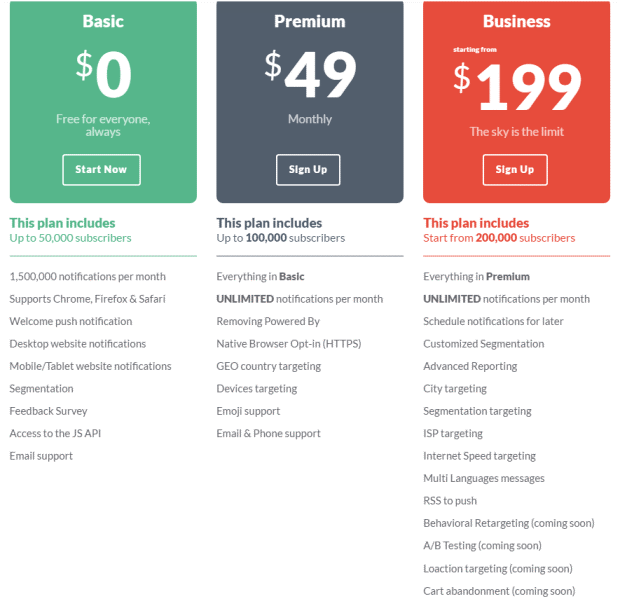 The service is free for up to 50000 subscribers and in case you do not want to invest much then this can possibly go with this.
Pushmaze
Pushmaze is a self-hosted web and mobile push notifications service site that has got 4th spot on our list. It is yet another famous notification site that lets you send trackable push notifications via Firebase Cloud Messaging (FCM). It gives access to the users with web and mobile push notifications on desktop browsers and Android phones.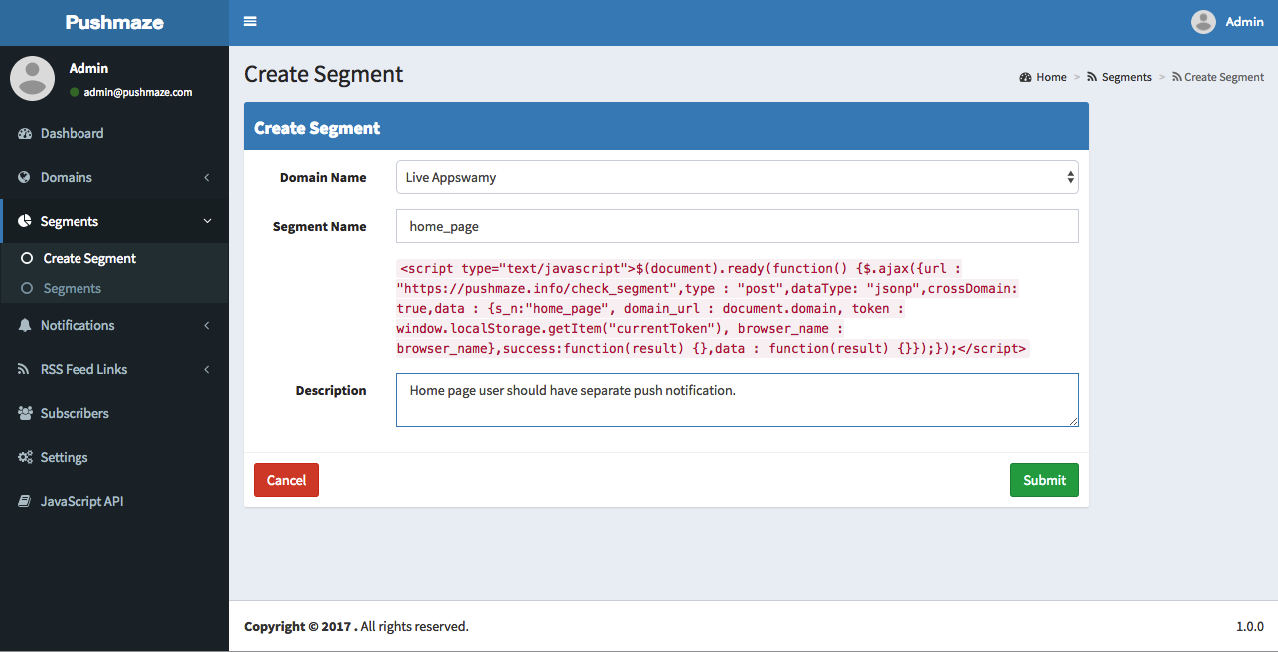 With Pushmaze, one can deliver real-time push notifications on all the platforms like Android and web browsers like Chrome. Also, one of its highlighting features is that users don't need to be on the website to receive these notifications. Yes for all you need to do is just be active on their browser to get these browser push notifications.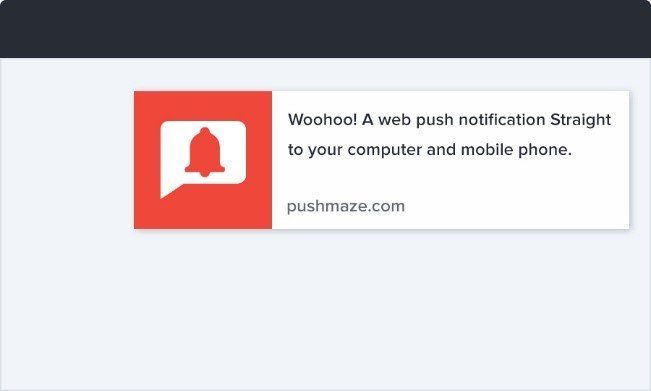 Simply install Pushmaze on your servers, add the domain from which you want to serve push notifications, and generate the Push Notification Smart JS tag. Then place it before the closing tag on your website. But if you are thinking about the regular updates, then let me tell you that Pushmaze always remains motivated to make its services better. The updates of Pushmze are completely Free till the introduction of the next major version.
The eye-catching features of Pushmaze are listed as follows-
Scheduled Push Notifications
JS and REST APIs
Segment and Target
Include images in your notifications
Multiple Users Collaboration
Limited Time Notifications
Easy Personalization
No need for a mobile app
Preview Push Notifications
Send Push Notifications 100x Cheaper
The pricing plan that PushMaze offers is cheap that starts from $129 One Time. One might feel that cheap price wouldn't guarantee great service, but that is not true with Pushmaze. Pushmaze being a self-hosted Web Push Notification service for Chrome and Firefox, created after spending a lot of money themselves, you can definitely trust in its products efficiency and value.
PushEngage
The next notification site is one of the most trusted push notification services, called PushEngage. Over 5500 websites in 115 countries are enjoying the features of this amazing service. It is quite easy to set up. PushEngage supports various browsers like Chrome and Firefox. Using PushEngage, push notification feature, one can also target desktop and mobile users.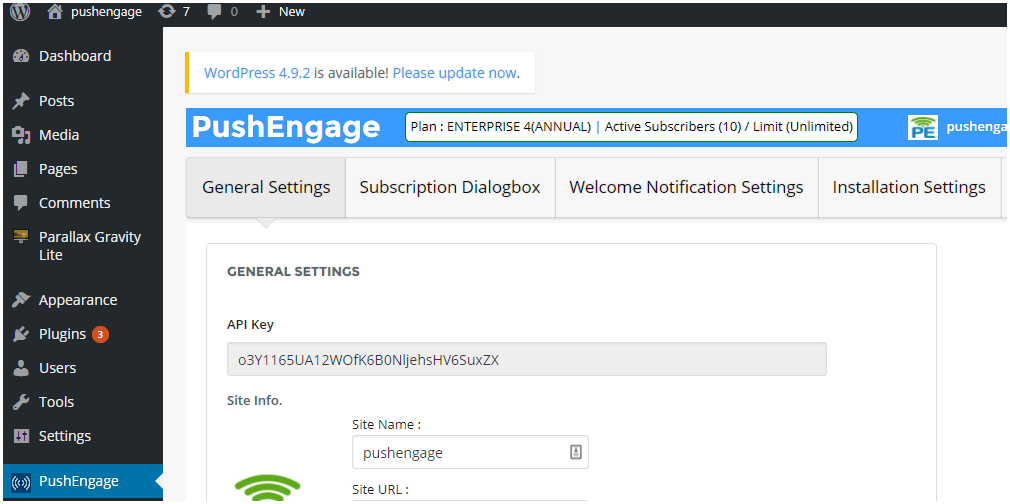 Some of the notable key features of PushEngage are-
Single step option for HTTP sites
Automatic segments using URL Pattern
Schedule Notifications
Multi-Site & Multi-User Login with Access Control
Automatic Notifications with RSS Feed
One Signal
One Signal is next best push notification website services that serve best to beginners. It is free for all users that allows you to send unlimited push notifications to unlimited subscribers. You can enjoy its services without paying any penny. One Signal gives you access to send push notifications both on the web through Web Push API as well on mobile devices like iOS and Android and Windows Phone 8, Windows 8.1, etc.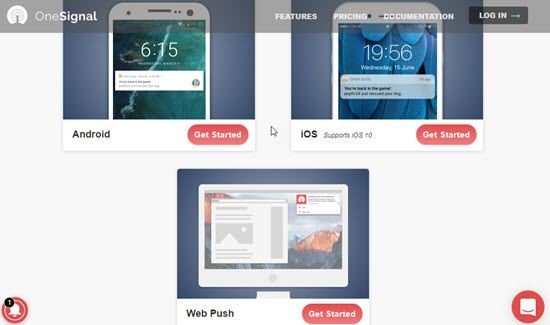 It supports all the big platforms thus has gained popularity among its users. It is being used by clients such as www.uber.com and www.9gag.com. Hence has gained the trust of people and has made the name in the business market.
One Signal has got an essential feature for WordPress, for it provides the Official plugin for WordPress. It can also be configured easily with WordPress plugin.
Highlights of OneSignal Push Notification Service are-
Easy Setup
Faster Delivery
Automated Push Notification
Real-Time Tracking
A/B Testing
Segmentation Targeting
Support for Google Chrome, Safari, and Firefox on Desktop PCs.
Google Chrome is supported on mobiles.
Aimtell
The next widely accepted and popular Web Push Notification service is Aimtell. The best part of this service is the variety of options it offers to users. It comes with a plethora of plans and decent features to choose according to your needs. Using Aimtell one can re-engage all their website visitors. Without even capturing their email you can send instant notifications to subscribers.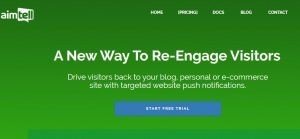 Aimtell supports almost all of the browser like Chrome (Desktop and Mobile), Safari (Desktop), Mozilla, and Opera. It has its own WordPress and Shopify push notification plugin for easy configuration and manages it from your own site panel.
As I told above its pricing plans, let me bring it into the light that Aimtell offers 14 days free trial period in every package you choose. Further, each plan of Aimtell has got some unique features.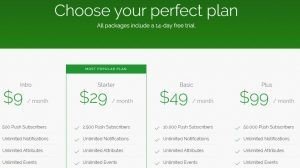 Some of the key features of Aimtell are listed as-
Location
Page Views
Items Purchased
Shown Interest
History and much more
Automated/Repeating Notifications
Event-Based Notifications
WP and Shopify Plugin.
Pushcrew
Pushcrew, developed by Wingify is getting popular day by day and has become infamously famous. The most attractive feature of Pushcrew is its easy setup, clean UI and greatly designed. Simply edit the default values, paste the given authentication code in the <Head> section, put in your RSS feed and it's ready to go live.

Pushcrew is generally used by clients such as www.seo-hacker.com and www.hindustantimes.com. It is one such tool that can genuinely be considered as one of the best Website Push Notification.
Some of the cool features of this popular notification push sites include-
Supports Google Chrome v.42 and above and Firefox v.44 on desktop PCs.
Also supports Google Chrome on Android enabled Smartphones.
Offers the opportunity to schedule your notifications
Add images to your notifications
Send notifications to specific segments
Multi-website and multi-user support
RSS to Push
Now the next important part for each site is the pricing. The Pricing comes in three different areas so that you can choose as per your needs. It offers a free trial period but lacks many features along with the foremost thing being Mobile Push Notifications. With the free version, you will not get a notification on mobile site.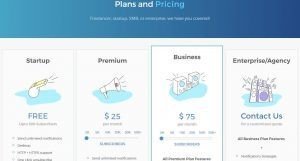 PushAssist
One of the most user-friendly browsers push notification website is PushAssist. PushAssist service powers more than 10,000 websites and stores worldwide. It supports all great push web browsers platforms including Google Chrome, Safari, and Firefox. The set-up is very easy. It allows you to send your push notification on desktop and mobile in a few minutes.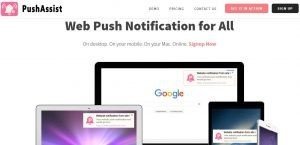 It has got almost all the features that one can get from a Web-Based Push Notification Service. PushAssist is yet not famous but it is worth a try and it is getting popular slowly. Also, the best part of this site is that you can send unlimited Web Based Push Notifications to first 3000 subscribers. You can sign up for free at PushAssist.
Talking about its pricing plan, it falls into three different categories, Silver, Gold, and Premium with cost from $29 to $119. Apart from this, you can even customize the plans as per your requirement.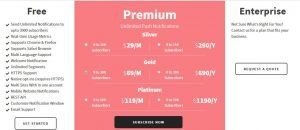 Some of the notable features of PushAssist include-
Real-time Usage Metrics
Unlimited Segments
Supports Chrome & Firefox
HTTPS Support
Supports Safari Browser
Create Unlimited Campaigns
REST API
Schedule notifications for future
Mobile Website Notifications
Multi-sites under one account
Native opt-ins (requires HTTPS)
Multi-Language Support
Welcome Notification
Multi-user Login
Customize Notification Window
Email Support
Send Pulse
SendPulse has got the last spot in the list of Best Push Notification Sites. It has got varied interests as in Artificial intelligence, Predictive Analysis, E-Mail, SMTP Server and SMS services along with Web Push Notifications. It is rather easy to subscribe.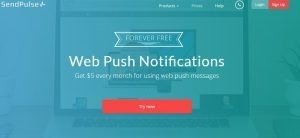 This one of the coolest Web Notification services has got the features like-
High level of subscriptions
Highly Effective Messaging
Offline notifications
Users get Personalized Notifications and can be sent on a segmented basis.
Trigger messages and bulk messages
Developer APIs are provided by default.
Incredibly easy to set up and 24*7 customer Service.
The three major plans offered by SendPulse are worth trying.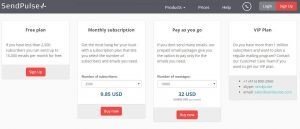 So, these were the top 10 best web push notifications that are worth trying. But the list doesn't end here. We have a bonus push notification site for you that offers its services for FREE.
Subscribers.com
Subscribers.com is a service introduced by Neil Patel, a leading influencer in the digital marketing world, according to Forbes. It is a Free service with which you can set up push notifications for the users and visitors of your website. With Subscribers.com you can easily make Push notifications site work for your WordPress website. Just sign up with Sunscribers.com without giving any credit card details or bank particulars. And then verify to the site either with Google Tag Manager or WordPress plugin. Once you verify that the website is yours, you can go ahead with sending your first Push Notification.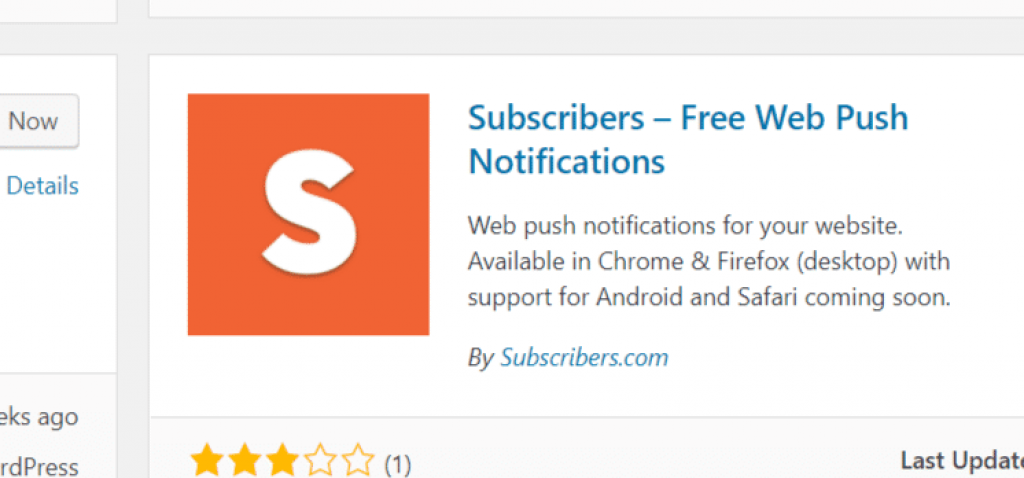 Here are a few features to look out for in Subscribers.com-
Welcome drip analytics feature allows you to track.
com gives you the option of Prompt settings.
With Dashboard feature, you get to know
Easy setup.
Completely Free.
You can send Personalized messages as well.
I guess I've mentioned this a lot of times, but this is true that every feature offered by Subscribers.com is for Free. Though there is a Pricing page available on their site, at the time of sign up and even after that, you won't be asked to provide any card information. So you can definitely start with this free service and then if you wish you can continue with any one of the sites mentioned above.
Wrapping Up!
We hope that this list of 10 Best Website Push Notification Sites will prove to be of help to you.  All these sites serve the best way to drive user engagement. So unleash the power of push notifications to get enormous results and more traffic to your website with these Browser Push Notification Services Providers.