First things first, do you know that there are some really cool Snapchat Alternatives?? Yes, there are many apps like Snapchat which offers you similar features including filters. Some of them even have a better interface. Anyways, check out 7 such apps in this article.
Snapchat, which is known to be the fastest mobile multimedia application to share your moment is very popular among its users. Are you the one interested in trying other best apps like Snapchat, then you have come to the right place. Below are top 7 apps like Snapchat that will give you great chatting, face filters, and sharing experience.
 Top 7 Apps like Snapchat
Let's now have a look at some social apps like Snapchat. Some of these Alternatives offer you really cool face filters like Snapchat. And the best part is, all of them are available for both Android and iOS.
1. WhatsApp
WhatsApp, the most popular and familiar messaging app is the best alternative to Snapchat. With WhatsApp, you'll get fast, simple, reliable messaging and calling for free available on phones all over the world. You can send images, videos, documents, URL and create group and chat together.
The best thing about using WhatsApp is security, the end-to-end encryption makes your messages and calls secured so that only you and the person you're communicating with can read or listen to them, and nobody in between, not even WhatsApp. It has even two-step verification process for all devices to enhance security.
Just like Snapchat, WhatsApp Status feature allows its users to share photos, animated GIF or videos with drawings, images or captions overlaid. The videos play automatically and you can upload a video with a duration of 30 seconds and similar to chats status updates are also end-to-end encrypted. The Status messages you put will disappear after 24 hours.
Today more than 1 billion people in over 180 countries use this app to stay in touch with friends and family, anytime and anywhere.
Developer: Jan Koum
Download here: Google Play, iTunes
2. Instagram
Instagram is the most popular social media network for sharing photos and videos with around 375 million users around the world.
Unlike Snapchat, this app now has the disappearing text, photos and videos. This app provides built-in camera filters and has "Story" and "Live" function similar to Snapchat. Instagram provides good quality image and allows users to upload numerous images and videos on its data base.
Latest feature in Instagram called "Type" allows users to pull up a totally gradient background in order to display only words, no images and thus is best alternative to Snapchat.
Developer: Kevin Systrom
Download here: Google Play, iTunes
3. Cyberdust
Cyberdust is a very reliable Snapchat alternative that lets its users send messages or attachments that can be viewed for 1 or 2 minutes before they are deleted.
Like Snapchat, you can even edit the images by adding appropriate filters, text or stickers and  you'll be notified if anyone tries to capture the screenshot of the images you have sent.
The interface of this app is beautiful and professional. It has an amazing feature called "blasts," where you can send a single message at once to all your friends and followers. This app also uses end-to-end encryption for ensuring security.
Developer: Mention Mobile LLC
Download here: Google Play, iTunes
4. Wickr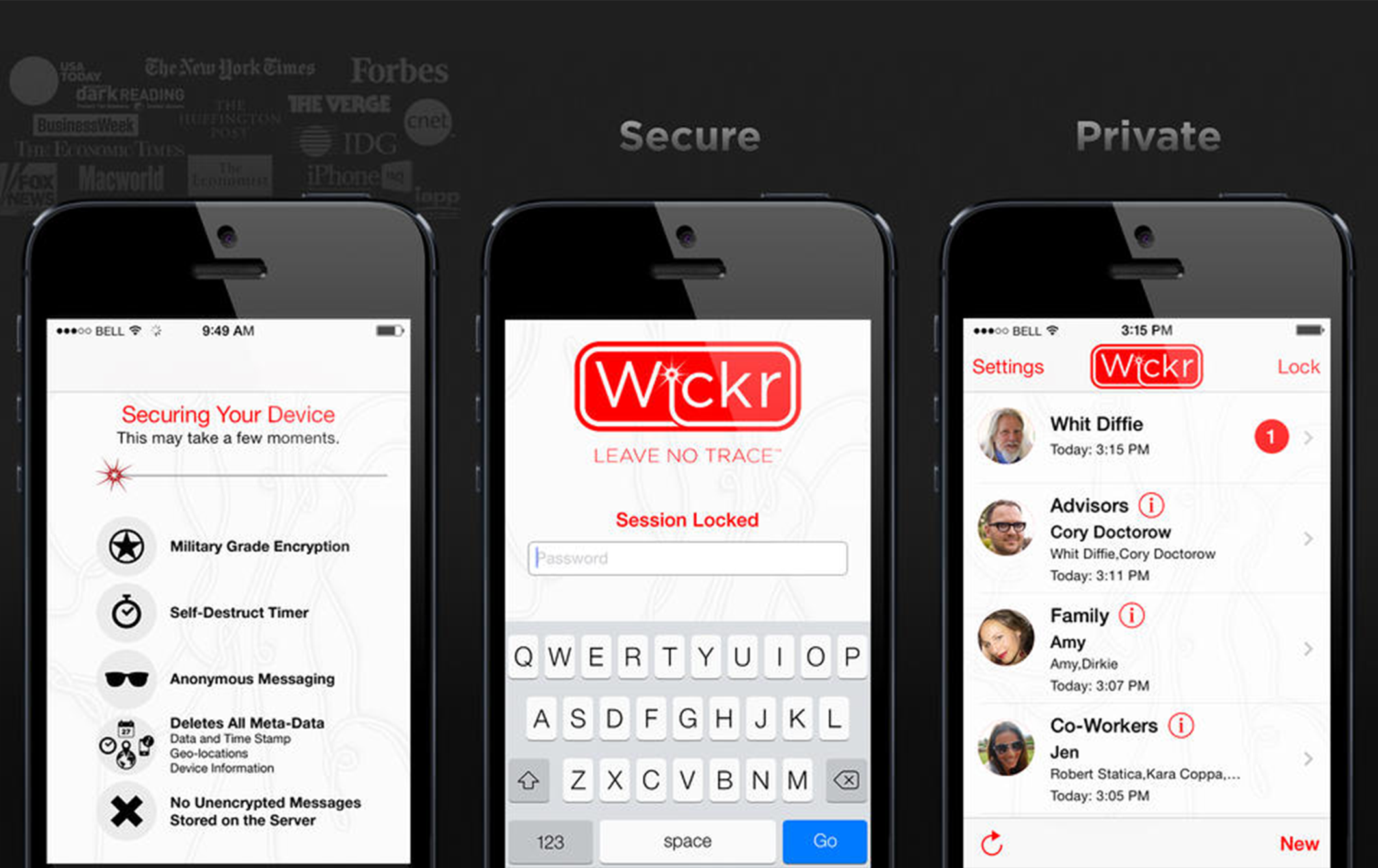 Wickr is an instant messenger that is best known for its security and privacy feature. It is a free messaging app that encrypts messages so that only the sender and the intended receiver are able to see
the unscrambled messages.
It has basic multimedia messaging functions just like Snapchat. Wickr also gives you an option to add filters, add texts, edit your image before sending and you can even determine how long a recipient can view your messages before it expires (up to 30 seconds). The messages here are also designed in a manner so that they contain no information that could personally identify you or your device.
Developer: Wickr INC
Download here: Google Play, iTunes
5. Slingshot
Slingshot is a feature-rich instant messenger app through which you can text message, share video or image with your buddies. This app stands out in the crowd with its simple and straightforward user interface.
When you click a photo or video, there are two options available here either you can choose the "reshoot" option if your photograph or video isn't what you expected or "draw" option which means you're fine with your output and you're ready to edit it and send.
Unlike Snapchat, you can  respond with the image or video by drawing a doodle or taking a picture as a comment and can even automate or schedule your text messages or any file to share.
Developer: Facebook INC
Download here:  iTunes
6. Yovo
Yovo, most reliable and secure app that overcomes the shortcomings of Snapchat thus making it better alternative. Yovo is very easy to use and provide good quality of images.
While on Snapchat a user can screenshot your messages, and then you are notified that they tried doing so, this problem is resolved on Yovo. Here this app provides you with special feature called "D-fence" where if user attempts to take a screenshot of a message sent through Yovo, the screen becomes blurred, thus making screenshot useless.
Developer: ContentGuard INC
Download here: Google Play
7. Clipchat
Clipchat is an instant engaging messenger app that is much similar to Snapchat with very elegant user interface. It comes with self – vanishing photo option which is way better than Snapchat. When you send a photo via Clipchat, the receiver first gets a blurred preview of that image and when he clicks on it, an animation effect occurs that makes the image clear and no longer blurred.
Clipchat is very fast in sending or receiving messages with some great security features. This app has a very interesting feature that you'll get a notification when your buddy tries to take the snap of the received images.
Thus this app allows you to share private, five-second messages and your memorable moments with your friends.
Developer: Iddiction INC
Download here: Google Play, iTunes
Best Snapchat Alternatives with Face Filters
Summarising it all up, Here are my favorite top 7 apps like Snapchat that you must try this year-
WhatsApp
Instagram
Cyberdust
Wickr
Slingshot
Yovo
Clipchat
Also Read: How to Save Snaps on Snapchat
Have you tried any of these above messaging apps like Snapchat?  Were they a snap to use, or they made you feel like snapping your phone in two? Do you use any other apps like Snapchat, and would recommend to us and our users? Let us know in the comment section below. Sharing is caring, isn't it? Feel free to share with your friends and relatives.