Are you bored? Is Sitting idle is just not killing your time anymore? Playing games, catching up on social media sites, hangouts, net surfing nothing is working great for you? Then this article might help you. What about padding your wallet with some handsome amount of money without real hard work. Trust me you can make the most of your spare time and earn extra money. It might seem like there's a catch involved, but there isn't. Just go through the list of 15 Best Money Making Apps and start earning money right from your Android or iOS Smartphone.

Best Money Making Apps for Android & iPhone
Before starting, let me tell you that these money making apps won't help you earn hundreds of dollars. Rather you can make an amount that will be enough for you to eat out, buy some clothes, etc.
So, here the list of Best Money Making Apps for Android and iPhone both.
Google Opinion Rewards
Ibotta
Inbox Dollar
Pinecone Research
Tap Cash Rewards
Cash For Apps
LOOT!
App Bounty
Pact
Swagbucks app
MintCoins
Foap
Sweatcoin
Ebates
Nielsen Computer & Mobile Panel
15 Best Money Making Apps
Let us now have a look at all these money making apps in detail.
Google Opinion Rewards – Money Making App for Android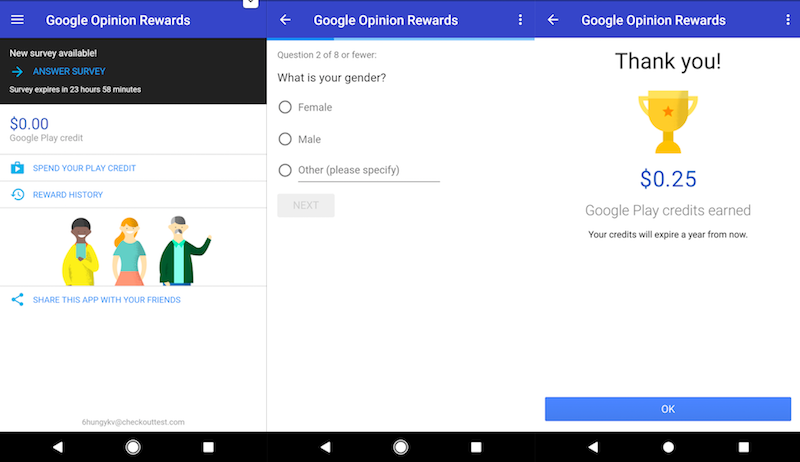 Google Opinion Rewards is one of the best money making apps for android users. Here you can respond to a survey from Google and get varying credits directly to your Google Play balance, depending on the survey. All you need to do is download the app, answer a few questions about yourself. The credit can be redeemed across movies, games, apps and anything else for sale there.
Ibotta – App to Earn Money on iPhone
Ibotta is one of the most popular receipt scanning apps out there. Take a picture of your grocery receipt and earn anywhere from $.25 to $5 in cash back depending on your purchase. Combine more than one offer per receipt and you can pass this $5 threshold. The great thing about Ibotta is that you get a $10 sign-up bonus when you sign-up using promo code qFTVA and scan your first receipt.
While Ibotta was originally meant to be used for groceries, you can now earn cash back on other items such as electronics, alcohol, prescriptions, meals at restaurants and more.
Download Ibotta for iPhone or  Android
Pinecone Research – App to Earn Money Online 2020
Pinecone Research is one of the best survey apps to make money online. You always know what you're going to get paid, and you always know roughly how long each survey will take. Pinecone Research pays you a flat fee of $3 per survey, and each survey takes anywhere from 10 – 15 minutes to complete. Approximately, through this app you're earning $15 per hour .
Download Pinecone Research for iPhone or Android
Tap Cash Rewards
This Android Money Making app lets you earn gift cards and cash. All you have to do is download, install and play the newest free games and apps, watching videos and completing simple tasks. After earning enough credits, you can redeem them for Amazon, Google Play gift cards or cash through PayPal. Great, isn't it?
Download Tap Cash Rewards for Android
Cash For Apps – Free App to Make Money 
Cash For Apps is another worth name in top 15 money making apps list. It is a good stable app that pays you to install apps. So if you have no issues with limited data then just go for it. When you install apps advertised on Cash For Apps offers you can later delete them once you are credited points.
Download Cash For Apps for iPhone or Android
Loot!
Complete actions such as taking pictures or sharing content on social media, and get paid for it. To get started, download the app on your iOS or Android device, browse through the different brand campaigns and complete an action. When you reach $10, earnings can be withdrawn from your PayPal account.
Download Loot for android
App Bounty
Yet another name in the list of top 15 money making apps is App Bounty. It has over 5,000,000 installs and over 100,000 5 star ratings on the Play Store. The way the app works is mainly by downloading and installing other apps. There is an offer wall which offers you credits for a specific task which you can exchange for gift vouchers. You can swap credits for gift cards from iTunes, Amazon, Steam and more. This is one of the best apps that pay you money.
Download App Bounty For Android or iPhone
Pact – Highest Paying Apps
Pact is an amazing money making app that pays you to work out and eat better. You can set goals for yourself and earn money by sticking to those goals. With Pact you can earn money by going to the gym on a schedule you choose, eating healthy and eating veggies. The app uses GPS for gym workouts and connects to other apps to track workouts and food logging.
Download Pact for iPhone or Android.
Swagbucks app – Earn Money by Watching Ads
You can also earn cash using the Swagbucks app by watching videos directly on your phone. Since the videos play automatically, you don't have to do any work. The only downside is that there's a limit to the amount you can earn from this task per day. However, there are still other tasks that you can complete with the Swagbucks app, such as taking daily polls, online shopping, filling out surveys, playing games and much more.
Download for iPhone or Android
MintCoins
MintCoins is one of the most reliable app among all the money making apps for Android. Comparatively, it is slow to earn rewards from this app. You can earn $0.25 for each referral, therefore getting your friends in on the action means you see the benefits. Rewards are received through PayPal.
Foap
Foap is a famous app for turning your photographs into cash. All you need to do is upload your photos and sell them through the Foap. Each of which costs $10 to buy. Creators get half of each sale, and the cash can then be transferred to your bank account. It is so simple yet attractive. Plus, you can upload a photo directly from apps like Instagram, Flickr, and EyeEm.
Download Foap for Android or iPhone
Sweatcoin
Are you bit health conscious? What about earning along with maintaining health? Yes, you can now make money while you walk.
You can earn about 1 Sweatcoin for every 1,000 steps you take. These need to be outdoor steps, so you can't use this at the gym or just walking around your house all day. Once you sign up, the iPhone, Android or Apple Watch will track your steps and convert them into Sweatcoins that you can use to get Amazon gift cards, Nike gift cards, services, app subscriptions and more.
Ebates
Earn up to 40 percent cash back every time you shop online at one of 1,800 participating retailers. Plus, you can earn up to $50 for referring two friends. Simply download the app on your iOS or Android device. Payments are made every three months by paper check or PayPal, or you can have your money sent to a charity, organization or family member.
Download Ebates for Android or iPhone
Nielsen Computer & Mobile Panel
What about doing absolutely nothing and get rewarded for it? Don't believe me ? Try this app out. Nielsen Computer & Mobile Panel pays you for simply leaving their app installed on your phone. Simply use your phone like you normally do and earn free cash. The reason the Nielsen app is able to pay you is because they collect data about how you use your phone. By leaving the app installed on your iOS or Android device for an entire year, you can earn enough points that will earn you $50 per year.
Download Nielsen Computer & Mobile Panel for Android or iPhone
So this was the list of 15 Best Money Making Apps. We recommend you to try them all. Most of the apps that we mentioned in the list are for both Android and iPhone. So you can easily earn money using these apps on Android or iPhone.
And yes, all these money making apps of 2018 are totally free to download and install.
Still here?? Go download them and start earning. Do let us know in comments if you have some more apps that can earn you money.