When you record the videos using HD camera, you get the content in a video file of big size. It is challenging to send such large video files over social media, emails or other various sites. Hence, in this case, you need to reduce the size of your video files using Video compression software. So here in this guide, you will find the 7 Best Video Compression Software that will get your job done.
Many video compressors allow users to change codec, bit rate, video quality, size and even resolution. The Best Video Compression Software available for free is compatible with both laptop and suitable devices like smartphones. Using these free and easy to use video converters you can limit the storage of the videos and can easily share with others.
There is a plethora of video compression software available in the market that supports almost all the video formats. Some video compression software even allows users to compress videos in a bulk. Hence one should choose codec or video formats like MP4, H.264, and AVC to get better results and upload videos in a suitable format. Converting videos and its size was considered a complex task but with these list of top choice Video Compression Software, it will not be complicated.
Best Video Compression Software
Let's not waste any more time and let's quickly check these 7 recommendations' complete reviews:
Also Read: How to Watch Blocked YouTube Videos
Format Factory- Video compression software for Windows
Format Factory is one of the best video compression software that is free and easy to use. It is open source software that is capable of converting any audio, video and even image format. It allows its users to compress the video files smoothly and comes with multiple options. To compress any video, you can choose the desired display size, codec, FPS, and even resolution. Using this top video compression software for free you can even select the low or medium quality of videos. You can easily send the converted videos via your mobile.
Get this best video compression software free download
Hand Brake- Top Video Compression software
Hand Brake has also made its name in the list of 7 best video compression software. It is an open source video compressing software. It is highly trendy due to its advanced functioning.
This video compressor supports a variety of video formats. It is compatible with Linux, Windows OS, and Mac as well. Go to its Output settings, and you will find multiple options for managing output parameters. In addition to this, you can change the percentage of your video quality, codec, video FPS and can optimize it more. The software also includes pre-set video compression settings to support various types of devices. You also get an advantage of live preview option.
Download HandBrake from HERE
Avidemux (Windows, MAC, Linux)
Another video compression software for Windows 10 is Avidemux. It is indisputably one of the best free video compressing software and an editing software. It specially designed for handling multiple tasks like cutting, encoding and filtering efficiently.
Avidemux video compressor tool for free supports several file types like AVI and MP4 etc. It also features job queues and projects allowing users to easily automate the video processing jobs. This software is compatible with Microsoft Windows, Mac, and Linux and includes options like to modify bit rate, codec, frame rate and much more. Get this video compression software for Mac or windows and enjoy its superior features.
Download Avidemux
Windows Movie maker
Windows Movie maker is the great video compression software which is freely available. This video compression tool is compatible with all versions of Windows Me, XP, and Vista. With this software, the compression of the video file is easy and quick.
After launching the tool, all you need to do is import the video into the program. Also, the quality of the compressed file is not compromised and is as high as the original file. It has a user-friendly interface but sometimes tends to crash while working.
You can get Windows Movie Maker from HERE
Hamster Free Video Converter for Windows
The next free to download video compression software in our list is Hamster. Hamster Free Video Converter is an advanced video compression software that offers uncomplicated processing. The users can select from both old and new formats for compressing the video. And hence you can even retain the old one choosing from the compression parameters. It allows users to customize the codec, frame size, audio quality, bit rate and also adjust the video quality accordingly. It is compatible for compressing and converting videos for devices like Samsung, Apple, HTC, Motorola and much more.
You can use its feature to compress a single video or in bulk according to the specifications set for your device.
Download now this video compression software 2017
Blaze Media Pro
The top video compression software for Windows that has got a spot in our list is Blaze Media Pro. Blaze Media Pro is not just ordinary video compressing software, but it is all in one solution for you. It includes a powerful audio and video converter and audio and video editing software. It also features data CD/DVD burner, Video CD (VCD/SVCD) burner, audio CD burner, video creator, etc. Use this video compression software to handle a variety of formats for audio and video editing such as MP3, WAV, AIFF, M4A, WMA, AC3, ALAC, AVI, MPEG-1, MPEG-2, WMV, FLAC, OGG, MPEG-4, AAC and much more. Blaze Media Pro also offers services like media management, audio CD copy, support for full-screen video and multiple effects.
It is available for 15 days free trial, and if you like it, then you can buy their premium version that does not cost much. Try this Blaze Media Pro Compression software from HERE
Free Video Compressor
The last top video editing and compression software mentioned here is Free Video Compressor. You can download this Video Compressor for free but only for non-commercial use. This video compression software is straightforward and is a lightweight tool to use. Using this software you can reduce the size of your video file rapidly.
It supports almost all kinds of video file formats that include AVI, MPEG4, FLV, and WMV. It offers fresh user interface displaying the properties of selected videos. You can choose the video size using the compression option from 10 to 90 percent and adjust the audio quality by changing the bit rate.
Download NOW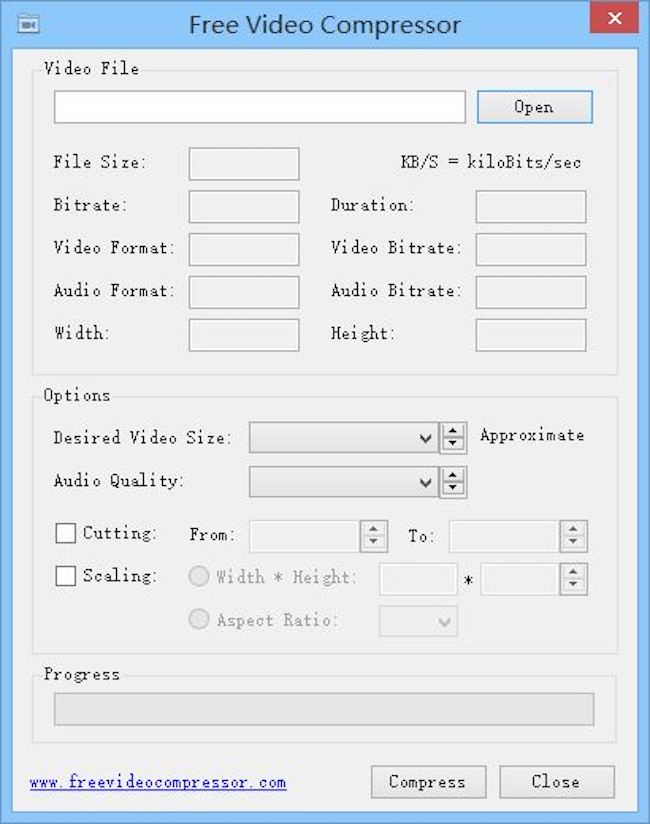 Well, these are the 7 must use Video Compression Software for free that are compatible with Windows, Mac, and other present versions. Try them out as they will not disappoint you as they make sharing of video files easy.