Finally, after a long wait, Android Pay is out in the market for use. Many of you might have already gone ahead to use it by installing it and have started using it as the payment terminals. At first sight, you would find no flaw but a good amount of Android users have actually reported an error related to its payment mode. According to users, they are getting "Android Pay cannot be used on this device" error on the app. With no surprise, the error Android Pay cannot be used shows up because one has rooted the phone and are using the app on the rooted phone.
While making payments the plenty of users get stuck with an issue where Android phone responds that the Android pay is not available for use. To keep the things secure and safe, Google has officially now made sure that Android pay could not be used on the phones or tablets that are rooted hence avoiding the error that disturbs your payments.
What actually is Android Pay?
Android Pay service is basically an all-new and latest digital wallet platform that is developed by Google. It is now available in many countries and is a service that allows cashless and contactless payments. It has actually become the most reliable and secure way of making payments while shopping, traveling, dining, or partying etc.
This has made the mode of payment and purchase easier and simpler that almost works like the online virtual wallets. With Android Pay, the users can make payment with the help of their Android phones while purchasing any goods or services. But before you get really excited about its features it has one bug that has started troubling the Android users.
Why Android Pay Cannot be Used error occurs?
Google as always strives to ensure that security and safety of users should be the main aim. Hence taking the safety of clients seriously it has made sure that no one should mess with Android pay, therefore, making it unavailable on a rooted device. This is one of the main reason to get an error. If your smartphone is rooted then the Android pay app is automatically blocked for use on your device by Google. In that case of any user tries or attempts to use the service they are hit with the issue of Android pay couldn't be used.
Well, the app can be installed without any problems but when you try to launch the app you will get the message "Android Pay can't be used on this device". This error is followed by "Google can't confirm that your device meets Android Pay's security standards".
To this cause, there might be three possible reasons-
1) The device has root-access
2) The bootloader is unlocked
3) A third-party ROM has been installed on this device.
The easiest fix sometimes to fix the error of Android Pay is to un-root your smartphone that will gain you access to the service. So if you really want to use the Android pay without any error or interruptions then let's switch to the authentic methods to try out.
How to Fix Android Pay Cannot be Used Error
There are several ways to fix the Android Pay error so follow the guide to fix the issue.
Using SuperSU
The first method that can be the workaround to fix the issue is using SuperSU application. By disabling root in SuperSU you can launch Android Pay successfully. So follow the steps to know how to use SuperSU.
Step 1- Begin the process by doing Factory Reset of your device. For this make sure no customs mods or apps are installed on the system.
Step 2- Now root your device using systemless SuperSU. Enable the USB Debugging feature on your device.
Step 3- Open the SuperSU app on your device that you have installed. Click on the Settings tab.
Step 4- Untick the "Enable Superuser" option that you will find in the same tab.
Step 5- Open the Android Pay app. And you can now set up your cards.
Step 7- Again go to SuperSU app and now tick the "Enable Superuser" option.
That's all you have to do. Reboot your device and you can now use Android Pay without any trouble.
Use Magisk to Fix Android Pay Cannot be used error
In the next met, od you can use one of the most advanced programs "Magisk. Yes, this program is the Universal Systemless Interface" service that has been developed recently. It gives the desired result and is faster and easier. You need not abandon a root access or install any patched software.
Basically Magisk has its own native root method known as MagiskSU.  So follow the steps to get rid of the error.
Step 1- Install the MagiskSU program on your device.
Step 2- Launch the custom Recovery. And install Magisk12.0.zip archive file.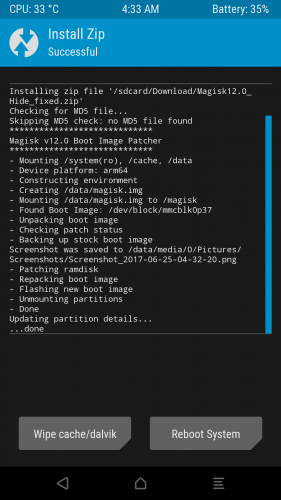 Step 3- You will see that Magisk Manager will now be available in Applications menu. You can now click on to open it.
Step 4- Navigate to the Settings menu and activate Magisk Hide option. Now Magisk Hide will also be available in Applications menu.
Step 5- Open Magisk Hide option and see whether "Android Pay" box and mark the box.
Step 6- Go to the "Module" option and add a wanted module for Safety Net checking. Type the following command to do so-
su
sh /magisk/.core/magiskhide/disable
sh /magisk/.core/magiskhide/enable
Step 7- Finally launch the Safety Net checking. If you are successful then check on the Android Pay service.
After following all the steps successfully and as mentioned then reboot the PC and Android Pay service will now work absolutely fine.
Method 3- Use RootCloak Xposed Module
The next method uses the Xposed Framework program. There exists an Xposed module called RootCloak that cloaks the device's root status that in turn allows you to cloak the Google Play Services app that Android Pay uses. So to use this service unhindered follow the steps-
Step 1- Install Xposed Framework on your device. Next, install RootCloak Xposed Module and then enable it in the Xposed installer app.
Step 2- Tap RootCloak app from your launcher to open it.
Step 3- Now if you are using the app for the first time then open the menu. Select the "Reset to Default Apps" option.
Step 4- If you do not find Google Play Services in the list of default apps then you need to add it using the + button.
Step 5- Perform reboot your device or Force Close the Google Play Services app.
Open the Android Pay app and it should now work rightly in a rooted device.
Check This: How to Disable Google Play Services?
So that was all for now folks. I hope this guide on how to fix Android Pay cannot be Used on this device error will help you to get rid of the error. The steps are little complicated but are sure shot to give you success.