Hey fellas! Do you want to get rid of your old school web development tools like Dreamweaver? Are you looking for some alternatives to it? Congrats you have landed the right place that will help you out. Dreamweaver is unmistakably powerful software for both learners, and seasoned experts. But due to its extravagant price users are looking forward toward Dreamweaver alternatives. Hence, exclusively for all our readers we have researched and compiled a list of top 10 Dreamweaver alternatives.
But before going to the list let us find out reasons behind switching to other alternatives of Dreamweaver. Therefore, it's worth marking some of the bad highlights about Dreamweaver are mentioned here :-
Confusing Interface
Steep Learning Curve
The WYSIWIG lies
Bulky Dynamic Code
Badly Written Code Snippets
Undefined CSS Styling
Not in Full Control of your Code
10% of Full Functionality Actually Useful
Very Expensive
Also Read: Best Adobe After Effects Alternatives
Top 10 Free Dreamweaver Alternatives
Let's have a look at top 10 Adobe Dreamweaver alternatives:
Microsoft's Expression Web 4.0
Aptana Studio
BlueGriffon
Kompozer
Amaya
SeaMonkey
Aloha Editor
Bluefish
OpenBEXI
Quanta Plus
Well, I hope you all wish to explore a bit more about all these alternatives. So here are a few details about each one of the following:
Best Dreamweaver Alternatives
Lets now have a detailed look at these alternatives.
Microsoft Expression Web 4.0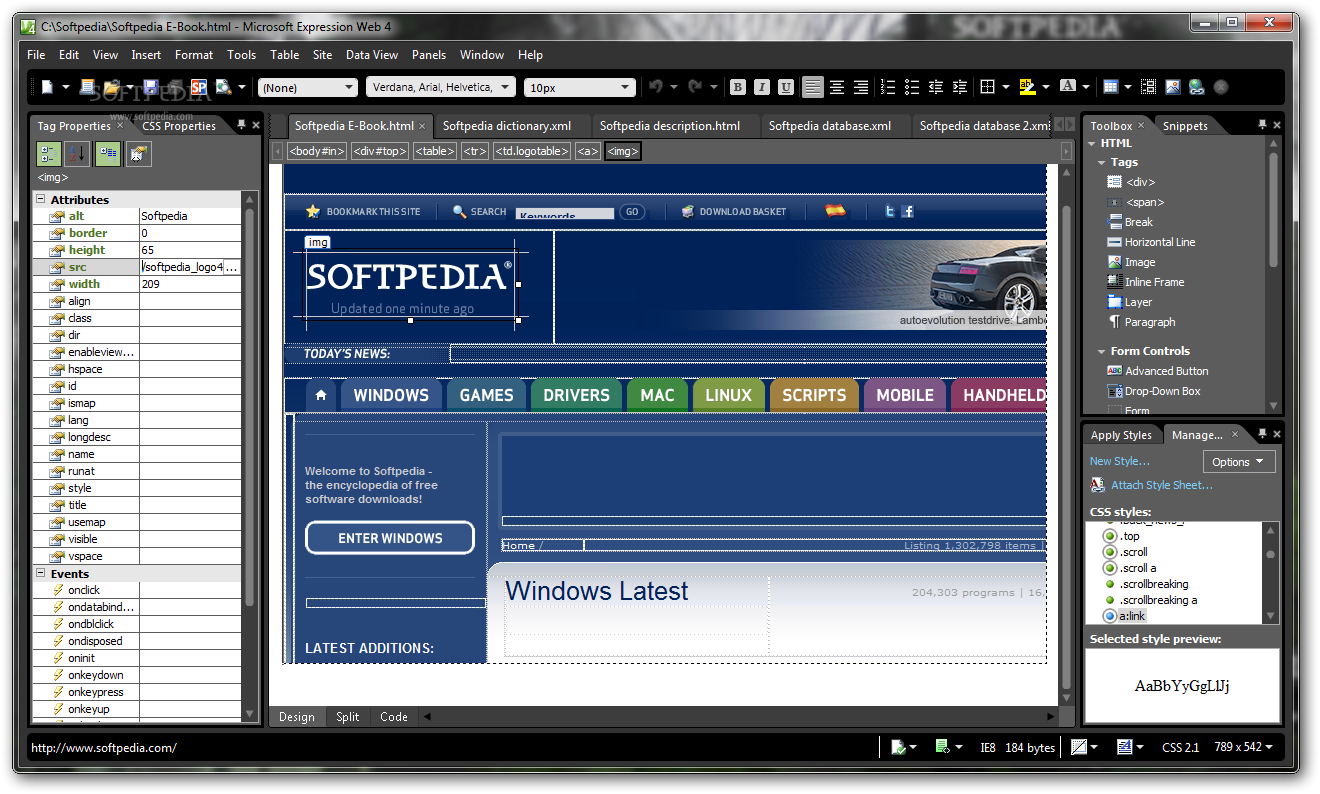 Microsoft's Expression Web 4.0 resembles some of the earlier Dreamweaver versions to a great extent. In case, it might prove pretty intuitive if you have been using Dreamweaver for so long.
Various feature of this alternative includes a  customizable toolbars and offers design and code views. Along with the HTML 5 capability the software also supports latest design options, CSS Properties Palette, CSS management etc. Likewise, it makes light work of positioning graphics.
Goto: Microsoft's Expression Web 4.0 
Aptana Studio
Aptana Studio like Dreamweaver is an open source development tool for the open web.It is based on the open-source Eclipse project. It features different tools for assisting in HTML and CSS authoring, including code coloring and completion, debugging, and outlining of documents. It even supports JavaScript.
This feature makes Aptana Studia a strong tool for developing more complex web applications. Hence it's more of an advanced IDE specializing in web development.
Goto: Aptana Studio
 BlueGriffon
BlueGriffon is a free, open source, WYSIWYG editor. FTP is available only with an add-on. Supported features of BlueGriffon includes page preview, spell checking, templates, web fonts.
Plus it includes SVG editor for drawing vector graphics. Though some features such as a project manager, CSS style-sheet editor, and full-screen viewer cost you for money but there are many features that are free. It's interface is similar to a word processor. It is compatible with Windows, Mac, and Linux.
Goto:  BlueGriffon
KOMPOZER
A Mozilla project, the last stable update of KompoZer (0.7.10) was in 2007, suggesting like Expression 4.0, this project has run its course. KompoZer is totally free as a download. It is a fully WYSIWYG editor which is compatible with Windows.
Unlike Dreamweaver It doesn't allow server-side scripting. But KompoZer allows you to create templates and alos it let you open any number of pages concurrently. A CSS editor and an HTML validator is offered by KompoZer.
Goto:  KOMPOZER
Amaya
Amaya is free, open source, comhttp://www.w3.org/Amaya/patible with Windows, Mac and Linux. Features a WYSIWYG editor, spell checking, page preview, SVG, and MathML. Frames, Java, JavaScript, XSLT, XForms, RSS, or Atom aren't really supported by Amaya. Plus CSS2 is also only partially supported. Despite of all those constraints it requires a high-resolution monitor, to view all features. There is no FTP support, and it is not an intuitive interface, because many standard keys such as HOME and END do not move the cursor to the start and end of lines, as other editors do.
Goto: Amaya
SeaMonkey
SeaMonkey is a community continuation of what was once a Mozilla-produced internet application suite. While Mozilla decided to narrow its focus to individual projects, SeaMonkey continues to make regular releases of its full suite, which includes SeaMonkey Composer, a WYSIWYG HTML editor.
Goto: SeaMonkey
Aloha Editor
Aloha is yet another strong candidate in the list of top 10 Dreamweaver alternatives. It offers HTML5 editing and compatibility with current browsers.
Also, it features a "floating" toolbar that alters depending on which part of your site you are working on. It is an extremely viable Dreamweaver alternative.
Goto: Aloha Editor
Bluefish – Adobe Dreamweaver Alternative for Mac
Bluefish is free, open source, compatible with Windows, Mac, Linux, BSD, and Unix systems. There is no WYSIWYG editor feature and you cannot do shared editing. Multiple browsers are useful to check work. However it is similar to Dreamweaver's support for developing HTML, XHTML, CSS, etc, and in addition it supports Google Go, Vala, ColdFusion, Ruby and Shell.
It has auto-recovery of changes after a crash as well as a FTP upload, server-side scripting, spell checker and page preview feature.
Check now: Bluefish
OpenBEXI
This is an open source, free, WYSIWYG editor compatible with Windows, Mac, and Linux with a browser-based interface. Designed to drag and drop widgets including images, text, graphs, and more. Includes FTP upload and allows server-side scripting.
However, it is difficult to get objects to work when added to a page and you need to use a server. It allows for creating a Mac style menu, you can create line, pie and bar charts plus it supports RSS. However, it does not support MathML, Xpath, or shared editing.
Goto: OpenBEXI
Quanta Plus
Quanta Plus is a free, open source, Linux-based program. It closely resembles the Dreamweaver environment, with similar features for supporting JavaScript, CSS2, XForms, RSS, etc. It also posses features syntax highlighting support for PHP, HTML, JavaScript, Perl, XML and others. Though, it doesn't support SVG or HTML5. There are drop down menus and auto completion for parsing linked documents from CSS to PHP.
Goto: Quanta Plus
So if you want a Dreamweaver alternative without all the bells and whistles, these might be considerable options for you. Here comes the time to bid bye. This was our list of top 10 best Dreamweaver alternatives. Drop down your favorite one from the above list. In case we missed any potential alternative let us know through comment section. Keep visiting our website for more such stuffs.