Hey readers! Hope you all are doing well. Well, today on your demand we have drafted this article you where you will get to know the Best 10 After Effects alternatives.  Just to be clear, Adobe Products are NEVER free (or inexpensive for that matter) unless it's a trial (which will inevitably lose functionality until you get a paid version) or if it's cracked which is illegal and unreliable. And this is one among the prior reason why people trouble themselves looking for their alternatives. But you don't have to worry anymore.
We are here for you to segregate the best of all the products in the market and provide you with top refined software and applications. So dear ones here is our list of best 10 After Effects alternatives.
Also Read: Adobe Illustrator Alternatives
10 Best After Effects alternatives
Down run the name of the software that you can replace for Adobe After Effects:
Apple Motion
Wax
Blender
Fxhome Hitfilm 2 Ultimate

Corel VideoStudio Pro X9.5

Eyeon Fusion 6.4
Wondershare Filmora
Autodesk Smoke 2013
Autodesk 3DS Max
Autodesk Maya
Obviously, you may desire to know about these programs in detail, so let's have insight details about all these alternatives to After Effects.
Apple Motion
So are looking for some easy learning program that it simple to operate. Apple Motion is the right choice for you. It makes video editing a cup of tea for everyone. With the click of a button you can experiment with preset filters and movement behaviors in real time. While not as advanced in many areas as After Effects, Motion gets the job done. Mac users can download it from the iTunes App Store for $49.99.
Go to Apple Motion
 Wax
Wax is a freeware video editing tool that is often used as an alternative to Adobe After Effects, as it features both modes, a standalone application, or as a plugin. Wax offer its users with a wide range of distinguishable effects. effects.  Particle effects for rain, smoke or fire, painting over video, creating 3-D text, dangerous effects are some of them. Plus all these are done in real time. And above all, for all this cool stuff you pay nothing that is its free!
Go to Wax
Blender – Free Adobe After effects alternative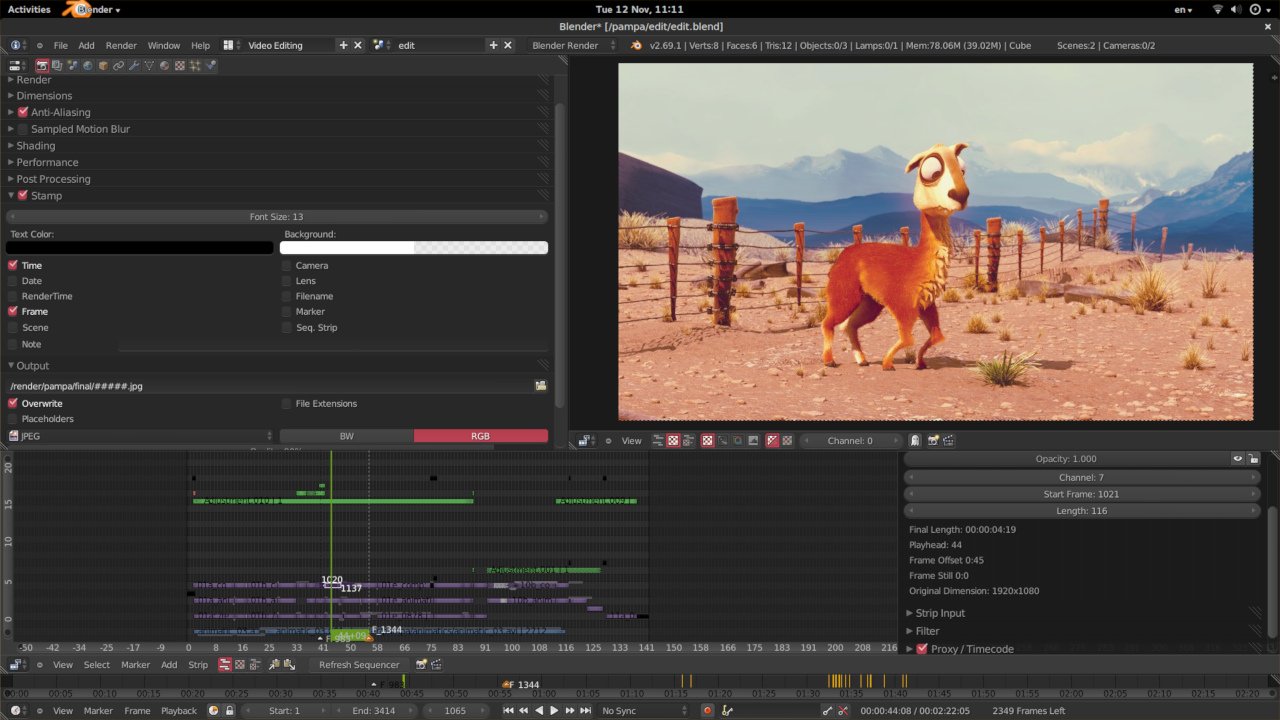 Blender is a FREE and open-source software that like After Effects that can be used for creating animated graphics, visual effects, interactive 3-D applications or video games. Blender's key features include 3D modeling, video editing, UV unwrapping, texturing, fluid and smoke simulation, particle simulation, animating, and compositing.
Go to Blender
Fxhome Hitfilm 2 Ultimate
For composing action video effects like smoke and explosions or animating 3-D objects, Hitfilm 2 Ultimate by Fxhome is a great option. Costing $399, this sophisticated software boasts a large community of users willing to share tips and ideas. Depending on your project, Hitfilm may not be an all-encompassing program.
Unlike After Effects, you will have to create the 3-D objects in other software before you can use the 3-D animation and rendering features. Also, Mac users are out of luck, Hitfilm 2 is available only for Windows users.
Go to Fxhome Hitfilm 2 Ultimate
Corel VideoStudio Pro X9.5

Corel VideoStudio Pro X9.5 is an amazing After Effects alternatives.  The main features  available here are  normalisation of audio, motion tracking, subtitle editor, screen capture, an integrated audio library and cool time-lapse effects. It compatible with  iPad, iPhone, iPod Touch and the Sony PSP, along with your Windows or your Android smartphone. If it is got a screen, the VideoStudio X9.5 will get your video up and run on it.
And it has a subtle learning curve, so even if it's just basic video editing you require, the Video Studio won't take long to learn.
Go to Corel VideoStudio Pro X9.5
eyeon Fusion 6.4
Fusion is video compositing software. It has proved to be more even advanced than After Effects designed. It is widely used to create visual effects and digital compositing for film, HD and commercials. For example, Avatar, Sin City, Lost, Terminator Salvation, etc. have used Fusion to do post-production. Fusion is compatible with both Windows and Linux (using a customized Wine). Hence, to conclude it is a suitable alternative to After Effects alternatives.
Wondershare Filmora
Wondershare Filmora provides you with more than 200 visual effects that instantly bring your video to the next level. It also includes all common video editing tools you need. Advanced features like Picture-in-Picture, fast/slow motion, voice change, video/audio recording are easy to use. What's important is that that sharing with friends and family has never been easier.
You can share videos with easy upload to YouTube, Facebook, etc. Save to configured presets for playback on portable devices like iPhone, iPad, iPod, Kindle Fire, etc. or burn DVD to better preserve it. It could be the alternative to After Effects that compromise the ease of use and power.
Go to Wondershare Filmora
Autodesk Smoke 2013
The newest contender in the video editing world is Smoke 2013 by Auto desk. This node-based system has a vast array of features for 3-D compositing, color correction and motion graphic effects.
Released in late May 2013, it is yet to be seen if the motion graphics world will favor Smoke 2013 over After Effects. It is available only for Mac users for $3495.
Got to Autodesk Smoke 2013
Autodesk 3DS Max

If video games are what you're working on, then look no further. This is by far the best in the market for 3-D character modelling, rendering, and animation. This is a benchmark for how amazing video game graphic processing can be.
Although it excels in 3-D rendering, it isn't the best for compositing and special effects, and if that is all you need out of this, it makes more sense to choose After Effects, because when it comes to it, After Effects is way better in that regard. And the 3-D MAX is available for Windows, Mac, and Linux as well.
Autodesk Maya
Another great 3-D modeling and animation program from Auto desk is Maya. While very similar to 3-D Max, this program has a few additional features such as painting and fluid effects. Maya is generally focused in the film and CG animation industries. It overlaps some of the features of After Effects but definitely has its own strengths.The drawbacks are the steep learning curve and the price of $3675. It's available for download on Windows, Mac or Linux platforms.
Go to Autodesk Maya
You Must Read These Posts:
MATLAB App Designer Review
DPS App Builder Tutorial
Best InDesign Alternatives
Top Free Adobe Illustrator Alternatives
Wondershare Fotophire Review: All-In-One Photo Editing Software
Best Free Manga Drawing Software
Procreate App Review

So folks, how was your experience while reading The Best 10 Adobe After Effects article. Do let me know through the comment section. Keep visiting our site for more such articles. Till then goodbye and take care.