Looking for a Wondershare Fotophire review? Not sure if Fotophire worths it? You are in the right place, keep reading!
We are all aware of Adobe Photoshop, as the best photo editing software. But going subscription-based amateur photographers are looking for some other photo-editing alternatives. A few names would flood our mind but one of the best alternatives that are reasonably priced is Fotophire, from Wondershare. We belong to the tech-world where everyone likes to click and capture and post on Facebook and Instagram. In that case, one demands a high-end photo-editing program. So here is the Fotophire that is a complete photo-editing toolkit that allows you to Phire up your Creativity. Many of you might not have heard of Wondershare Fotophire photo editing software.
So here is the complete Wondershare Fotophire Review and photo editor, photo cutter and photo eraser that are its main features.
Its time you no more have a hectic schedule working on your photos to not make it look shabby but decent. For, it is of great interest to tell you that Fotophire, a photo-editing tool is different from other ordinary tools available to us. Further, Fotophire is a desktop photo editing software launched by Wondershare. It is a new software in the market but has brought in a lot of attention because of its brand name, Wondershare.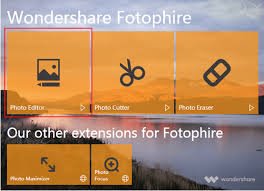 Wondershare Fotophire is a sophisticated photo editing tool that is user-friendly. The UI of this application is neat and easy to maneuver. It is equally dedicated for both amateur and a professional all-in-one full photo editing kit. The software helps you in creating visually appealing and more professional photos with effects that range from adding texting, creating transparent backgrounds, adding colors and beautifying images, and also creative filters. So, let us look over Wondershare Fotophire Review.
Supported Operating system: Windows 10, Windows 8, Windows 7, Windows 7 32-bit, and Windows 7 64-bit.
Minimum Processor: 1 GHz Intel® Pentium® processor or equivalent
Equivalent RAM: 1 GB RAM CD/DVD ROM drive
Hardware Space: 100 MB hard disk space,
Peripheral Devices: mouse and keyboard
Internet connection – for downloading effects
Here is the complete Wondershare Fotophire Review and photo editor, photo cutter and photo eraser that are its main features.
Fotophire Features and Add-ons
Fotophire has become a love interest for professional or personal photographers for it is a complete package of powerful photo editing features. With this tool, you can give your photos a rich look. The working of the Fotophire is quick and instant. And it gives users a 1-tap experience to do the editing like-
Crop
Rotate
Remove background
Create photo montage
Erase unwanted objects
Restore old photo
Add 200+ photo effects
Correct color
Fotophire contains 3 different modules or tools: Photo Editor, Photo Cutter, and Photo Eraser. The company has also added extensions like Photo Maximizer, for enlarging photos and Photo Focus, for fixing and refocusing blurry photos. Here are the Wondershare Fotophire Review.
So let's dig a little deeper into these 3 highly wanted and advanced tools for photo-editing to advertise your photography skills to all new level.  
Photo Editor
With no doubt, the most basic feature of any photo editing tool is changing image resolution, adding frames, cut, crop or paste. So you get all these features available in the Wondershare Fotophire Photo Editor. In addition to this, you can add text, enhance light curves, and add color tones. You get an inbuilt directory of 200 predefined effects. This photo editor supports PNG, JPEG, TIFF, BMP, JIFF and 13 more image codecs for no compatibility issues.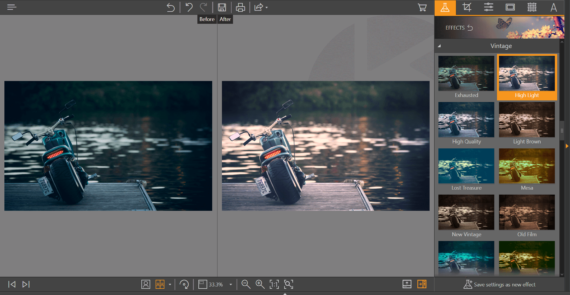 The photo editor module offers a fast and simple editing experience. Whether you need to fix a poor lighting or want to add a little extra light you can do it with just a click and allows all kind of photo tweaking. You can enable to select 100's of frames with a variety of styles. You get over 20 blend modes which offer full control over the intensity of the overlay effects by lightening or darkening the tones along the curve line. Its auto-straightener, you can straighten your images precisely in no time.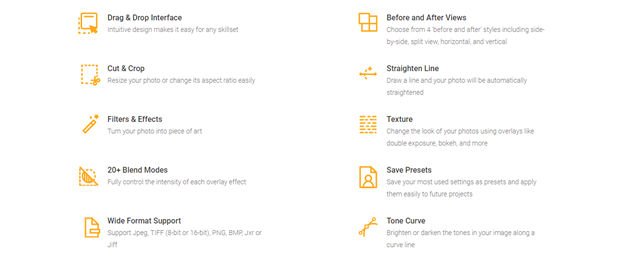 Photo Cutter
With almost perfect click what if someone photobombs your photo? Well, if is it so then don't be disheartened for Fotophire Photo Cutter tool will cover it for you. With its help, you can easily change the background or remove it completely adding impressive light arts. In addition, the photo cutter also features enhanced color-detection and matching technology that avoids abrupt transition changes between the layers. The tool is considered to be one of the best background removers in the market these days, to cut objects with just a click.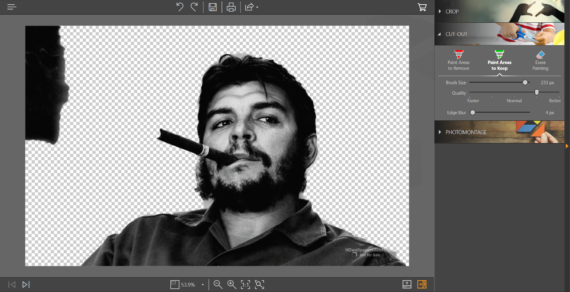 You can also deduce the edges of objects for itself using its leading color detection technology. Therefore you need not edit pixel-by-pixel. This makes it the perfect tool for creating unique images for blog or website. You can import photos, edit and view the result instantly.

Photo Eraser
The next great tool that is supported by Wondershare Fotophire is Photo Eraser. When you have got watermark images and you do not want it to use then Photo Eraser will come to your rescue. All you need to do is arrange the photo cutter tool and remove all such marks or void. Just keep all the necessary things or people in your images with Photo eraser without even affecting the background. The photo eraser is an outstanding deal for blogger and digital photographers, Further Fotophire's algorithm is capable of analyzing the surroundings and automatically fills the area with matched textures.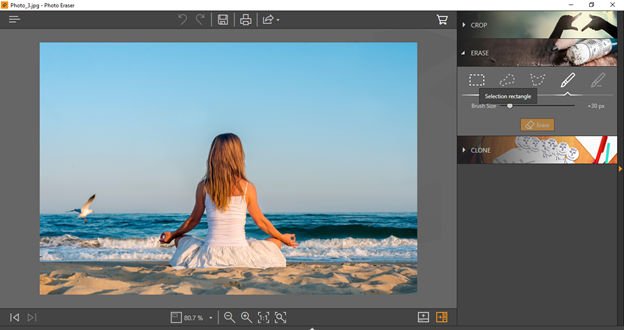 Photo Maximizer
This extension by Wondershare Fotophire, Photo Maximizer offers 8 different set of zoom settings. Using this you can enlarge either a portion or a complete image by limiting the pixel burst rate and auto-enhancing the noise levels. This gives your image a high quality. Fotophire photo maximizer tool also supports color correction, denoise capabilities, pixel and blur correction, which enlarges a photo by 1000% maintaining image sharpness and resolution.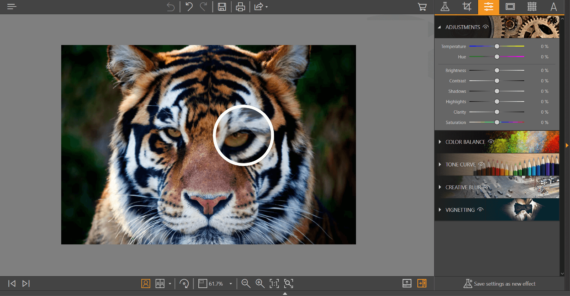 Photo Focus
Convert your ordinary photo into professional one with the precise amount of depth and focus using Photo Focus. With this tool, you can refocus or highlight on an image area of your choice. You can either select from a range of presets or manually set the focus points for enhancing the image.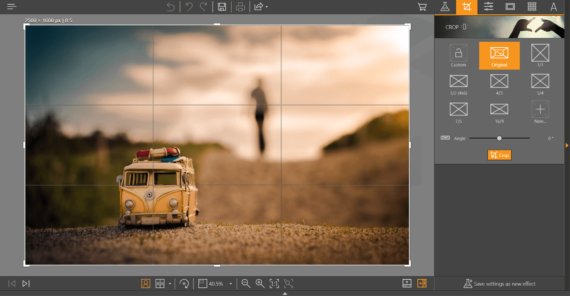 Amazed by its so useful features one will definitely want to try this newly designed photo editor tool. So here is the way to download and use Fotophire.
Step 1- Visit the official website photo.wondershare.com to download the required version of the software.
Step 2- Run the installer and tap the install button. The downloading will begin.
Step 3- Follow the on-screen instructions to complete the software installation.
Step 4- Locate Wondershare Fotophire icon on the desktop. Now double-click on it to launch.
Step 5-From the splash screen, pick a tool or effects that suits best for your photo customization.
Step 6- Once you are done with editing, you can save, print or share photos directly to Facebook, Twitter or any other social media platform.
Is Fotophire worth a Pricing?
For now, Fotophire is available only for Windows users but Mac users should not be disheartened for the same will be soon available. The best thing about its availability and pricing is that it does not offer any complex plans to confuse its users. You get its Try Free Version and Premium Version. The Try Free Version comes with all the features that will meet your basic requirements. But there will be watermarks after you exporting the images.
While if you choose Fotophire with the Premium version it retails at $49.99. This offers you with the limited One Year License that allows you to use all the features of Wondershare Fotophire without any restrictions for a year. After one year you can get your offer renewed. Moreover, there is a 30-day money back guarantee as well in case you are not satisfied with the product, you will get all your money refund.
You Must Read These Posts:
MATLAB App Designer Review
DPS App Builder Tutorial
Best InDesign Alternatives
Top Free Adobe Illustrator Alternatives
Procreate App Review
Best After Effects Alternatives
Fotophire Review and Verdict
With minimal subscription price and combining three pieces of software in one, Fotophire by Wondershare comes as a bonus for photographers. In the photo-editing world, the real question is whether this Photo Editor software is useful to everyone? So probably those who are new in this field and have to do some basic editing then it is more than adequate. Its photo eraser and photo cutter tools are surely worth a try.
Overall on the basis of Wondershare Fotophire Review, one can definitely recommend this software for it is easy to use and produces a quick result. Hope this article on 'Wondershare Fotophire Review' might be helpful for you. Let us know in the comments section.