Updated Oct 12, 2021
Looking for the best free Manga drawing software? You want to draw Manga but you don't know any good software to do so. No worries, this article is going to tell you all about the best manga drawing software using which you can learn and draw manga on your computer easily.
Manga is getting immense popularity these days and many like you are looking for a drawing software. Drawing software is a lot of fun to use and can make your work done with ease. It is simple and faster than traditional drawing that requires crafts.
Manga software allows you to do quick edits and create drawings with just one click. Basically, Manga is the comic or anime that is been created by Japanese people. Well, you do not get all the Manga drawing software for free but you can get them on a trial basis.
You Must Read These Posts:
10 Best Manga Drawing Software – At A Glance
Smith Micro Manga Studio
One of the most popular and Free Manga drawing software is Manga Studio. It does exactly what its name suggests. It is an incredible software for creating anime and manga artwork.  You can create these Manga drawings with a professional touch using this software. You can also use it for the digital creation of comics, illustrations, and frame-by-frame 2D animation. Smith Micro Manga Studio is available on all major operating systems including macOS, Microsoft Windows, and iOS. It is now officially renamed as Clip Studio Paint.
Below are some of the main features of Smith Micro Manga Studio that makes it best to draw manga drawings on it.
Features Of Smith Micro Manga Studio
Its features include drawing with vector capabilities for line work. It offers a wide range of genre-specific color swatches screen tones, together with perspective rulers to aid layout and 3D characters. You can aid pose and add anatomical design. This Manga Studio also comes with pen pressure sensitivity for tablet-users, and digital pens which mimic the traditional ink pens used by professional manga artists. It is a great choice for anyone who wants to indulge in manga artwork.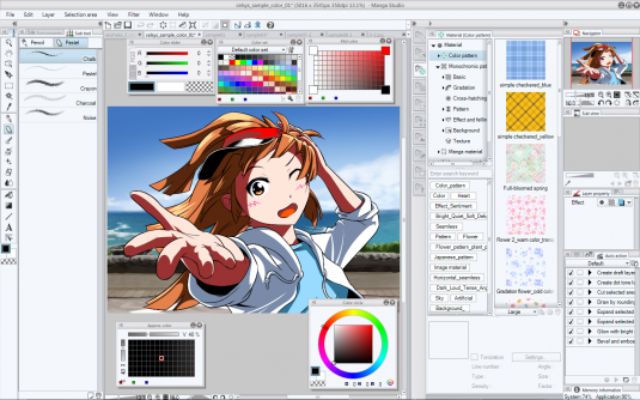 PGN openCanvas
OpenCanvas is quite popular among the manga and anime community. It is a digital drawing and painting software available in both Japanese and English. With this software, you get various brushes, including a raster-based Pen Tool, marker pen brushes, and watercolor brush set.
PNG openCanvas can be used for digitally inking, and has layer systems that make editing easy. It has a user-friendly interface that offers easy-to-navigate menus and a thumbnail panel. Several patterns, tones and paper textures coupled with the fully editable brushes are available for creating manga and anime-styled artwork.
Inkscape
Inkscape is a free vector-based manga drawing program. It is similar to the popular Adobe Illustrator. This tool is great for picking the specified colors and it's a free and open-source vector graphics editor. Other than Manga drawing this drawing software can also create or edit vector graphics such as illustrations, diagrams, line arts, charts, logos, and complex paintings.
You can create a really cool Manga drawing using Inkscape. If you are a beginner in Manga drawing, there are many tutorials available on the Internet to learn drawing simple Manga characters. Check Inkscapetutorials and find out many tutorials.
Inkscape Features
This tool allows you to upload your traditional drawings via scanner and convert them into the manga artwork. It is compatible with almost all the file formats as JPEG, BMP, GIF, TIFF, PCX, TGA, PSD, PMG etc. It is a great tool for creating anime and manga drawing.
Adobe Photoshop
Adobe Photoshop is the most famous drawing software and is used worldwide for such drawings. It offers precise tools for creating high-quality anime and manga styled artwork. With Photoshop you get the ability to complete the whole piece digitally from start to finish. You can also scan your drawn sketch and then later use Photoshop's photo editing options for creating art.
Photoshop offers the brush tools for detailed tablet work while mouse-users can enjoy the Pen tool for precision. With this Pen Tool, you can color your anime and manga artwork and give crisp clean boundaries to your shading.
SYSTEMAX PaintTool SAI
The next inexpensive Japanese-made digital painting software is SYSTEMAX PaintTool. It is a lightweight raster graphics editor and painting software. This one proves to be nearly perfect for the anime and manga art industry. It is a light program that runs smoothly and offers an easy-to-navigate interface. This is needed to create anime and manga styled artwork.
SYSTEMAX PaintTool SAI Features
It comes with built-in brushes of different size, shape, and texture that are capable of creating mimic traditional painting media. The tool also includes watercolor and marker pens and allows you to download custom brushed from the web as well. It produces amazingly crisp edges to the stokes and different layers to create perfect art.
You will like this post: Wondershare Fotophire Review: All in one Photo Editing Software
GIMP
The GIMP stands for GNU image manipulation program. It is given almost equal priority as of Photoshop but is preferred over its painting and drawing skills. You can use this software to create and customize brushes and the patterns as per your demand. This offers transformation tools to rotate, scale and allows editing drawings and images to its best.
GIMP Drawing Features
Its other tools include ellipse, rectangular and free selection. GIMP supports wide file formats like JPEG, BMP, GIF, PSD, and PMG. It also supports the use of pen tablets and is capable of adding the plugin's to expand its features further.
Corel Painter
Draw your next level manga artwork using this brilliant Corel Painter software. Corel Painter is famous for a wide selection of brushes. It includes digital brushes and also those which mimic traditional media. With the aid of a graphics tablet or computer mouse, the user is able to reproduce the effect of physical painting and drawing media such as watercolor, oil paint, chalk, charcoal and color pencil.
Corel Painter Features For Manga Drawing
The artists use Corel painter to create anime and manga style who are inherently digital artists and also interested in traditional media. You get a good range of other brushes for the digital look and have precise pen pressure sensitivity with a tablet. Painter is a commanding tool for anime or manga style painting.
Artweaver
Artweaver is yet another manga drawing and painting tool. It is great to use for both beginner and experienced user. It is easy to use and is a paid program but one can also try its free version. You get predefined brushes like pencils, chalk, charcoal, crayons and airbrush. Its pen tablet support filling, cropping and selection tools.
It allows you to configure the brushes that suit your need and categorize them. It also allows you to text with its editable text tool.
Clip Studio Paint
Clip Studio Paint is the world's leading manga and comic creation software. This tool delivers influential art tools that help to create professional manga artwork. This is designed for the artists perfect in their pen-and-paper illustrations and for the artists willing to create manga and comics digitally.
Clip Studio Paint Features
It allows powerful coloring with its custom color sets and includes pens, pencils, brushes and selection tools. You also get the feature that allows multiple airbrush effects. Its vector tool kit allows maximum flexibility and hence speeding up the manga production.
MyPaint
My Paint is a free painting and drawing manga software. Its designing is specifically to work with tablet pen pressure sensitivity. You can also create and configure brushes like pencils, chalk, crayons, and charcoal. It gives you the feel of professional painting or drawing with a traditional touch.
MyPaint Manga Features
You get all the features and benefits of digital painting. You can save your art as scrap paper and has large collection of brushes that can be customized as well. In addition, it also supports blending modes like luminosity, overlay, and saturation. It also has features to move layers around and is a great tool to use.
You will like this post: How to Open PSD Files without Photoshop for Free
Tips to Draw Perfect Manga
So now you know which are the best software available on the Internet to draw Manga. In this last section, let's see some tips that will help you draw awesome Manga.
Follow proper Drawing guidelines:- First tips is to use the proper guidelines whenever starting a new drawing. Guidelines such as lines, shapes, structure or basic frame. Many artists feel that this is a waste of time. But believe me, it will help you master manga drawing.
Practice by Copying:- No, I am not saying to do plagiarism, or simply copy and publish other people's work. But as a beginner, you can make your drawing better by drawing some characters and scenes of your favorite Manga. You can experiment in it on your own by adding new stuff using your own imagination.
Accept Criticism:- If you show you drawings to someone and they suggest some changes or give some honest but negative feedback. Learn to accept it and practice to make it better. Have in mind though that not all criticism is to take seriously, some of them should be ignored too.
Experiment using Your Imagination:- You can't draw the perfect manga if you just copy and draw an already drawn Manga or Anime all the time. To master drawing in your favorite software, learn to use your imagination and draw your own characters and scenes.
Enjoy Drawing:- Last but not least, enjoy while drawing on the software. If you are not having fun while drawing Manga, you will not be able to take it as a hobby for a long time. Draw whatever you enjoy the most.
And that's it. I hope you will take all these tips into consideration and start drawing manga.
Ready To Put Your Manga Drawing Software In Use?
Well, these were the best free manga drawing software you can use. Start drawing manga and enter the world of anime and manga. It is fun to use these drawing softwares and create your very own amazing manga. It doesn't matter if you are new into Manga drawing or have a pro-level experience. You will enjoy drawing on each and every manga drawing software of this article. If you want to add any software you like to draw Manga on, feel free to mention them in the comments section below.
General FAQs
What is Manga Drawing Software?
Manga drawing software allows users to create amazing Manga artwork on their own private computers. Not only is this art form becoming more and more popular, but the best software is affordable, as well as high-quality.
What are the Best Features for Manga Drawing Software?
There are a lot of intricate features on differing software. However, these features make for the best art. Drawing with vector capabilities for line work, file format compatibility (JPEG, BMP, GIF, TIFF, PCX, TGA, PSD, PMG etc.), various brush sizes and textures, plugins to expand features, as well as being available on a lot of different platforms.
What Makes Manga Drawing Software Different?
There are not a lot of specific differences. This is primarily because digital artists work on these drawing software models for a wide variety of reasons. These top ten Manga drawing software choices are simply the best for this particular form of drawing. However, some of these programs are designed SPECIFICALLY for Manga!