Are you a fitness lover? Or you just want a flexible body? But you can't afford physical trainers, dietitians to achieve it. Just mark these word-"whatever the mind can conceive, the body can achieve". So if you really want to bring the flexibility in your body why don't you start putting efforts to it by your own. Are you wondering how will you do that all alone? You don't need to worry at all. Keeping all these things in mind I had listed top 10 best popular and free stretching apps for Android and iOS users.
Basically Stretching is defined as a form of physical exercise in which a particular muscle or tendon is knowingly stretched in order to improve the muscle's felt elasticity and achieve comfortable muscle tone. Increasing flexibility through stretching is one of the basic tenets of physical fitness. But remember one thing, stretching can be dangerous when performed incorrectly.
Here is where our stretching apps will play their important role. You can be very flexible without any injury using the right app in right way.
Best Stretching apps for Android & iOS
So enjoy reading the brief about the best stretching apps for Android & iOS.
Stretching Sworkit
Stretching sworkit is listed at number one on the list of best stretching apps which increase the flexibility of your body. Here you will find more than 100 of workouts and guides which will help to gain a flexible body.
Also, the app would take care that you don't get injured. Full body stretch, head to toe stretch and Pilates essentials and every other important stretch are available here. You can easily choose any of them according to your interest. It allows you to create custom workouts from different categories like Yoga, strength, stretching, and cardio.
Flexibility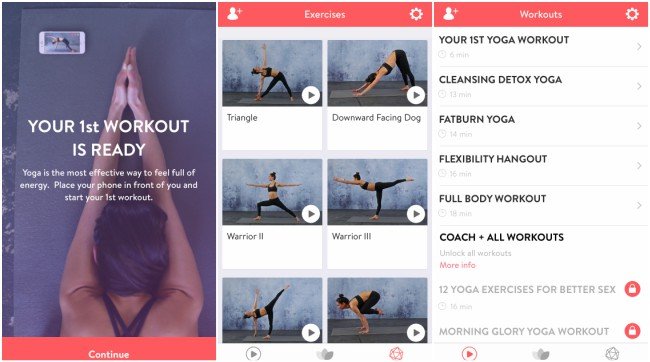 As the name suggests Flexibility is yet another stretching app for Android and iOS users. It has great advantages. You can use this app to maintain your body and attain the flexibility you want.
Along with stretching it also allows you to learn different yoga, dynamic warm up, and other workouts for free on your smartphone. Along with flexibility it also helps you to improve blood flow, muscles and more in your body.
StretchIt
StretchIt has a huge collection of stretching and flexibility videos. The more you watch the more to learn. You can easily learn stretching techniques by following given easy and quick instructions. There are more than 50 hours of video classes with HD video and clear voice.
Pilates
Pilates is a home fitness app which allows you to do fit without any instructor. If you are using this app and following the instructions of the app then you can easily be stretchable. Along with exercises, you have also take a proper diet and supplement to build up arm or calf muscles.
Stretch HD
Stretch HD is a free and popular stretching app. All of the videos are fully researched and recorded in full HD quality so that you can easily use them. It is a user-friendly stretching app which lets you personalize your routine according to your interest. One of the best features of this app is to allows you to play music while stretching.
Stretching Exercises
It is a good and popular stretching app for android and iOS users which allows you to know popular stretching exercises for free. There are more than 100 of different stretching exercises are listed in this app. You can easily use any of them according to your use for different body parts. It is fully customizable app which helps you to increase muscle, flexibility and others of your body parts.
Stretch Timer
Stretch timer is another easy to use app which allows you to set your stretches time on your smartphone. The app will work according to your time and let you know the remaining time. It is an amazing and user-friendly stretching app which allows you to manage all settings from home screen of your smartphone. All settings will autosave on exit from the app.
Extreme Eye Exercise
Extreme eye exercise is a unique app that help to increase and train your vision. It is absolutely free. This is a fun and loving game app where you have to rearrange the simple match-3 puzzle. It is important to control your mind and eye on this game app so that you can easily solve the puzzle.
Daily ABS
Daily ABS is a stretching app which teaches you a lot of things in less time period. It is a popular and free app with lots of exercises to do at home. All of the exercises are suitable for both men and women. It also has listed guidelines for different stretching and exercise program so that you don't do mistakes. It has also a paid option with lots of other and unique exercise and programs to use at home.
Track Yoga
Track Yoga is one of the best Yoga apps which has listed all yoga.
You can easily get Yoga classes for free using this app on your smartphone. Yoga classes are listed by the experts of yoga team. It helps you to lose weight, gain stretchability, flexibility, remove tension and stress with a great workout. It will be your personal yoga teacher which helps you to learn different yoga according to your strength. One of the best feature of this app is to allows you to set weekly goal and also track them on your smartphone.
So here it come to an end.
Top 10 Free Apps for Stretching and Yoga
Lets have a final look to the list of of best yoga apps for Android and iOS:-
Stretching sworkit
Flexibility
Stretchit
Pilates
Stretch HD
Stretching Exercise
Stretch timer
Extreme eye exercise
Daily ABS
Track Yoga
Hope you enjoyed reading!