If you are a user of iPhone from a long time then you must be well familiar with the iTunes is currently downloading software for the iPhone error. This is a very common error regarding the software update that has been encountered by almost every iPhone user. But if this error does not looks familiar to you then don't panic because it is not your fault. With this error appearing on iPhone screen, neither the iPhone nor contents inside are at risk.
Apple undoubtedly is a brand name and with its, every software update makes you believe that it is a better version than previous. Each time they put efforts to make it more functional and user-friendly. Talking about an update or a patch is the part of the software that is released at regular intervals with some modifications. These updates are mainly addresses for solving security issues arising in their pre-existing versions. The updated version follows some enhancements and fixes any bugs if available.
Therefore, it's very noticeable for an iOS user to anticipate for a Software update. These updates can be mounted over the existing software and do not require un-installation of the current software. In a nutshell, you just have to update it as you do for other apps.
If you are an iPhone user and notice the error 1671 or iTunes error 39 then it means that iTunes is currently downloading software for the iPhone. Among all the iTunes errors that you may encounter, this error 1671 iTunes is most infuriating. You can give a try by updating the iTunes to its latest version. On the other hand, this error usually appears while you are updating your software or restoring setting on your iPhone. There is no certain time of the onset of such iTunes error. But this error surely causes various problems for it restricts you from downloading any other software or disturbs the functioning of your iPhone.
Well, if you also come across this frustrating error that makes your iPhone stuck on screen then here we are with some most authentic solution for your precious device.
Causes of iTunes is currently downloading software for the iPhone
While you are using iTunes to back up your data, restore or sync your iPhone iPad, to other devices you may face a lot of issues. You may come across iTunes error 14, 50, 39 and 54. When you update iTunes to latest version Apple Software Update Error Occurred While Installing Update and iTunes Error 45 and iTunes Error 39 When Restoring iPhone errors are very common. So if you are frequently encountering such errors then here are the possible causes that are not allowing your iPhone to function smoothly.
Maybe you have intentionally activated the Recovery mode to solve this problem of iTunes is downloading any software for the iOS.
You might have tried jailbreaking your device but it went horribly wrong making it unsuccessful.
There is a problem with downloading the software.
It is unable to connect to iTunes Store and an unknown error occurred (-3259)
Network connection is times out probably.
iTunes Error 9808
Network connection problem may be is not activated
Variations of iTunes Error -3259
You might be trying to update your iOS to the latest version
Your iPhone is stuck in Recovery Mode
Typically this may become a serious case if your iPhone is stuck in recovery mode. Because this means that all your iPhone data and settings will be lost. So the general method to get out of this mode is reverting to iTunes restore. But again this will only work for you if you have created the backup of your old data stored on the iPhone. If you have backup started that is restoring data, you may receive, iTunes is downloading the software for this iPhone and hence will restore the error.
If you want to try simply updating your iPhone then all you have to do is go to General option in settings bar. Then click on software update, it will look for an available update and will send a request for updating the software. This happens because of the traffic as lot many people now use iPhone. If at the time the update cannot be sent to you then it will show the error. If not then click on Install Update and your iOS will get updated.
How to fix iTunes is currently downloading software for the iPhone
Now since you have known the reason lets jump back to the methods that can solve your problem.
Method 1- Restore Old Backup
You can fix this error using Recovery but it will cause all your data and settings to be disorganized rather than recovering to your last backup.
Step 1: Firstly hold the home button. Then connect the device to your PC or laptop. Now open the iTunes software installed on it.
Step 2: As soon as you will connect iPhone to iTunes you will get a pop-up message saying that your iPhone is in recovery mode and needs to be restored.
Step 3: Now click on your device on the main toolbar. Then head to the Summary tab.
Step 4: Find the restore option. Click on it.
Step 5: In order to back up your iPhone settings you will need to follow the prompts in iTunes as displayed
Step 6: Finally restore your iPhone back to its previous settings. Lastly, reset it.
Once you are up to it you will no longer face the error.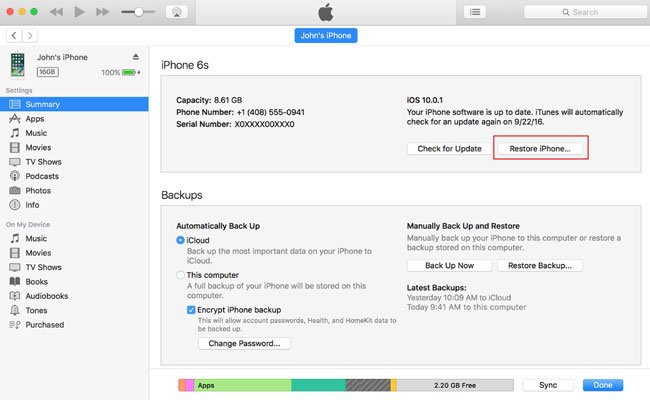 Method 2- Network Reset
One of the essential requirements for the iOS software update is a stable network connection. If your network is fluctuating, you should not try updating at that moment. In case you are updating using a Wi-Fi connection that is inconsistent then the chances of your iPhone getting stuck with the iTunes is downloading update or software for the iPhone error increases. So try to maintain a stable network connection and later try upgrading the software.
Method 3- Restore your iPhone to Factory Settings Using iTunes
The last method that you can try resolving the error is via Factory settings using iTunes. It is bit complicated so follow the steps in sequence as mentioned.
Step 1- begin with running iTunes from your PC or Mac.
Step 2- Now connect the iPhone to the PC. Select it from the toolbar that you will find on the side.
Step 3- Before that make sure your device is backed up. If yes, then only click on the Back Up Now button.
Step 4- Download any of the latest iOS firmware that you wish to install on the device.
Step 5- Once the firmware ipsw that you wish to restore gets download then press the Shift key. Finally, click on restore the iPhone.
Step 6- Open your firmware file. Navigate through the file through the hard drive.
Step 7- iTunes will prompt a window asking if you want the device restored to factory settings. Click on restore to continue.
Step 8- Click on Next -> Agree. Now, if it needs the iTunes will start downloading the new firmware.
Step 9- After once it extracts the firmware the installation process will begin.
Step 10- Once the installation completes iTunes will come up with a notification. Your iPhone will now get a reboot. Click OK.
Step 11- Now, you will have two options either 'Setup as a new iPhone' or 'Restore from this backup'.
Step 12- Make up your choice. If you choose to restore from backup it will make possible for you to use the drop-down from previous backups.
Step 13- Lastly click continue.
Now sit back and relax as your iPhone will recover and will now work perfectly.
Also Read: Fix iPhone won't connect to iTunes Error
So this was all about fixing the error iTunes is currently downloading software for the iPhone. If you follow the methods in a stepwise fashion that surely the issue will not trouble you anymore. So don't panic if next time you encounter the same error and feel free to write for any further queries.