4K (4096 x 2160 pixels) which is four times as many pixels as 1080p has become a well-known resolution. You get a sharper and clear picture that users enjoy with this vivid video with ease. These days you get a lot of streaming video sites like YouTube or Vimeo, that support online 4K videos watching and 4K videos downloading. 4K has changed the lives of people in entertainment world.
One does not want to compromise these days when it comes to relaxation by watching a movie or videos. 4K UHD trend has become irresistible therefore it is must to learn how to play 4K videos on your PC or Mac for better quality video experience.
The reputed companies these days are in line to manufacture smarter screens that are adding the hardware into TV sets. But the question is how about watching or play 4K UHD videos on Windows 10?
What is 4K Ultra HD Video?
4K resolution, aka, 4K UHD is a display device or content that supports horizontal resolution of 4000 pixels. It shows clearer picture and sharp images in ultra HD quality.
The images created by these screens are crispier. With more detail and nuance one can easily distinguish between 4K and 3K that is astonishing. Its higher resolution images are simply better.
Why need a good 4K Video Player for Windows?
You can get many free or paid software that allows to watch 4k videos. However, for me, 5KPlayer is few best software to watch 4K videos on Windows.
But the thing is why you require a 4K UHD Video Player? So here defining its features and strength.
Supports Hardware acceleration with high-resolution video decoding utilizing the GPU acceleration from NVIDIA®, INTEL®, DXVA 2.0

Compatible with video/audio codec on Windows 10 and Mac including the HEVC and AVC

Play 4K 2160p videos on different screens like Apple TV

Experience indoor watching better-than-Bluray Ultra HD home theater effect

Supports HEVC decoder with the Main 10 profile at 4K at 120 fps

Play 360-degree videos on Windows 10 with 180-degree SBS and T-B modes

Download and play 4K UHD media with built-in online video downloader
You will find many free or paid 4K media player software, such as Media Player Classic, VLC and DivX Player, etc that support 4K videos with high playback quality. But according to real user's feedbacks of 4K, they seem to experience troubles when playing 4K videos with 4K player software on Windows PC.
The reasons could be-
Playback is stuttered

The fast-forward and fast-backward scroll bar do not work properly

The image becomes fuzzy

Media player may stumble or have abnormalities or crash.
Therefore an excellent 4K UHD video player is quite necessary for a better viewing experience. So for Windows OS one must make 5KPlayer as their decisive choice.
How to Choose a Free 4K Video Player to Play 4K UHD Media?
Basically all you require is 5KPlayer for 4K 2160p media playing for it is tailor-made ultra HD definition videos playback with high quality.
What is 5K Player?
5KPlayer, is free, professional and trending media player made to play 4k UHD videos. It is a mixture of free 4K HD video player, music player, DLNA & AirPlay enabled media streamer and online downloader for Windows 10 and Mac. 5K player mainly focusses on the 4k HVEC support as the priority of this software.
It supports almost all the resolution like 4K/1080p/360° HD videos, DVDs and radio. You can even play MP3 AAC APE FLAC music to trigger your senses. And also download online videos from YouTube, Dailymotion, Vimeo etc.
Free Download 5K Player from HERE
Highlights of 5K Player
DLNA support
5KPlayer is a blend of DLNA controller, DLNA renderer and DLNA server. It helps share MKV AVC Webm 3GP VP8/9 AAC video music from Android to PC/Mac and DLNA stream H.264/MP4 MP3 AAC media on PC/Mac to smart TV, PS 3/4, Xbox, etc.
Multiple File Formats
5KPlayer supports various formats like MKV/M2TS/MP4/AVI/WMV/FLV video formats. For audio, play MP3 music, DTS multichannel surround sound, AAC, AC3, WMA, and FLAC & ALAC lossless audio files.
TrueTheater Technology
This technology makes the video available in best quality for seamlessly playing 4K/5K/8K UHD videos without any falsification.
AirPlay Support
Has built-in AirPlay service that turns your PC into an AirPlay Receiver or AirPlay Sender for complete screen mirroring tool for iPhone and iPads. It allows you to directly stream content from your phone to your computer screen.
Video Downloader
5KPlayer is capable of replacing other video downloaders. To download a video, copy the web page URL and paste it into the program. 5KPlayer downloads 1080p videos by default that can later be changed.
It supports downloading video and audio from YouTube, Facebook, Vimeo, Instagram and other more than 300 websites like SoudCloud. Also an online video to an MP3 soundtrack to download the audio.
Radio Player
5KPlayer can be considered as the modern internet radio player. Simply stream's URL or load one from pre-sets provided by default and includes popular channels like BBC Sport, CBS Sports, NBC, and Hotmix Radio. You can even add your favorite channel.
DVD Player
You can run DVDs on your computer with built-in DVD feature in 5KPlayer. Allows unlocking of the region-specific DVDs and play them irrespective of their region.
Hardware Acceleration
With 5K player you do not face problem in playing high-resolution videos as it supports Dxva2 hardware acceleration.
So 5KPlayer basically works by utilizing the hardware components. This accelerate video performance and thus ensure a high-quality playback of high-resolution video files. You get an improved and better experience as media can be smoothly played on your computer.
Horse-powered by NVIDIA®, Intel®, DXVA 2.0 Hardware-acceleration, is the HD media player for Windows 10/8/7/Vista/XP/Mac that is responsible for maximizing your visual enjoyment with minimal consumption of CPU and GPU regarding decoding and rendering alike.
5KPlayer offers users and supports three hardware decoding options: QSV-Intel, NVIDIA CUVID and DirectX Video Acceleration (DXVA). Once you turn on the hardware decoding option, the graphic instructions will be dealt with GPU in a separate flatter manner by not occupying CPU.
How to Download and Play 4K videos on 5KPlayer?
Here's how you can download and play 4K videos using 5KPlayer.
Step 1- Download the best 4K player on your Windows PC or Mac. Launch the app and install it on your device. Download 5K Video Player for Windows  
Step 2- Click on 5KPlayer instead of entering the Library. Now choose Video from the list of options given. It will be the first option in the list.
Step 3- Now from the library of your local computer, click on the source of the 4K file. This will add the selected 4K video.
Note- Some 4K video player accepts videos all kinds of formats, definition, and resolutions. The videos are then played directly.
Step 4- You can then play/pause, fast-forward, use the progress bar by dragging, fast-backward, adjust the volume and use more features like this. The 4K media player also allows you to select the audio track, and also the video's subtitle track.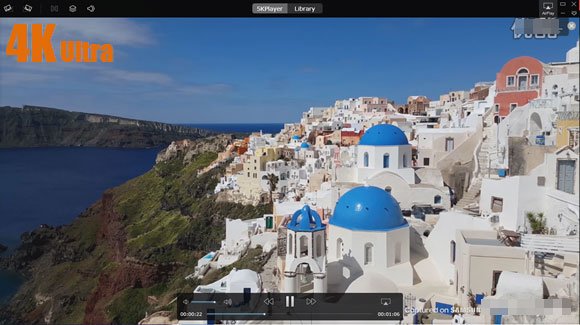 Step 5- With the 4K Player you can also view your playlist from the software's library, and perform tasks like opening the directory, converting 4K videos, and managing the media.
Conclusion
Are you sick of watching low quality resolution audio and videos. If yes, then 4K UHD player for Windows 10 is the best choice for playing audio and video content. And to play TV shows with the all-inclusive free 4K/5K/8K player, the best recommended media player is 5KPlayer. So here is the guide and review on how to play 4K UHD Videos on Windows 10 easily for clear picture.