Are you looking for a professional-grade and cutting-edge video editing software for Mac Computers? You've stumbled upon the right place!
This post categorically describes the top 12 video editing software available for Mac that you can deploy to supercharge your video creation aspirations.
With the vast number of video editing solutions available for Mac today, it might become highly confusing for you to choose the right software that satisfies your business requirements.
Few software are more complicated than others and have an expansive feature set that can help you in fulfilling all your video editing requirements.
We have analyzed the top video editing solutions available for Mac and come up with a list of the best 12 solutions available today that you can use to create appealing and eye-catching YouTube videos effortlessly. Let's begin with the list!
12 Video Editing Solutions Available For Mac
Here are the top 12 video editing solutions available for Mac that can fulfill every video creation requirement.
1. Movavi Video Editor
Movavi video editor is a feature-rich and highly intuitive video editing platform.
The software has professional-grade video creation features that allow users to create professional-grade videos that are highly appealing to the viewer.
The platform provides a plethora of video filters, title addition features, transition integration, as well as ready to use video intros.
Although the Movavi Video Editor is best suited for beginners, Movavi Video Editor Plus 2020 caters to the needs of advanced video creation requirements.
2. Final Cut Pro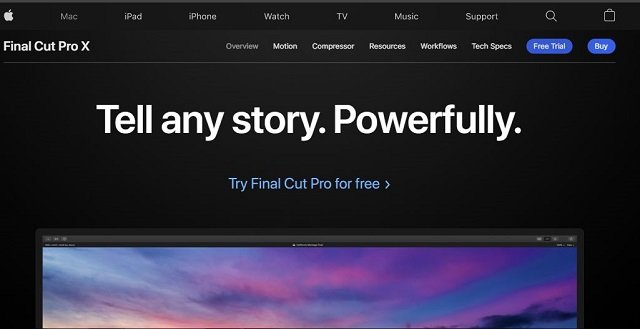 Final Cut Pro is a Mac exclusive video editing software that is designed especially for Macs. It has all the latest algorithms that can help you in leveraging your Mac's hardware to the full extent.
Coming at a one-time payment of $299, Final Cut Pro is best suited for video creation professionals.
The software provides users with the ability to import, share, and edit videos seamlessly for a variety of devices and has an advanced feature set that can cater to the requirements of enthusiast video creators.
3. Adobe Premiere Pro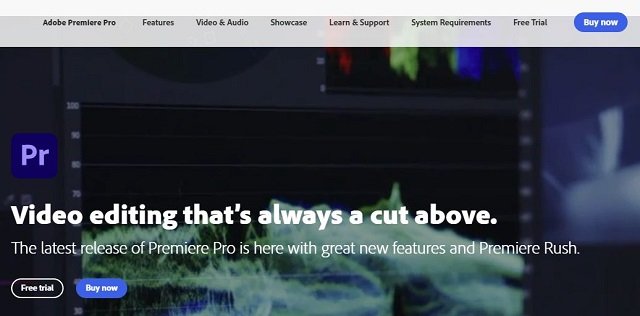 Adobe Premiere Pro comes from the house of the legendary Photoshop maker, Adobe. The video creation software is best suited for filmmakers, videographers, TV editors, and YouTube content creators.
It has support for all types of cameras and can be deployed on a Mac or a PC as well.
Due to its ever-growing user-base, Adobe Premiere Pro is constantly evolving and upgrading its feature set and has a high number of video customization options that you can choose from.
Since the platform is connected with Adobe Creative Cloud, it is accessible from almost any connected device.
4. VideoCreek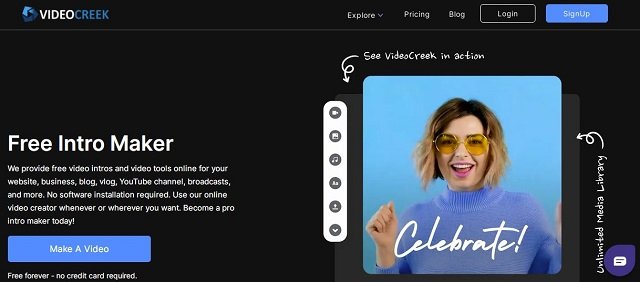 VideoCreek is a cloud-based video editing software that runs entirely in your browser and does not require you to download any software to your device.
Since the software runs entirely in your browser, the video editing is quick as all the processing happens on the server-side.
The platform provides all the functionality that you can expect from a professional-grade video editing solution such as pre-existing templates, royalty-free audio clips, transition integration, and many more advanced video editing features.
5. VideoPad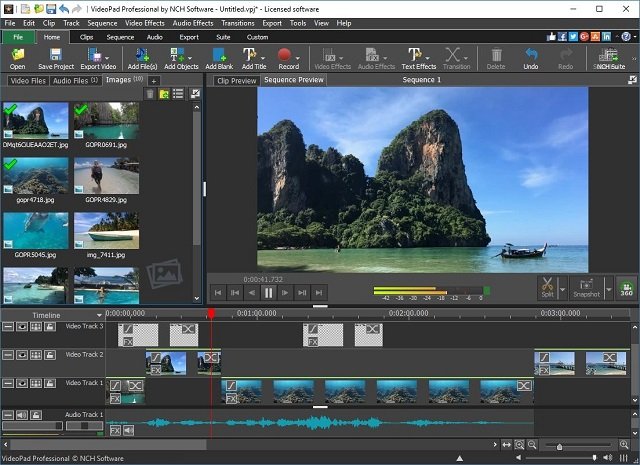 VideoPad is a video editing software developed by NCH Software and has support for Mac, Windows, Android, and iOS.
The platform has beginner level video creation features that are best suited for small to medium-sized enterprises and less complicated projects.
The platform comes with color-correcting options, video cropping options, transition integration features, effect insertion as well as a plethora of audio editing options.
There is also support for 360-degree video editing and native integration of YouTube and Vimeo to enable seamless video sharing.
6. InVideo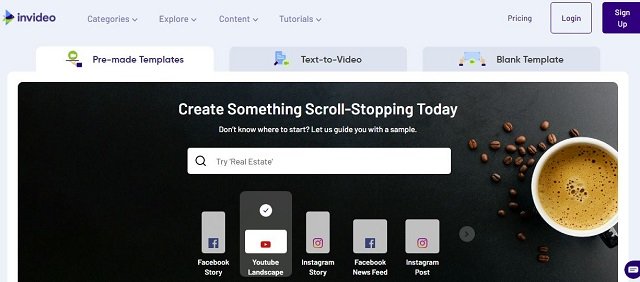 InVideo is another online video editor that runs in your browser window and is devoid of requiring any software download. Users can simply navigate to InVideo's website from any device and start with their video creation.
The software has a range of pre-existing templates that are eye-catching and can help you in easily creating effective videos from scratch.
Their collection of royalty-free audio and video clips are perfect for helping you in repurposing your content for publishing on different social channels or platforms.
7. Camtasia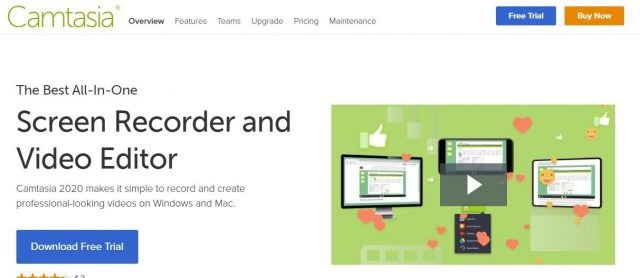 Camtasia combines the features of a video editing software and a screen recording solution. This makes the platform highly effective for creating screengrab walk-through videos that can serve as guides for users. Moreover, teachers find it highly useful in creating tutorial videos.
The software is not too resource-heavy and can easily run on low-end Macs. The license for Camtasia starts at $249.99 which may be considered as steep by many users.
But, if you are looking for a versatile combo of a screen recorder and a video editing solution, Camtasia can be the way to go.
8. BeeCut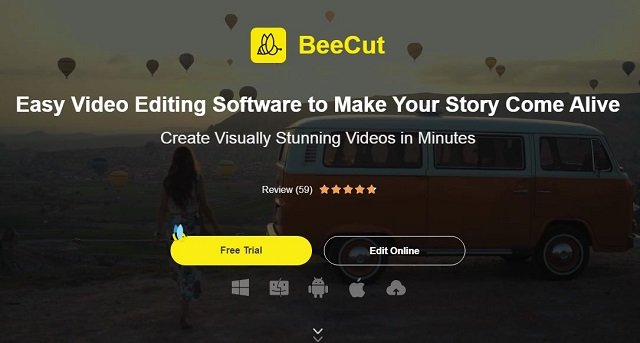 BeeCut is best suited for small and medium enterprises that want to create professional-looking videos with minimal effort.
The software provides easy video creation solutions such as ready to use in-video transitions, filters, masks, etc. There is expansive support for core video editing solutions such as video cropping, trimming, etc.
The software also has features such as speech-to-text conversion, mobile video editing, electronic video stabilization, and much more. Moreover, with the multi ratio support for videos, BeeCut can be used to create videos for a range of social media platforms.
9. Moovly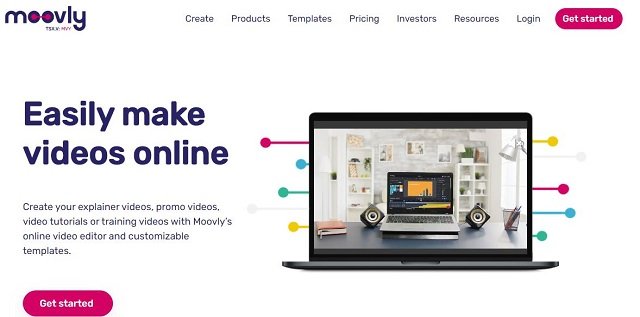 Moovly provides ready-made templates, royalty-free images, and audio clips, and an easy to use drag and drop video creation interface.
Users can easily customize videos by adding audio tracks, subtitles, adjusting playback speed, and the coveted text-to-speech functionality.
The platform enables group video creation by facilitating group creation, managing member subscriptions, as well as the facility to manage member collaborations.
Sharing the created videos using Moovly is also a breeze as the created videos are publish-ready for any social media channel.
10. DaVinci Resolve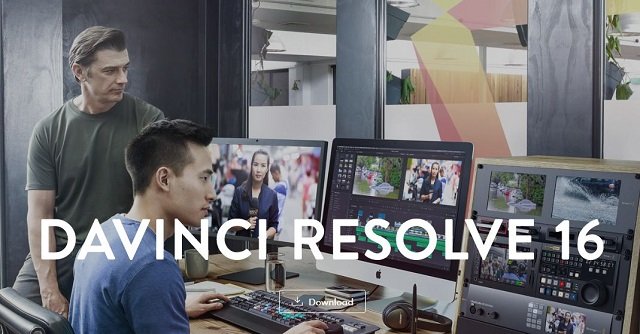 If you are looking for a video editing solution that can help you in creating a TV show or movie, DaVinci Resolve can be one of the best options.
The feature set of the platform is expansive and has support for facial tracking, skin tone adjustments, altering eyes/lips colors, and other cutting-edge video editing features.
It is a professional-grade video editing solution that is highly preferred by high-end content creators and has support for both, Mac as well as Windows.
It is best suited for professional video creators who are looking for a complete professional-grade video editing solution.
11. Lumen5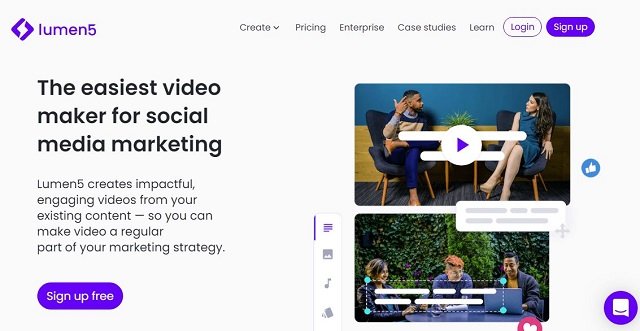 Lumen5 is a powerful video editing software that can help users in creating high-quality videos within minutes.
The tool comes with text-to-video capabilities that can help you in easily converting blog posts into informative videos effortlessly.
The tool comes with integrated AI that assists in the video creation that determines the scene length, text positioning, NLP, and many more advanced features.
With a collection of built-in templates, you can effortlessly create videos for YouTube, Instagram stories, social ads, etc. effortlessly.
12. iMovie
iMovie is created by Apple for use on Apple devices. It is an entry-level video creation software that can perfectly meet the requirements of beginner video creators.
It provides access to themes, pre-existing templates, music addition, and many more features that can make the video creation journey of beginners a breeze.
Although it is an entry-level video creation platform, it has support for 4K videos and comes with a plethora of options to integrate cinematic effects, design styles, as well as controlling the video playback speed.
The platform is free and can be downloaded from the App Store on compatible Apple devices.
So there you have it, folks. That was our take on video editing software solutions for Mac.