Are you one among those people who are the victim of Kodi's legal issues. Undoubtedly, its bad news for all the Kodi users that their most popular and favorite add-ons are being banned and shut down due to some legal and copyright issues. Actually, the case is people are selling fully loaded Kodi boxes along with the third-party add-ons and that is fully illegal. But that does not make the Kodi media player software illegal. Kodi is completely legal. Well, all this must not upset you because we have come along with the list of the 7 Best Kodi Alternatives for you.
Just have a watch on one thing that you use a Virtual Private Network (VPN). It is important to use VPN to encrypt your traffic and hide your IP address whenever you go online. By using a virtual private network, you can browse the web anonymously.
It's better to be safe as illegal or pirated streams via third-party Kodi add-ons and similar apps have been getting lots of publicity in the last couple of months. Copyright trolls in the UK, USA, Canada, and Australia have been cracking down on such streams.  All you have to do is download and install a VPN app and then connect to a VPN server. Once done with this you can choose any of the alternatives to Kodi listed below.
Check More Posts About Kodi:
Best Kodi Alternatives for Free
Let's check the best top 7 Kodi alternatives
Terrarium TV – Free Kodi Alternative

To begin with, the list of Kodi Alternatives let me ask you a question. Are you real movies and TV shows freak?
If yes, then just keep on reading. Terrarium TV is what you wanted. It is an Android app that allows you to watch, stream and download FREE TV Shows and movies on your Android devices. It provides almost any TV shows and movies with costing you a penny.
Plus everything available here is 1080p HD. There is also a brief description of the content that I wish to watch. Moreover, I would personally recommend this app being a satisfied user of it.
Plex

If you are expecting a bit more from a Kodi alternative then undoubtedly Plex is what you were searching for.
Plex not only helps you to organize and stream files on your local network but here you will also find availability on a diverse range of platforms, and a premium level subscription, which gives you even more features, such as movie trailers, and wireless syncing of photos to the media server. It is available in both free and paid versions. Obviously, the paid version provides you some extra features which are really worth the cost.
The paid version starts at 4.99 dollars per month. Moreover, this nifty little app is compatible with Windows, Mac OS X, iOS, and Android, Linux, Windows phone, Roku, Android TV, Xbox, and PlayStation as well.
Infuse

Infuse is one of the best Kodi alternatives that we could find. It is an overall great app for video streaming. It allows you to watch movies across several devices. With this app, you will not need to convert files to play them on other devices. This app supports both media programs and subtitles. It is a multiplatform and multifunctional media player and media server that is perfectly designed. Also, it possesses very user friendly interface.
Emby

The next item in our list of Top Kodi Alternatives is Emby. The most recent version of Emby has plenty of features; you can now enjoy Folder Sync and Cloud Sync among other features that will enhance your viewing experience. Bringing all of your home videos, music, and photos together into one place becomes so easier with Emby.
Your personal Emby Server automatically converts and streams your media on-the-fly to play on any device. Besides these functions, if you are a concerned parent then Emby has parental control features too.
This system has mobile applications for iOS, Android, and Windows.
SPMC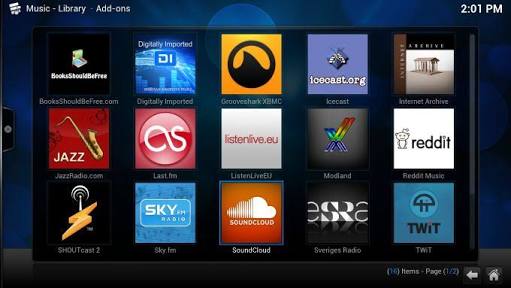 SPMC abbreviated for Semper Media Center. It is better known as the perfect Kodi clone. Semper Media Center is a android-minded fork of Kodi, by the former Kodi android maintainer, Koying. It basically is an alternative that almost works identically to Kodi . So if you looking for an exact match for Kodi replacement, this one is made for you. Hence , this implies that any addons that work on Kodi can also be installed on Semper Media Center.
However, at this point SPMC is only compatible with Android and FireStick. Despite, it's surely a worth trial.
Media Portal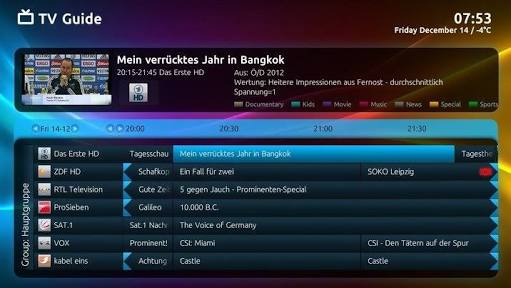 Media Portal allows you to watch and record Live TV.
Also, you can play any media files, from storage files and also from DVDs and Blu-rays . Besides, you can listen to music files, radio, and stream media file on PC or Home Theatre PC within your network. Summing all these features into one system make Media Portal an awesome and best Kodi alternative. It is available for Windows, Mac OS X, Linux, iOS, Android, Windows Phone, Android TV, Roku, Chromecast, Xbox, Samsung Smart TV. 
Well, it's free to use but its paid subscription starts at $4.99/month, for exclusive features.
Stremio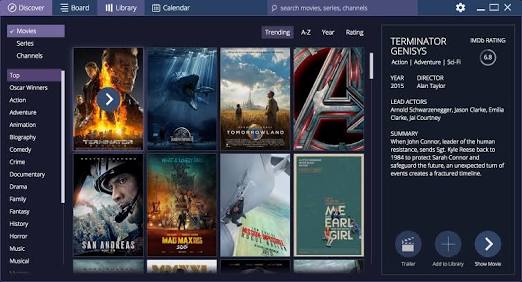 The last name in the list of the top 7 Kodi alternatives is Stremio. Stremio is a video streaming application, that allows you to watch and organize video content from different services, including movies, series, live TV and video channels.
The content is aggregated by an add-on system providing streams from services like Netflix, iTunes, HBO, YouTube, Twitch and more. The service also promises to provide the excellent watching experience with additional features such as the casting support or subtitle support. In addition to this it allows you to create your own personal library where you can put all of your favorite shows or movies.
Top Kodi Alternatives
So the Kodi Alternatives that we listed in the article are:
Terrarium TV
Plex
Infuse
Emby
SPMC
Media Portal
Stremio
Also Read: Best Kodi Builds
Certainly, Kodi is irreplaceable open-source media player software and streaming application but all the names under this list of Best Kodi alternatives are worth a shot. Try them out and share your experience. Also if you have any other better alternative to Kodi do let us know through the comment section. For more related stuff keep visiting our website.
FAQ
What is Kodi?
Kodi is a streaming application that is an open-source media player. You can stream movies, as well as TV shows and live sports.
Is Kodi legal?
Yes. Kodi is legal. However, as with many other internet platforms, some people use it for not so good things.
What are the Alternatives to Kodi?
Stremio, Media Portal, SPMC, Emby, Infuse, as well as Plex and Terrarium TV. All of which are great Kodi alternatives.
Are These Kodi Alternatives Free?
Some are free, while others require a subscription.