Learning how to sort Chrome history by date is extremely important for those that use or need to use the popular Google Chrome browser.
You may have heard that Google is in the habit of keeping a backup of your browsing activities on their servers, and that the site you are currently using has a copy of all of them.
But the question is…
How Do You Sort Chrome History By Date?
Read on for the 3 methods you can follow and detailed steps on how to sort Chrome history by date.
Method 1: Use Google Chrome Settings
Google Chrome history settings is the easiest way to sort chrome history by date. Here are the steps.
Step 1
First open Google Chrome and then click on the three dots to the top right corner of your browser and select History
Step 2
A list of options and an overview of some history stored will expand to the left. Select history once more.
Step 3
At the bottom left corner, you should see a notification that 'Your Google Account may have other forms of browsing history at Google my activity.' Click on that link then proceed with step 4 below.
Step 4
Once the above site opens, scroll down until you see the Filter By Date & Product option, click on it.
Step 5
Once there, input a query in the input box or select the date you want. You can also set the date range for the preferred time frame from which you want to view the history.
Step 6
Well, after specifying the date range, select the Google product you want its history generated, Ads, Android, Developers or Chrome. Since we want Chrome history, keep the Chrome checkbox checked then hit the Apply button.
Step 7
Now you'll be able to see the results by date. The browser will sort these results by category. Clicking on each category will display more details.
If the bundled style looks confusing, tap on the Item view button on the left panel to change the layout into something like this.
Method 2: Use Chrome Better History Extension
With over 80,000 users, this 82Kb extension allows you to sort Chrome History by date pretty fast.
It works by replacing the default history page discussed in step one with its own configurations allowing you to jump in to specific date history without any hassle.
We've listed this extension to this list because it is an open source extension with no spyware. See the steps below:
Step 1
Open your browser and type Chrome Better Extension and select the first result or click on this link here to be directed to its official page.
Step 2

Click on the Add to Chrome button to install Chrome Better Extension on your browser
Step 3
From the pop up that appears, click the add extension button to allow the extension to install.
Step 4
Using steps 2 and 3 of method 1, fire up the Google Chrome. Once done, you should see a page as in the screenshot below.
Step 5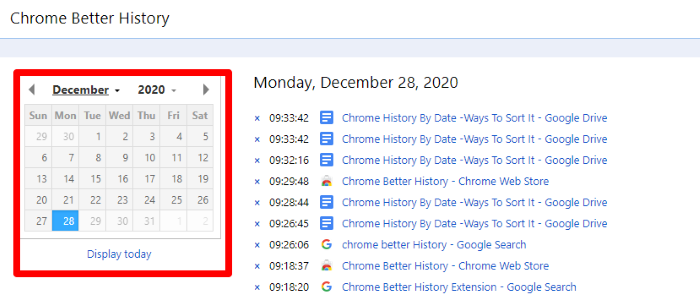 Now that you are on the history page, you can easily click through and toggle the calendar on the left side to sort your history by date, months of a certain year.
Method 3: History Trends
History trends can be used to sort or view chrome history from the past 100 days. Besides being equipped with a time machine, it can be used as a productivity tracking tool.
Follow these steps to sort Chrome history by date using History Trends.
Step 1
Start by searching for the History Trends extension on Google or click on this link to be taken to the extension's official website.
Step 2
Now go ahead and click on the blue Add to Chrome button to install the extension to your browser
Step 3
Click on the Add extension button when a popup requesting for your authorization appears .
Step 4
Now that the extension has successfully been added to Google Chrome browser, click on the extensions icon to the top right corner then select History Trends.
Step 5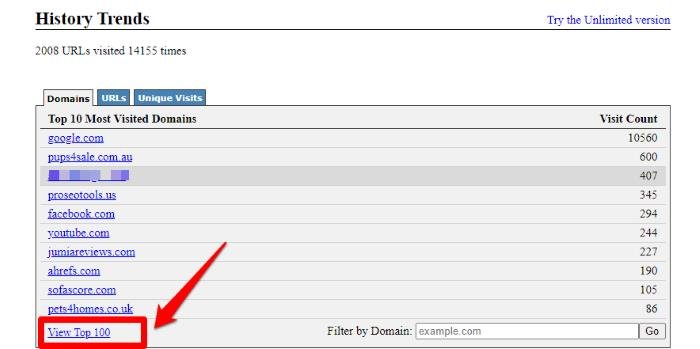 Clicking on the view top 100 link will bring out a list of the top 100 websites you've recently visited and select the available dates to see your history on that day.
Conclusion
Well, what do you think about this guide? Did you manage to sort your history by date? Or did you encounter any challenges? Let us know through the comments and we'll be on the other side to help you.
FAQ
Can I Sort Chrome History By Date?
Chrome history can be sorted by date using various chrome extensions like Chrome Better History or Google My Activity.
How Do I Delete Chrome History By Date?
To delete Chrome History By Date, first open Chrome then click on the three dots next to your profile image. Choose "History" from the list of options then "History" again. Now select "Clear browsing data" then choose a range of dates and times to delete.
How Far Back Can Google Chrome History Go?
Chrome stores your browsing history for 90 days. This history will be showing the pages of the websites you've visited on Chrome in the last 90 days. However, it doesn't store history from secure pages you've visited in Incognito mode.
Does Google Keep Deleted History?
Google does keep deleted history for around 60 days from the time of deletion in case the data was deleted unintentionally.