E-commerce websites are the future of the retail market. Due to their busy schedules, people now prefer shopping online as compared to going outside and bargaining for their products. When it comes to online shopping, "Trust" is the most prominent factor. People only trust well-known e-commerce giants like Amazon, e-Bay, Alibaba, etc. However, here I will discuss a popular online shopping website known as 6PM.com. You must have come across a question regarding its legitimacy. Therefore, I will also clear your confusion that is 6pm legit or not.
Introduction: 6PM.com
For those who are unaware, 6PM.com is an e-commerce site (online shopping website). The company is owned by Zappos. If you don't know what Zappos is, it is an online clothing and shoe retailer website.
Zappos is further owned by Amazon. I don't think anyone reading this is unaware of what Amazon is. It is by far, the most trusted and popular e-commerce company. 6PM.com has all the fashion and lifestyle products like clothes, bags, accessories and so on. Also, it specializes in shoe range.
6PM.com: Order, Payment & Shipping
6PM.com works in the manner that any other e-commerce website works. The basic three parts are:
Customer places an order and the website processes it.
Payment is accepted through the suitable method chosen by the customer.
The company delivers the product(s) to the customer's doorstep.
The website provides a number of sections for your wished product. You can browse through the sections or just search for it in the relevant categories. The categories of products that 6PM.com offers are Shoes, Clothing, Bags, Accessories, Women's, Men's, Kids', Clearance and Brands. The feature to look for a product via the brand is a good strategy by the website. 6Pm.com deals with hundreds of popular and lesser-known brands. Some of the most searched brands that 6PM.com offers are Nike, Calving Klein, UGG, Lacoste, New Balance, Frye, Nine West, Converse, etc. 
For the payment method, 6PM.com accepts all the major credit and debit cards including Visa, MasterCard, Discover, and American Express. It also accepts the E-Gift cards and PayPal.
When it comes to delivering, 6PM.com provides free shipping to their customers only if they buy 2 or more different items at once or if they spend more than 50 US Dollars on an order. The company delivers the products only in the United States. The shipping fees for 1 and 2 business day shipping is 99 USD. 6PM.com also provides a Return Policy, but I will explain it in the later sections.
Is 6PM Legit or Scam?
Is 6pm legit?
Or, is 6pm a scam or fake? You must have come across a question or a statement regarding the legitimacy of the website. If you haven't, you wouldn't have been scrolling here just to find the ultimate answer. First of all, without wasting any more time, I will tell you that 6PM.com is definitely NOT a scam. 6PM.com is a LEGIT online retail shopping website. As any statement needs a proof to bonify itself, I will present you all the facts that prove that 6PM.com is legit.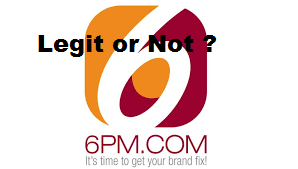 5 Facts that Prove 6PM.com is legit
These are the 5 facts that provide a positive response to the question: Is 6pm legit. Let's proceed with the explanations that bonify 6PM.com as a cent percent legitimate online store.
6PM.com is ultimately owned by Amazon
Amazon is a multi-billion dollars company owned by Jeff Bezos. It is the most trusted e-commerce company. Everyone trusts Amazon and they also justify the trust through their work manner. 6PM.com is owned by Zappos, which, in turn, is owned by Amazon. Therefore, ultimately 6PM.com is owned by Amazon.inc. An online shopping giant like Amazon will definitely never own a scam. Hence, 6PM.com is legit.
One-day Sales take place almost every day on 6PM.com
The early morning sales at 6pm is a popular treasure trunk for bargain hunters. However, the thing to remember here is "one day." The sale only lasts in that exact pattern only for one day. If you find something eye-catching, I recommend that you place the order right after finding it because chances are, it won't be there soon or won't be at the same attractive basement price the next day. No scam online stores provide such legitimate sales. Hence, 6pm is legit.
6PM.com has a Return Policy
If you purchase something from 6pm but then, for whatever reason, didn't like the product, the website allows you to return any item you would have bought from them within 30 days of your purchase. The major drawback to this whole return procedure and the 6pm's return policy is that the buyer has to pay for shipping the returned items. Once 6pm receives the return item, you would be credited for the full amount you paid while purchasing, but you won't get any shipping fees back. Though the Return Policy of the website is a bit unsatisfying for the customers, still they are accepting returns and providing a full refund. This further justifies the legitimacy of 6PM.com.
No fake, defected or factory-second products are sold on 6PM.com
The website may offer discontinued products, old styles and clearance merchandise. However, they never sell fake, defected, or factory second products. The items you see on 6pm are the same original and authentic items you can find or have found on Zappos. The discontinued or Clearance sale items are eventually removed from Zappos and moved to 6pm. They are available at a much lower price than Zappos. Scams sell fake and defective stuff, but 6PM.com doesn't. Therefore, 6PM.com is legit.
6PM.com have no hidden Terms & Conditions
Scam websites have hidden Terms & Conditions that they disclose only after the customer is conned. You can go through the "Terms & Conditions" section of 6PM.com thoroughly and you will find exactly what company practices. The website is completely transparent with their work manner. They have even explained their "Return Policy." The site beforehand informs that they don't accept "Exchanges." For further information, you can also go through the FAQs. This transparency proves that 6PM.com is legit.
Conclusion: 6PM is Legit and real
6PM.com is a 100% legitimate online retail store, owned by Zappos. The website is a great option to look for clothes, shoes, etc at a discounted price. You can browse the website and place your order for the desired products without any hesitation. These were the 5 uncontradictable facts that answered the question: is 6pm legit. The answer is YES. 6PM.com is legit, real and trusted. Now, whenever you come across the question, is 6pm legit, you can easily answer it. For any correction, queries or suggestions, comment down in the Comments section below. Hope I helped you solving the "is 6pm legit" question. Have a nice day, Folks!
General FAQs
What is 6PM.com?
6PM.com is an e-commerce site or online shopping website, that is owned by Zappos (which is owned by Amazon). You can purchase a wide variety of clothing, bags, accessories, as well as shoes.
Does 6PM.com Work?
6PM.com works just as most major e-commerce websites. You place an order, it is processed, you pay, it is delivered.
Why Do People Think 6PM.com is Fake?
Most people believe this site may be a scam because of the huge sales, as well as the very low prices. It is popular with bargain hunters!