You might be aware of WinX DVD Ripper Platinum, a superbly talented software that is capable of ripping up any DVD including encrypted disks. This is commercially available software for Windows to rip DVD disks to video formats. These then can be played on desktop, mobile and any other device like Mac. The WinX DVD Ripper Platinum is also capable of converting your media files to the compatible format of your devices that includes iPod, iPhone, iPad, iTunes HTC, Samsung, Kindle Fire, Google Nexus 7, Acer, Asus, Lenovo, Xbox and almost all of the other devices.
WinX DVD Ripper Platinum ultimately does a very good job of backing up and transcoding your DVD collection, including copy-protected discs.
Well focusing on the other aspect of DVD ripping, we know that DVD ripping these days does not has the same status it has a few years back. Because at that time streaming videos online was infancy but it is still useful in case you wish to watch bought DVD movies on other devices such as your smartphone or desktop PC. Thus, content can be played on devices that do not have hard drives.
Check this: Convert MDX to ISO – Step By Step Guide
What is WinX DVD Ripper Platinum Software?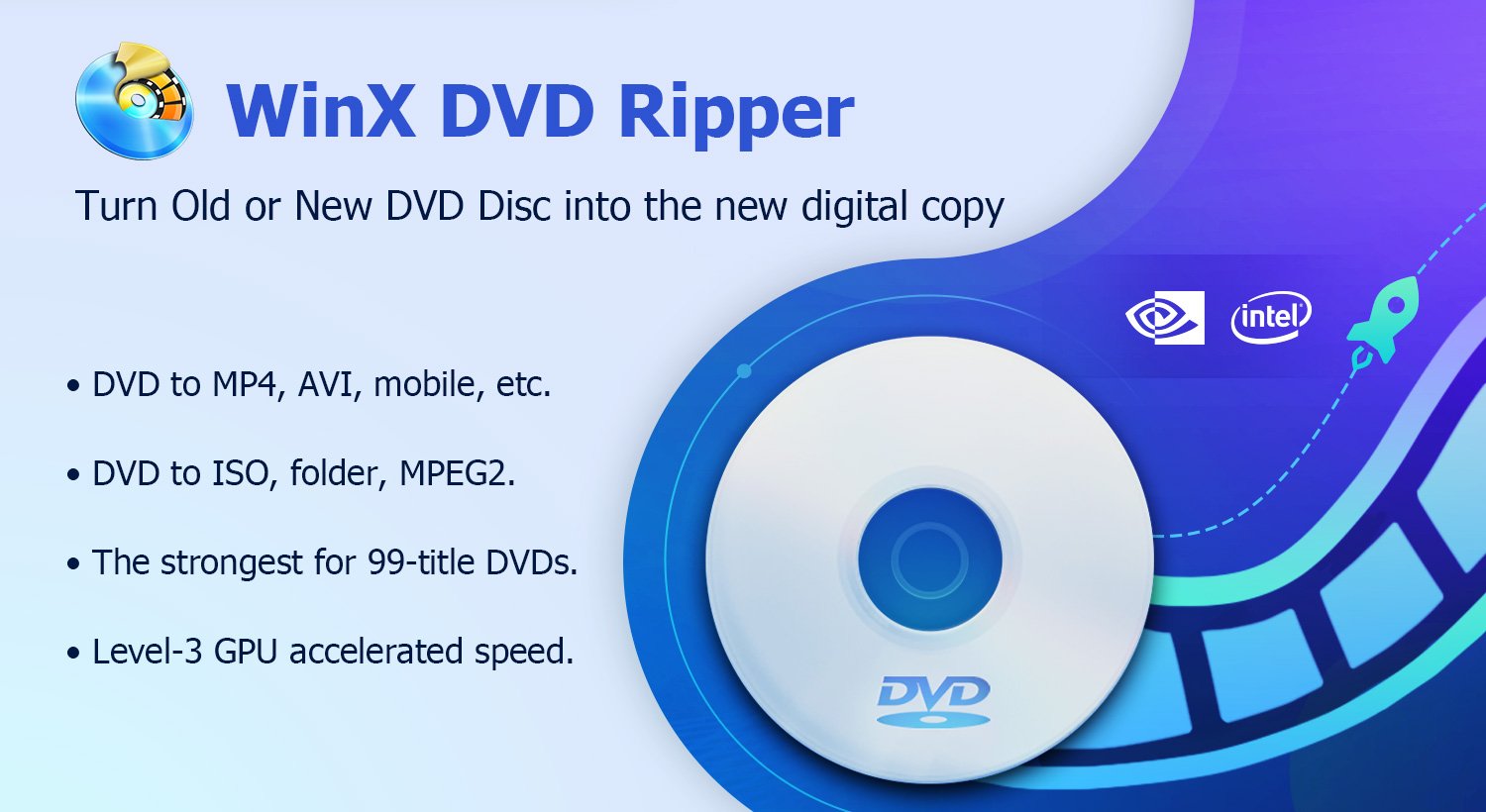 WinX DVD Ripper Platinum to be specific is a top-rated DVD ripping software.
It allows you to watch DVD movies on any devices that are capable of video playback. This tool provides more than a hundred optimized conversion profiles which can accommodate basic file formats along with the tailored rips for gadgets such as gaming consoles, tablets, and smartphones.
The best feature of this software is that it rips quickly and at the same time provides high-quality results. It is hard to spot the difference between the original DVD and the ripped version.
This Windows-based software is capable of ripping any DVDs/ISO images to the hard drive, such as rip DVD to MP4, H.264, AVI, HEVC, MPEG, MOV, and M2TS. It converts DVDs for playback on Apple (iPhone, iPad, Apple TV, iTunes), Android (Samsung, Huawei, Nexus, Kindle), Microsoft (Xbox, Windows Phone, Surface), Sony, and enables you to copy DVD library to Plex Media Server, NAS drive, etc.
Download
WinX DVD Ripper Platinum- the only one with Level-3 Hardware Acceleration
For Windows
For Mac
Features of WinX DVD Ripper Platinum
The tool has infinite features to offer that includes-
Rip raw DVD files like Video TS folders and disc image.
Offers sophisticated rip customization tools enabling fine-tune ripping
Adjust video's technical facets such as aspect ratio, frame rate, and bitrate.
Has a simple video editor to edit subtitles, crop video, and trim footage.
DVD ripping software has 4 unique DVD Copy modes.
You can Clone DVD disc to ISO image, to a folder at a 1:1 ratio.
Backup DVD main title content for playing on PC, PS3, PS4, Xbox, Media Center.
You can copy DVD title fully to a multi-track MPEG2 file with all Videos/Audios/Subtitles.
The Only DVD Ripper with Level-3 Hardware Acceleration
Almost all output formats are available
Best ripping speed by use of Multi-Core (up to 8) and Hyper-threading Technology.
Very good and easy user-friendly interface.
Unmatchable Video Audio Quality
Why do you Need DVD Ripping Software?
Although the society tend to get away from DVD delivery but into wireless streaming, numerous people still have reserved old DVDs. For those who are reluctant to throw their classic DVDs away, WinX DVD Ripper can come to their rescue by backing those less mainstream DVDs up for storing on PLEX server, NAS drive and the like.
How to convert a DVD to MP4 quickly with WinX DVD Ripper?
For quick digitization of your DVDs to a huge range of file formats, all you need is the latest version of WinX DVD Ripper Platinum. You can get this from the official website and download the DVD ripper for free to your PC. You also get a free DVD ripper for Mac if you are running OS X Once it is downloaded it is easy to use.
Step 1- Insert the DVD you want to convert by clicking 'DVD Disc' button. Then choose 'ISO image' or 'Folder' at the top of the screen.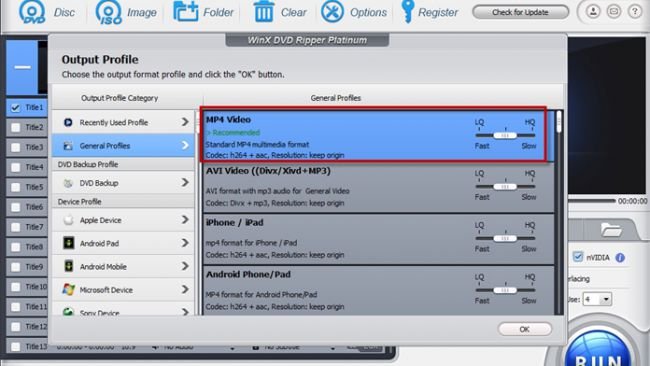 Step 2- A window will pop up that will ask you to select your DVD drive. Click 'OK'.
Step 3- Once it has loaded your DVD choose your target output format. It may include AVI, H.264, MPEG, WMV, MOV, and M2TS files, etc.
Step 4- Once you are done with the settings click 'Run' button to start converting DVD to MP4.  It will begin the conversion at 300 – 500 FPS.
Note- To get the fastest possible DVD ripping speeds when using WinX DVD Ripper Platinum you can select hardware accelerator. it will boost DVD converting speed.
Why is WinX DVD Ripper Platinum so fast?
Now it is very common to ask this question that why should you prefer using WinX DVD Ripper Platinum instead of all other software in the market? Well, then let me tell you it is the only DVD ripper that uses level-3 hardware acceleration technology.
In addition, it supports Super Encode Engine, Hyper-threading, and multi-core (up to 8) CPU utilization, and now it is a line to make the best of hardware acceleration tech to perfect its transcoding engine giving incredibly fast results.
WinX DVD Ripper Platinum Giveaway
One can get a free copy of WinX DVD Ripper Platinum through the Giveaway. They are offering 1000 licensed copy per day. To get so follow the steps and get free license code-
Step 1- Go to its official page. Click on Download.
Step 2- After clicking on download you will get the license code from that page.
Wrapping Up!
WinX DVD Ripper Platinum is a professional software that uses simple and straightforward interface. It is one of the best ways if you wish to rip DVD with hardware acceleration. Here you get all the customization options for the users of all experience levels. Although the program is a little expensive. But then again it offers regular giveaway sites for free making it worth a trial program.