Looking for a detailed Yidio Review? There is a rapid growth of TV Series and Movies in online streaming platforms. As a result, there are also certain websites that provide you with searching tools to find your favorite shows online on various online streaming platforms. Yidio is one of them.
So with no further ado let's start this Yidio review!
Check Some Yidio Alternatives:
What is Yidio and How does it work?
Yidio, claims to be the one-stop destination for all your binge-watching needs. It is a search tool where you can find your favorite tv shows and movies. Yidio works on the mechanism to list popular streaming websites so that you can get the desired content in minutes and sometimes without paying for the subscriptions. It has a free feature that leads you to websites that are offering content for free and makes it easier for you to optimize your searches and indulge the time saved in binge-watching. Apart from content from the TV, Yidio has its range of originals which you can binge-watch by paying nominal fees.
You will also like this:- 7 Best Sites to Download TV Series without Registration?
Is Yidio safe?
Yidio is a safe platform to search for your content, but many times it redirects you to different websites that may or may not be safe. Yidio doesn't copy content it just lists the websites, that have uploaded the required movies or tv shows for free. It lists things according to their prices on Google Play and iTunes.
So, no matter what the claims of one-stop destination are, Yidio sends you to websites you would have never heard of, to get you to the desired content which can be risky at times. We suggest you to not compromise your privacy and get yourself accustomed to the unknown websites' policies.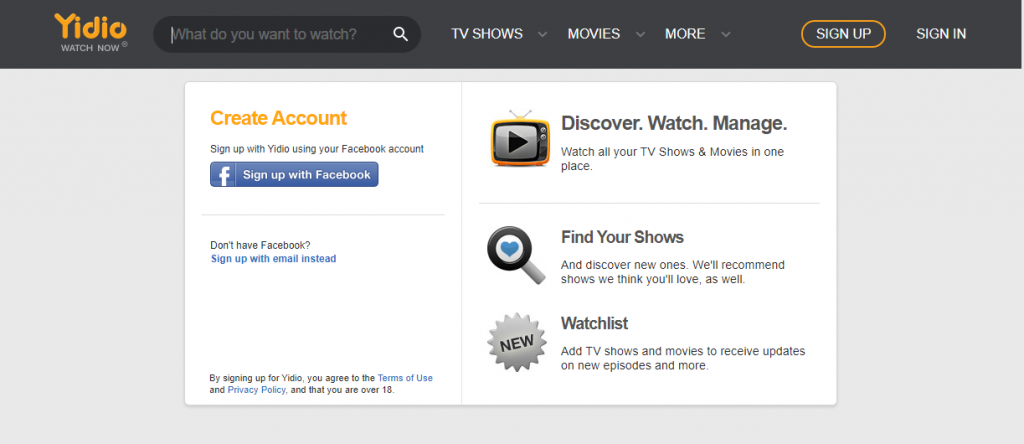 Is Yidio Legal?
Yes, Yidio is legal. It offers only lists of websites, where you can watch the paid content for free. Yidio directs you to such websites and sometimes it offers free content as well.
Is Yidio Free?
It is in a way both free and paid. It depends on what content you are searching for. Since Yidio lists down the names of the websites your tv shows are at, it makes it free but the options it provides may or may not be paid. There is a 'free' feature,  but not everything listed under 'free' is free. That means the tedious process of opening up every thumbnail and then checking if it is free or not comes into the smooth path of you and your favorite tv show.
Have a look at this:- How to Watch TV Series on Netflix: Cost & Plans
Is YiDio For You?
Concluding this Yidio review, it can be said that Yidio can help you find the content you are looking for, but it isn't as helpful as it promises to be. You can easily get the lists from other promising websites. What makes Yidio different is the range of content it covers and that's not even its best feature. Yidio, on one hand, can help you to optimize your searches but on the other hand, it offers you content from websites that can be risky for you.
There is a variety of options, that impresses the user in the first place but finding the right content is a big gamble. So, who would want to invest their time rather than binging onto his favorite show on this website? Yidio may come with a lot of perks, but it surely isn't the best option to spend time.
So that's it for this Yidio Review. If you have any queries or doubts, feel free to share it within the comments section below.
Have a look at this:- How Can You Copy Netflix Movies to DVD
FAQs
Can you restrict your Searches to a particular Online Streaming platform?
A good feature of Yidio is that it helps you to refine your searches. It has 109+ options to refine your content based on platforms and, 70+ categories to jump from romcom to action thrillers to kids' favorites. The wide range of platforms not only includes online content providers but news channels, food channels, and sci-fi.
How's the quality of video streaming In Yidio?
The in-house videos on Yidio are of standard quality whereas when it redirects you to other websites, you can get high definition videos too. Again, this is a matter of mere luck, that you get the streaming quality as standard or high.
Do you have to log in to access Yidio?
Yes, you cannot access the content without logging into your account on Yidio. This may sound like an old and complicated way to you, but Yidio gives you a watchlist to add your list in it, get recommendations and carry on your binge-watching experience. The recommendations are based on your recent searches.
Will I get every TV show on Yidio?
That's a tricky question. You'll get every tv show or movie you would ever want to watch on Yidio but here's the catch, the content may or may not be present, which can be disappointing. There are thumbnails and descriptions for every TV show but it will still say that "Online sources are still adding for <your show name>".
Do you get ads in between the videos?
Oh, you do get them because Yidio is free. You pay a price and thas is ads. Though the ads aren't too long, they are certainly too many.