So, Wondering how to add music to Google Slides?
Want to add Music in your Google Slides presentation but can't find how? Don't worry, this article is your one-stop solution.
Google Slides is a free web-based presentation making software created by Google as a part of the office suite. Google Slides helps you to create an attractive presentation for your office or personal work. There are various additional items available with Google Slides that makes your presentation more beautiful and cool. On Google Slides you can add any music to your presentation without downloading it. You just need access to the internet while presenting your slide. Officially Google slide doesn't have a direct option for insertion of music, but you could do it in other ways which are definitely the best one. Adding music to your presentation can make your presentation more attractive and interesting to the viewers.
Check More Posts On Music and Audio Apps:
You might also be interested in:- How to Change Margins In Google Docs
In this article, I am going to discuss how to add music to your Google slide by different methods explaining all its advantages and disadvantages of every method and what you should keep in mind while choosing the particular method. I will show you how to add Music through Youtube or through a Music streaming website. Also how to play music as a Background sound or to pause it manually whenever required. So let's get started with the article.
Add Music to Google Slides
All the methods we are going to discuss suits a particular requirement like if you want the music at the beginning or you need to pause the music when required or you want the music to be in the complete presentation. You can learn everything by following the below mentioned steps. There are three ways by which we can add music to Google slide. They are:
Adding music by YouTube video.
Adding music by an audio player as add on.
and Adding music by your favourite music streaming app.
So let us now start learning 'How to Add Music to Google Slides' with our first method Adding music through a Youtube video to our presentation in Google Slides.
Add Music by YouTube Video to Google Slides
This method is the most efficient method for those who want the music in their whole presentation as a background with a continuation of the song. If you want to set music in any particular slide, then also this method helps you a lot. Follow the steps given below to Add Music by Youtube Video.
Open your Google Chrome from your desktop.
Go to "My Drive" in Google apps.
In the new window, go to "New" and click "Google slides" or open an existing Slide.
Select a slide and then go to "Insert" in the toolbar.
In the prompt window, select "Video…".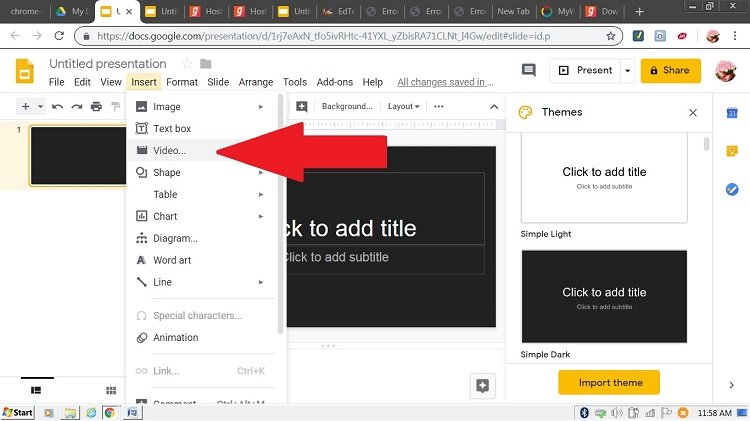 In the new prompt window, you can simply search the song you want to play, it will show you the result. You have another option copy the URL of the video and paste it in the "BY URL" comment box.
Click on "Select". Your video is selected now.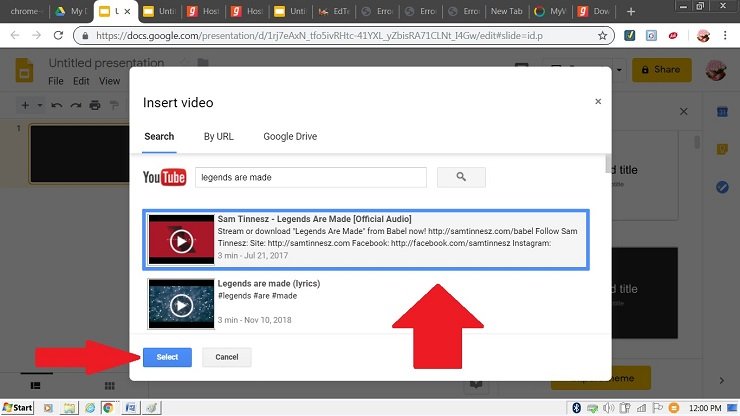 Select the video and go to "Format options" in the toolbar.
Go to "Video playback" from the sidebar which is been prompted.
Select the checkbox for "Autoplay when presenting". You can also set the timings of the video that how much you want to be played.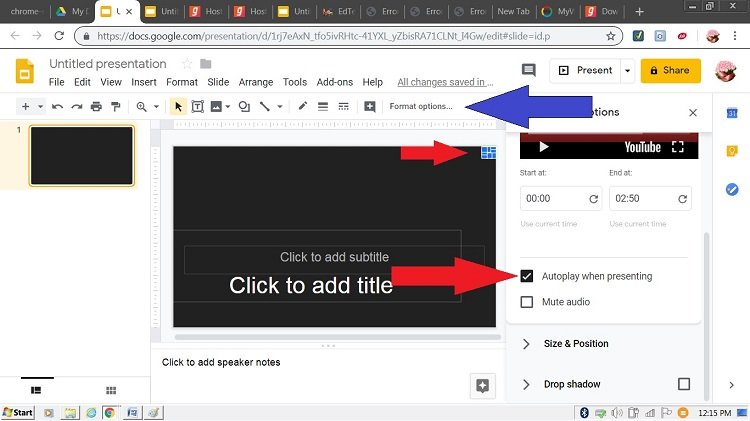 Now resize the video as much small as you can, so that it is not visible and keep the video in any corner you want.
Copy and paste the video to all the required slides, if you want a different song for different slide, you can follow the same procedure for each slide.
Click "Present" to see the changes.
And that's it. You have successfully added music to your Google Slides presentation using a Youtube Video. But that's not always the case. Instead of using a Youtube video, you can also add Music as an Add on to your Google Slides presentation.
Add Music as Add on to Google Slides
Sometimes we want a special tune, irrespective of any tune of a song. A tune which matches your topic and you can't find something related to that in YouTube. For that, you have "Flat for slides" an add-on of your Google drive. Using this Add-on you can add music or tune that is not on Youtube. So let's start knowing 'How to Add Music to Google Slides' as an Add-on.
Open your Google drive from your browser.
Select the existing presentation you want to add music, or simply create a new slide.
Click "Add-ons" from the toolbar.
Select "Get add-ons" from the new prompt window.
Search "Audio player" in the new prompt screen.
Now Click on "+free" option.
Select your Google account and click allow to the conditions of "Flat for slides". Make sure that the Google account should be the same as the account for your Google slide presentation.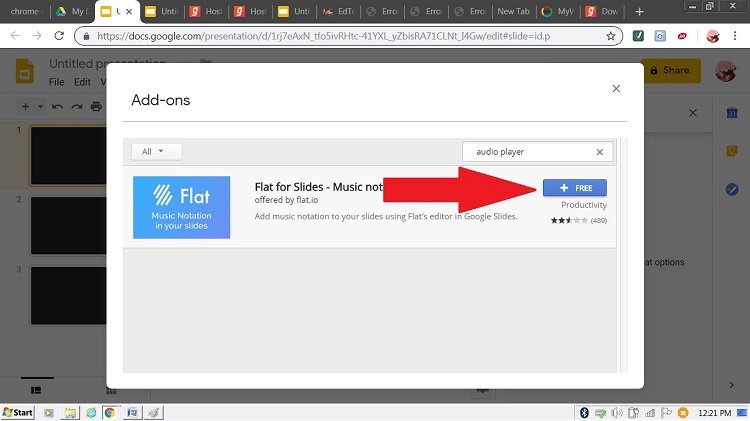 Now again go to "Add-ons".
Click "Flat for slides- Music notation" in the new prompt screen.
Then click "Insert music snippet" in the side pop up screen.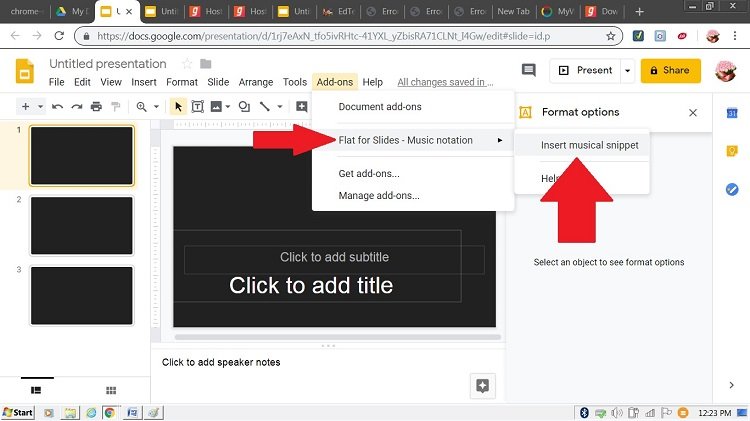 Now you can see a new window with different kind of tunes, you may set it according to your requirement.
Click "Insert" after the changes you have done.
Click "Present" to see the changes.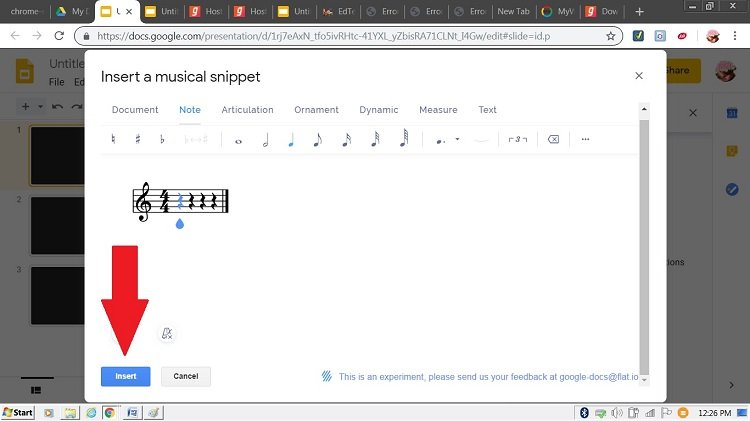 In Flat for slides, you can make so many changes, suppose you want the music to run during a specific text. You can assign it in "Unpitched" section of "Insert music snippet". It always works as background music.
If you want to start or pause the music manually in your presentation then there is another method for it. Follow the below-mentioned method briefly to do so.
Add Music using a Music Streaming Website
Sometimes you need to deliver a speech in between a presentation and want the music to stop. In that case, the above-discussed method is not of your use because it performs as background music continuously. Some songs are streamed on a different Music Streaming website such as Spotify, Gaana.com etc. For playing that, you need to add music in the form of text or inserting a link to an image. Follow the steps to do the same.
You need to read this article:- 10 Best Apps Like Pandora to Stream Music
Open your favourite music streaming websites such as gaana.com or jiosaavn.com.
Select the song and copy the URL.
Open your Google slide presentation.
Click "insert" from the toolbar.
Click "Image" and select an image of your choice.
Now click on "Insert link" from the toolbar, after selecting the image.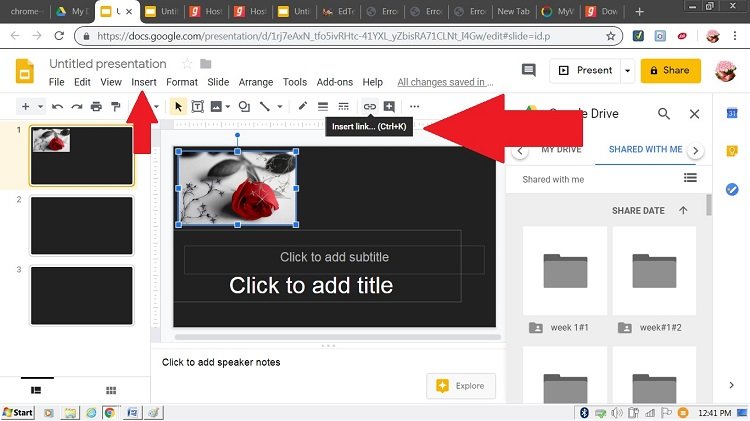 Paste the URL there and click "Apply".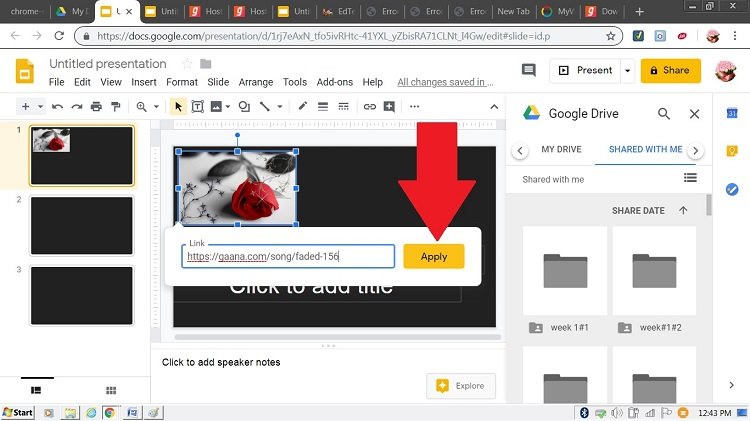 Now you can resize the image according to your need.
Click "Present", and then click the image.
And that's it. The music will run on a different page. You can stop the music whenever you want by going to that page. So, you have successfully learned to add music to your presentation using a Music Streaming website on Google Slides.
So, with this, you come to the end of this article. I hope you have properly followed the same steps on your computer. If you are having any difficulty or queries or doubts regarding any of the methods mentioned above. Feel free to mention them in the Comments Section below. I'll be more than happy to help you with it. I hope now you don't have to search anymore 'How to Add Music to Google Slides' on the Internet anymore.