Want to know how to tell if someone blocked you on Facebook? Wondering which accounts have blocked you on Facebook? Or want to check if your Friend has deactivated his ID or blocked you.
Look nowhere else. In this article, I am going to show you all the possible ways by which you can easily tell if someone has blocked you on Facebook.
Check This: Com.Facebook.Orca: Recover Deleted Facebook Messages
Facebook is a great website to connect with our friends and family. But sometimes we became friends with some annoying people who can message us or even see your details. To get rid of these types of people Facebook has a great feature known as Block, which helps us to block that person. Blocking means he will neither be able to message you or can see your profile anymore on Facebook. But what if someone person has blocked your account?
You might also be interested in:- How to Unblock Someone on Facebook
Every person on Facebook has the feature to block any account on their profile. If you think someone has blocked your Account on Facebook and what to find it out surely. Then this article is for you. For instance, there is no feature on Facebook to go and see the names of the accounts that have blocked you. But that doesn't mean it is not possible at all. Here, in this article, I am going to list down several ways by which you can confirm if that person has blocked you or not. The method is simple and precise. I recommend you to follow along with the steps. So without wasting any further time, let's start with our article.
Check This: How to Wave on Facebook?
Signs that you are Blocked
If you are not able to find an account anymore on Facebook it is possible that your account is blocked. It can be a mistake from the other side or that user might be annoyed of you. So, if you are not able to see someone profile on Facebook, there may be two possibilities. Either that person has deactivated their Account or they have blocked your Account. In both possibilities, it is not possible for you to search that profile on Facebook. Even if you had previous chats with that account, that all will not be displayed in a Facebook User column instead of that Account name. Both the name and the profile picture will now be invisible for you on your Facebook Chats or Messenger. But this still doesn't confirm if you are actually blocked or that account is no longer available on Facebook.
So is there any possible way to actually confirm that you have been blocked on Facebook by that Account. Fortunately Yes! In the next section, I will tell you the method step by step to learn 'How to tell if someone blocked you on Facebook' affirmatively.
You need to read this article:- Who Viewed My Facebook Profile? [Secret Revealed]
How to Confirm you are Blocked on Facebook?
Here in this section, I am going to show you a method to check easily if you have been really blocked on Facebook. Every other method on the Internet doesn't tell affirmatively that you are really blocked. You are stuck between you being blocked or that account disabled on Facebook. But this method is the only method to actually confirm this case. So let's start with our steps to confirm this.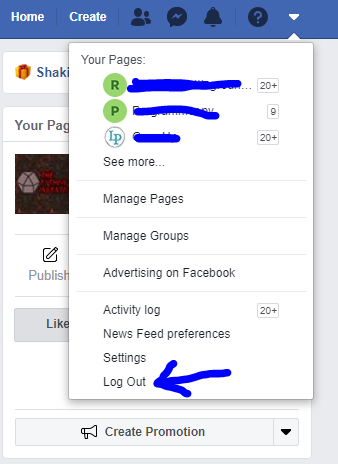 Now search on Google, the account of that person.
Copy the URL of that account.
Now again login to your account using your Username and Password.
Lastly, paste the URL in the URL bar of your browser and hit enter.
Instead of opening the account's profile, a page with the message "Sorry, this content isn't available right now." will display.

So finally now you know if your Account is Block on Facebook or not. You may face some difficulties while searching for the same account on Google as there may be many accounts with the same name. For a quick search try searching with as much as information you know about that account with the Account name. For example a city, country or school etc.
Check this: How To See Archived Messages On Messenger App
How to Unblock your Account?
So you must have checked by now the blocking status of your account on Facebook. Do you want to unblock your account? Well, there is not much you can do to get unblocked. You don't have the command to change blocked or unblocked accounts of some other account. To do that, you will first have to get access to that Facebook account. The best thing you can do right now is to contact the account's user using some different account on Facebook. You can request that user to unblock your account so that you can connect with him/her again.
You may also need this:- 9 Best Google Chrome Extensions for Facebook
So that marks the end of our article. If you are having any difficulty or queries or doubts regarding any of the methods mentioned above. Feel free to mention them in the Comments Section below. I'll be more than happy to help you with it. I hope now you don't have to search anymore 'How to tell if someone blocked you on Facebook' on the Internet.
Check This: How To View Your Facebook Profile As Public