Flirty Games to Play Over Text
Do you like flirting with your girlfriend??
If you do, then here are some flirty texting games that you can play with her.
Kiss, Marry, Kill – Flirty Game
It is a classic game that you can try in text format. You can pick up any three people and ask your girlfriend who would she like to kill, kiss or marry. These three individuals can be her favorite celebrities or even guys from your friend circle. This game can be converted into fun games to play with your girlfriend when you give her some fantastic choices. Try to make the game enjoyable by letting her choose, from her or your office mate or social circle.
I Spy – Flirty Game
I Spy is another one of the amazing flirting games to play with your crush, better when either of you is traveling. It is a classic game which reaches the next level when you play it on a text. In this, you give your girlfriend some clues about the place where you are present. You can try to make it a little interesting by giving some hard clues or try to confuse her with some sexy texts. Give our sweetheart either limited clues or a list of it so that she can guess where you are or what you have discovered.
20 Questions – Fun Game to play with GF
I don't know about you guys, but I played this game in my English class. Another name in the list of interesting messaging games to play with girlfriend. 20 Questions are one of the most fun games and can be made interesting over text. In this game ask your girlfriend to come up with a person, animal, thing or food. Next, shoot her with "yes" or "no" questions and guess the word that she has thought of within 20 questions. Next, it would be her turn. Get a little bit crazier with this one of the best flirting texting games to play with your crush.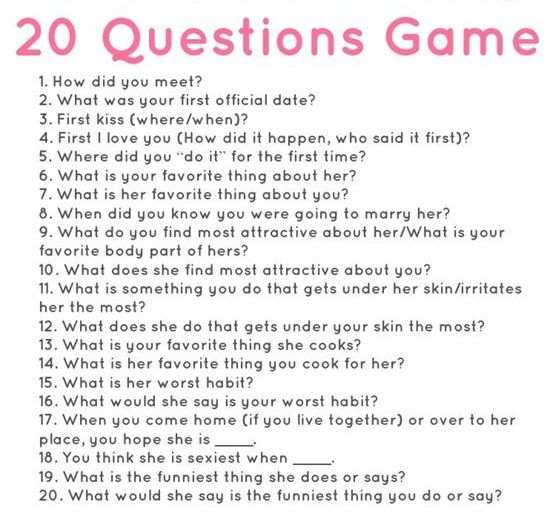 You Must Read That: 300+ This or That Questions Latest Collection 2019